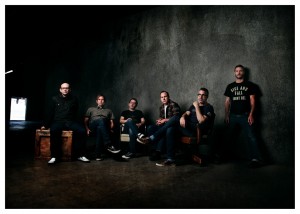 From a suburban Los Angeles garage to becoming a worldwide institution of rebellion, few bands boast a history like BAD RELIGION. 30 years on, the worlds still a mess and BAD RELIGION'S fiery songs are more relevant and necessary than ever.
On their 15th studio album 'The Dissent Of Man' BAD RELIGION pushes the boundaries of music as much today as they did in their formative years as a genre defining punk rock band with absolutepunk proclaiming 'The Dissent Of Man' "The best album they've written in well over a decade, compelling, charming and whipsmart storytelling."
STRUNG OUT have firmly cemented themselves as punk rock legends, an influential career spanning more than 20 years spawning countless imitators but none have been able to emulate STRUNG OUT's scorching blend of aggressive riffs and captivating melodies.
STREET DOGS are a band that adamantly and unapologetically has things to say. Rather than serving as the closing orations for a punk rock band they serve to put the world on notice that everything up until this point has been little but prologue, and that the story of the STREET DOGS begins now. Inspired by the ferocity of their audiences and a desire to make rabble-rousing, in-your-face punk records punkmusic.com declares STREET DOGS "ooze sincerity, singing from the heart with a fierce energy that needs to be heard and felt."
With the seal of approval from punk rock royalty, Brett Gurewitz, it is little wonder that THE MENZINGERS were invited to play with his band, Bad Religion. Gurewitz proclaims: "These guys play the kind of pure punk rock that I grew up with".  The Philadelphia's punk rockers' blistering and dynamic live performances has seen them amass an arsenal of accolades, a contract with influential label Epitaph Records and a brand new album due out early 2012.
TICKETS ON SALE THURSDAY 22ND DECEMBER 9AM
MONDAY 27TH FEBRUARY – MELBOURNE, THE PALACE – 18+
Tickets available www.ticketek.com.au / www.oztix.com.au
WEDNESDAY 29TH FEBRUARY – SYDNEY, BIG TOP LUNA PARK
Tickets available www.ticketek.com.au / www.oztix.com.au / www.bigtopsydney.com
Presented by Soundwave Touring