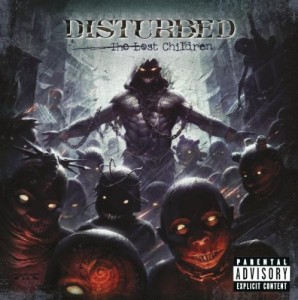 Thanks to our good friends at Warner Music, they know we love some Disturbed, so much so they wanted to give us some copies of their newest album to give away to you guys!  Aren't they lovely?!
This is a collection of rarities and B-sides all made available in one perfect little package just for you all to enjoy, which includes covers of the Faith No More classic 'Midlife Crisis' and Judas Priest's 'Living After Midnight' as well as some previously unreleased songs.
Full details of the release can be found HERE!
To win one of 5 copies, send us an email to mtrbwy@maytherockbewithyou.com with the subject of 'I am Disturbed' along with your name and address and we'll choose 5 lucky winners.  Entry is open WORLD WIDE.
Entries open -Tuesday 8th November

Entries close – Tuesday 22nd November

The track-listing for The Lost Children is as follows:
1 – "Hell"
2 – "A Welcome Burden"
3 – "This Moment"
4 – "Old Friend"
5 – "Monster"
6 – "Run"
7 – "Leave It Alone"
8 – "Two Worlds"
9 – "God of The Mind"
10 – "Sickened"
11 – "Mine"
12 – "Parasite"
13 – "Dehumanized"
14 – "3"
15 – "Midlife Crisis"
16 – "Living After Midnight"