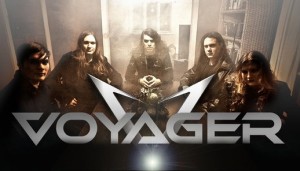 From Official Bio: In the last few years, Australia's VOYAGER have attained what can only be described as a worldwide cult following. Hailed as "one of the most original and daring groups on planet", the band has battled geographical isolation to tour Europe twice, perform at ProgPower Europe 2006 and share stages with diverse acts like NIGHTWISH, STEVE VAI, SOILWORK and ALESTORM. The band's loyal international fanbase has praised its incredibly catchy songwriting and compared its sound to a mixture of AMORPHIS' thirst for melody, SOILWORK's heaviness and the crystal vocal clarity of A-HA's Morton Harket.
Conceived in 1999 by Danny Estrin, a German-born musician, VOYAGER has 3 full-length albums under its belt, each one propelling them further into cult status as an elite progressive metal band. While "Element V" (2004) was celebrated for its uplifting variety, the band's opuses have continued on a darker path, with "uniVers" (2007) receiving critical acclaim for its melancholic and emotional side and "I am the revolution" (2009) reaching an even heavier, darker but still overwhelmingly melodic spectrum.
With an impressive history of Australian music awards, as well as many titles of "album of the month" in Romanian, Finnish, Italian, German and Belgian music press, the band's notoriety for its energetic live performances has captured audiences worldwide, so much that VOYAGER were invited to play at the prestigious PROGPOWER USA festival in 2011.
Coinciding with this is the release of VOYAGER's undeniably most refined work "The Meaning of I"; a dark, heavy, introspective, at times electronic, yet occasionally uplifting journey into the mind in search of meaning. "The Meaning of I" is a culmination of VOYAGER's sound: polished yet organic, heavy yet melodic, dark yet playful.
VOYAGER's new album has found an excellent new home with elite progressive metal label SENSORY. With a worldwide release date of 11 October 2011, "The Meaning of I" promises to be a milestone in progressive music. As one reviewer said: "I don't care what you call this band: prog, metal, melodic rock or dark metal, but just call it brilliant."
We chatted to Voyager's bass player Alex Canion about the band, and why we think they're one of the Best Things You've Never Heard…
As an Australian band, you do have a very European sound, how would you describe Voyager to people that wouldn't have heard you before?
I would describe Voyager, simply put as Melodic Metal, there's a lot of elements that goes into Voyager's sound and that's all good and well, but when you're trying to brand to something that kind of puts a definitive label on it, but we just settle for Melodic Metal.
Over your career the sound of Voyager has evolved somewhat, how do you approach creating the sound for the band?
It started, the band released its first album before I was even on the scene and that was very Power Metal based.  There was a whole other line up back then as well and I guess in its formative stages was bound be different to what we sound like ten years plus into the career of the band. I guess a lot of it has to do with Daniel the singer, he's always been the main songwriter of the band and he's German born and he grew up a little bit in Europe as well, so naturally that European sound as well might come to him, but he does listen to a lot of European stuff, we all do so naturally it creeps into our sound.  Daniel's a classically trained violinist and pianist as well and naturally takes away from some of those European influences.
Who would you sight as the bands major influences?
First and foremost I'd probably say Type O Negative, strangely enough, until I started listening to Type O Negative I wouldn't have really gotten that by listening to Voyager itself but I guess looking back on the albums there's always elements that creep in of Type O Negative, that's a big influence on Danny as well.  Apart from that I'd say Meshuggah, they crept in there, definitely Soilwork and I guess some dribs and drabs of some world music as well.  I know Ozric Tentacles play a part in it but we all listen to different stuff as individuals as well so naturally it's all going to be a melting pot when we get together
Talk us through the new album 'The Meaning Of I' it's such a strong album, how did you tackle the song writing for this one?
The song writing was done a little bit differently this time around, normally Danny would write the skeleton of the song and we'd all make the rest of it up, but it was much more of a collaborative effort, we got a new guitarist Scott Kay on board as well, and he's a bit of a riff master, so he contributed to the song writing , a lot of the times we just jammed them out and what we normally do before each album is we'll do a pre production album, where we can really kind of send all the tracks to each other and we can chip away at the song writing.  For example, Danny wrote 'Momentary Relapse Of Pain' when we were still touring the 'I Am The Revolution' stuff from the last album, and then a year ago in December I was in Scotland, in Winter time and I had a little travel acoustic guitar with me and I wrote most of 'The Meaning Of I' the title track on this little down tuned acoustic guitar.  So it was a little more of a collaborative effort this time round, but we all oversaw the writing process.
Just on the title and song itself 'The Meaning Of I' what's the meaning behind it?
I think it basically sums up the whole album, I think that was Danny's intention with the lyrical content, the album is very introspective and I guess it delves in to one's personal journey and I guess trying to recognize and identify who you are in yourself.  The lyrics are mostly quite dark as well and it's kind of like that throughout the whole album.  So, the basis of 'The Meaning Of I' is what we're honing on in terms of marketing of the album.
Was there a concept you were going for?
I don't think it was conscious at time of writing, normally the concept would come from lyrical ideas and concepts and ideally around the lyrics and that's very much Danny's thing, so going in to the writing we didn't set about making a concept album and I don't really think it's entirely a concept album as it is maybe a quasi concept album, that's what we normally try and do is we allow to let the listener fill in the blanks a bit.
Are you hitting the road for some of your own headlining shows after the Bodom tour?
We are actually, we're looking at doing our own headline tour through Australia in March next year so I think that'll be a good experience after this year ,we did the Alestorm tour in April around Australia and we got to play Adelaide again which we'd only played once before I think and also the first time in Brisbane, we're getting to do that again with this Children Of Bodom tour which is great so we're going to try and hit up the major cities again in March.
Obviously with the sound you've hit the European market before and played with some big bands, do you have plans to get back there in support of this new album?
Definitely, Europe is definitely on the agenda for us I guess you could say We'd love to go everywhere, its' just a matter of money and timing and what's viable and when it's viable to do it.  So we have definitely got fingers in the pies and we're looking at going over there at the end of next year.
Do you find that your market is more so overseas and that somewhere like Australia isn't ready for a sound like yours?
That's a good question.  It might be a bit hard for me to answer that, because how do you know when you're ready?  I guess you could say if Australia was ready maybe we'd be in the top 40 or something like that and we'd be going down the path of a band like Pendulum, because you know they've got a very electric sound but they're still quite heavy.  I don't know, I think maybe it's taken a bit of time, the bands been around for about 10 years now so maybe they aren't ready, but they better be because we're coming.
Hailing from Perth, what's the scene like over there for a band like Voyager?
The scene is I guess like any other scene, it's just that.  A scene.  There's a lot of bitching and in fighting I think Voyager are considered outcast from the Perth Metal scene because we're not heavy enough or we don't conform in some way to that.  It's pretty interesting because we'll have the normal Metal shows which is the same people all the time and what we've noticed at our shows a lot more new people are coming, a lot of a different crowd and don't get me wrong, we're friends with a lot of people in there, but there's also a very negative side, like the scene on websites where there's lots of nasty talk about Voyager and stuff like that.  It's not serious or anything and we just do what we do because we love it and we're not trying to please or displease anyone.  There's a lot of politics involved and that's what's fucked about it because it should be about getting together about the music.
As a band now for 12 years, what have you seen personally as the greatest achievement and growth for the band?
I would probably say that ProgPower USA is definitely one of them, we played that in September.  The reason for that is it's a pretty prestigious festival they've got going on over in the USA there and I'd say it's definitely a landmark in the bands career.  USA we basically had no ties to at all until this festival, so doing it was just incredible being invited.  We played on the same night as Ihsahn and Sanctuary, Warrel Dane's original band, I guess that was the band before they became Nevermore and a whole bunch of other guys.  Arcturus were supposed to play that night but they couldn't make it, but when we got over there it was just unreal, we were just met with so much love and support, it was unlike anything we'd ever really experienced before.  After our set we got up to the signing table and we were signing autographs for an hour and a half, it was just mind blowing, like a little band from Perth going over to Atlanta, Georgia in the United States signing all these autographs for people, it was incredible.  I think with this new album we've really honed our sound and we've got the production to match as well, Jens Bogren did just such a stellar job.  What did you think of the production?
I thought it was huge, if someone gave me the album and said 'where is this band from?' I would've said Europe.  It doesn't even sound like it was done here, it's so well done.
Oh cool, I'm glad you think so man, I guess from a musicians point of view, as the guys that wrote it, it's so satisfying, once you've got material you really believe in and you've got the production that you think will translate it as best as possible, you've just got a winning combination.  I'd say ProgPower USA is hopefully that start of something good for us over in the US, but you know, we went over to Europe as well, that was my first tour with the band, I think it was when I first joined, I think I'd just turned 19 and that was absolutely insane, but hopefully we'll keep the ball rolling and keep doing better things.
Lastly, what's next for the band?
well we're taking a little break but getting listened to by as many people as possible, and like I said, we'll start working on the logistics behind this headlining tour of Australia early next year and then we'll start to plant the seeds for Europe later on in that year.  So we're keen, we're willing, we've just got to set it all up, so hopefully we'll see you guys again soon.
Essential Information
From: Perth, Australia
Sounds like: Melodic Metal
Band members: Daniel Estrin, Simone Dow, Alex Canion, Scott Kay, Ashley Doodkorte
Website: http://voyager-australia.com
Latest release: The Meaning Of I (2011, Riot! Entertainment)
Check out the photos of Voyager live from their Melbourne show supporting Children Of Bodom here courtesy of Lens Of Rock