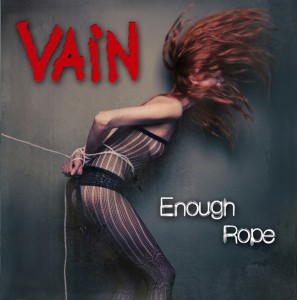 In 25 words or less:  Just like the 1989 release No Respect, Enough Rope is an essential hard rock classic.
With it being over 20 years now since the glory days of 80's hard rock, it's certainly been intriguing to say the least to observe the bands, albums and songs that have "survived" so to speak in 2011.  There is no better example for mine than Vain and their classic 1989 debut album No Respect, led by the singles Beat The Bullet and Who's Watching You.  Listening to that album now in 2011, I know I am certainly not alone in stating that it has truly stood the test of time, when many others released in that era have long, long, long faded from memory.  The album is practically void of all the 80's hard rock musical clichés' which dominated the scene and it was then, and still is now, simply an album of awesome rock songs.
In Davy Vain, we have without doubt one of the most unique and captivating singers, songwriters and performers in rock n roll over the last 25 years and now in 2011, we have the new Vain release Enough Rope.  There have indeed been a bunch of other releases under both the Vain and Davy Vain banner over the years, but none have quite captured the energy and spirit of No Respect in the way that Enough Rope has.  Working with bay area thrashers Death Angel back in the 80's as a producer through to in recent years engineering Christina Aguilera's Grammy nominated vocal performance on I Am Beautiful, its no surprise the album was produced, recorded and engineered by Davy himself.  With Vain alumni Jamie Scott & Shawn Rorie on guitars, Tommy Rickard & Louie Senor on drums and Ashley Mitchell on bass dominating the playing throughout this album, the musicianship is flawless.  Steven Adler of Guns n Roses fame plays drums on the menacing Cindy and closing track Worship You, both tracks notably featuring the old Roadcrew lineup of Adler, Vain, Scott, Mitchell and Rorie.
A classic Vain song could never usually be described as "immediate" or "instant" and as an opener, Greener with it's incessant, driving guitar riff, fits that mould perfectly.  Triple X see's Vain at their heaviest and most raucous, while if you want to know why girls regard Davy Vain as having one of the most sleaziest and alluring voices in rock….well just take a listen to Hot Stage Lights.  With little twists and turns and unexpected musical pleasures throughout, Stray Kitten Burns is one of the real album highlights and really showcases the abilities of Davy Vain as a songwriter, as does the ballad Treasure Girl.  The straight ahead hard rock of Enough Rope, Solid Gold and Vain play off as a nice contrast to The Distance Of Love, the most unique track on the album having an almost psychedelic tinge to it with a vocal delivery that at times is a cross between the likes of Jim Morrison (The Doors), Jeff Martin (The Tea Party) and Ian Astbury (The Cult).
As is No Respect, Enough Rope is an essential hard rock classic, simply as good as you are likely to find in 2011.
Check out our recent interview with Davy Vain right here…
Essential Information
From: USA
Check it out if you like: Hard rock
Release date: October 29th
Record label: Jackie Rainbow Records
Produced by: Davy Vain
Website: www.davyvain.com
Track listing:
Greener
Triple X
Hot Stage Lights
Stray Kitten Burns
Cindy
Treasure Girl
Enough Rope
Solid Gold
Distance Of Love
Vain
Worship You