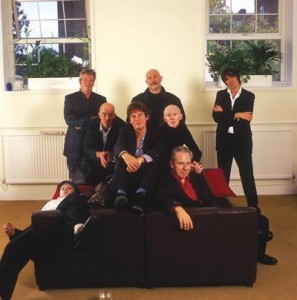 Blue Murder and Destroy All Lines present.
The Pogues Australian Tour 2012
Shane MacGowan, Jem Finer, Spider Stacy, James Fearnley, Darryl Hunt, Andrew Ranken, Philip Chevron, Terry Woods
The Pogues have been an indelible high watermark on the fickle tide of popular music for the last 30 years. Lead by the charismatic Shane MacGowan, The Pogues command an army of die-hard fans the world over, captivated by the power and conviction of one of the last true punk rock bands. For Australian members of said legion, the 23 year wait to see The Pogues on home shores will soon to be over, with the band – including Shane MacGowan, Jem Finer, Spider Stacy, James Fearnley, Darryl Hunt, Andrew Ranken, Philip Chevron, Terry Woods – announcing their first Australian tour since 1989.
The Pogues, or Pogue Mahone (kiss my arse in Gaelic) as they were then known, came kicking and screaming into the world in 1982 when founding members Shane McGowan, Peter 'Spider' Stacy, Jem Finer and James Fearnley united for a show in Kings Cross, London. From the outset it was clear to see that this band were something different. Whilst hordes of young hopefuls at the time were cranking amplifiers and expounding the politically charged lyrical fixations of punk rock, The Pogues instead did away with thrashing about on electric guitars and mustered their power through an arsenal of traditional Irish instrumentation and folk storytelling- creating a genre so entirely their own it would become legend.
The seminal album Red Roses for Me soon followed, and with the follow-up Rum Sodomy & the Lash, critical accolades began to appear for front man MacGowan as he hit his lyrical straps- and in doing so became known as one of the most poetically adept storytellers of his generation. The next two albums – If I Should Fall from Grace with God and Peace and Love- brought the band commercial success, but cracks soon began to appear resulting in MacGowan being cast adrift immediately after the recording of the band's 1990 studio effort Hell's Ditch.
The band continued on with punk godfather Joe Strummer filling in for McGowan for a time, until Spider Stacy took on the bands vocal duties. Two further albums were recorded, being Waiting For Herb and Pogue Mahone, before he and the band decided to call last drinks in 1996. Just over a decade after MacGowan's departure The Pogues reconvened in 2001 with their front man refreshed, yet as wild as ever, and this April will bring their own brand of fiery, literate, celtic punk rock to Australia.
The Pogues Australian Tour 2012: Shane MacGowan, Jem Finer, Spider Stacy, James Fearnley, Darryl Hunt, Andrew Ranken, Philip Chevron, Terry Woods
Wednesday 4 April
Festival Hall Melbourne
On sale Fri 11th Nov 10am www.ticketmaster.com.au
Sunday 8 April
Byron Bay Bluesfest
www.bluesfest.com.au
Wednesday 11 April
Hordern Pavilion Sydney
On sale Fri 11th Nov 10am www.ticketek.com.au
www.pogues.com