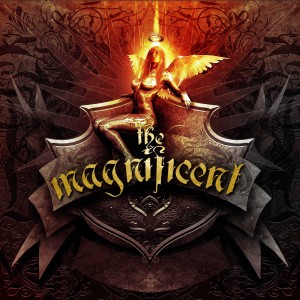 In 25 words or less: One of the most enjoyable and unexpectedly awesome releases I have heard this year.  Simply magnificent!
2011 has definitely been a truly monstrous year for lovers of melodic rock, AOR and all things "keytastic" and just when we probably thought we had heard it all, along comes one of the most magnificent names in rock, "Torsti Spoof" (Leverage) and his mate Michael Eriksen (Circus Maximus) to deliver The Magnificent, which without hesitation has rocketed straight into my Top 5 melodic rock/AOR albums for 2011.
The origins of The Magnificent are yet again one of those Frontiers Records success stories….the pairing of Finnish guitarist Torsti Spoof from melodic metallers Leverage, with Norwegian singer Michael Eriksen from progressive metallers Circus Maximus, to produce the unexpected, an album of anthemic melodic rock of the highest order.  Put simply, if you love Scandi melodic rock, then this album will be bliss to your ears, with a sound that channels the likes of classics such as Treat, Europe, Bad Habit and Masquerade.
Bursting full of melody, blistering guitars and massive arena rock arrangements are the opening duo of Holding Onto Your Love and Cheated By Love.  Memories along with Smoke & Fire deliver more of an instant style reminiscent of the likes of Work Of Art and H.E.A.T with insanely addictive chorus's and layer upon layer of harmonies.  Anyone familiar with Circus Maximus will know that Eriksen possesses an amazing voice and the soaring power ballad Angel is his showcase on this album.  Overall, the production is massive, the songs incredibly well written and performed, featuring contributions from the likes of Pekka Heino (Brother Firetribe, Leverage), Tomppa Nikulainen (Brother Firetribe), Tuomas Heikkinen (Leverage) and Mats Haugen (Circus Maximus). From the driving melodic rock crunch of Satin & Lace, the grandiose If It Takes All Night through to the more restrained closer, Harvest Moon, don't ask me to name a favourite track…it's impossible.
Twelve songs, not a filler amongst them and a perfectly balanced album tempo wise make this one of the most enjoyable and unexpected releases I have heard this year.  Simply magnificent!
Essential information
From: Norway, Finland
Check it out if you like: Scandi rock such as Treat, Europe, Bad Habit, Masquerade
Release date: Out Now
Record label: Frontiers Records/Riot! Entertainment
Tracklisting:
Holding On To Your Love
Cheated By Love
Memories
Angel
Satin & Lace
Love`s On The Line
Bullets
Smoke & Fire
Tired Of Dreaming
If It Takes All Night
Lost
Harvest Moon