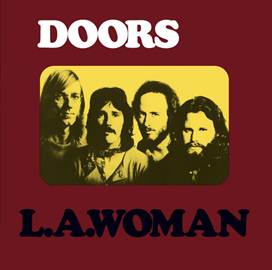 THE DOORS LAUNCH "THE YEAR OF THE DOORS" ON JANUARY 27 WITH 40TH ANNIVERSARY REISSUE OF ICONIC L.A. WOMAN ALBUM FEATURING THE NEWLY-DISCOVERED "SHE SMELLS SO NICE"
Fans of iconic rock band THE DOORS are in for something special. The group's final album – 1971's L.A. WOMAN, with the signature hits "L.A. Woman", "Love Her Madly" and "Riders On The Storm"- is being celebrated with a special two-CD release from Rhino to be released on January the 27th.
The L.A. WOMAN 40th anniversary edition (Rhino 2-CD) features a never-before-heard song, "She Smells So Nice," which captures the band – organist RAY MANZAREK, guitarist ROBBY KRIEGER, drummer JOHN DENSMORE and late singer JIM MORRISON- joyfully barrelling through a full-throttle original before segueing into the blues standard "Rock Me". As the song closes, Morrison can be heard chanting, "Mr. Mojo Risin'"- an anagram of his name that was made famous during the bridge of "L.A. Woman". Recently discovered by producer Bruce Botnick while reviewing the L.A. WOMAN session tapes, a teaser clip of "She Smells So Nice" can be heard here: http://www.rollingstone.com/music/news/exclusive-preview-newly-unearthed-doors-track-she-smells-so-nice-20111117
In addition to "She Smells So Nice", the second disc of the L.A. WOMAN reissue includes eight never-before-heard versions of songs from the album. Alternate takes of "L.A. Woman," "Love Her Madly" and "Riders On The Storm" offer a fresh view on this landmark album, which was the group's sixth straight Top 10. The studio chatter between the songs is a revelation, transporting listeners to The Doors Workshop: the West Hollywood rehearsal space where they recorded the album with Botnick. One segment in particular captures a fascinating moment of inspiration when Morrison suggests they add the now-iconic thunderstorm sound effects to the beginning of "Riders On The Storm". Rhino will also release L.A. WOMAN: THE WORKSHOP SESSIONS, a double LP featuring all of the previously unreleased material found on the CD collection on three sides of vinyl, with the fourth side featuring a laser etching of the original "Electric Woman" art originally included with the L.A. WOMAN album.
"The Year of The Doors" will be marked by other special releases, with details to be announced soon.
L.A. WOMAN marked THE DOORS' swan song, as MORRISON would pass away a few months after its release. At the time, Rolling Stone's Robert Meltzer called it "The Doors' greatest album…A landmark worthy of dancing in the streets (5/27/71)." The first band to release eight consecutive platinum albums, THE DOORS were inducted into the Rock & Roll Hall of Fame in 1993 and received the Grammy Lifetime Achievement Award and a star on the Hollywood Walk of Fame in 2007.
L.A. WOMAN: 40TH ANNIVERSARY EDITION
CD Track Listing
Disc One
1. "The Changeling"
2. "Love Her Madly"
3. "Been Down So Long"
4. "Cars Hiss By My Window"
5. "L.A. Woman"
6. "L'America"
7. "Hyacinth House"
8. "Crawling King Snake"
9. "The WASP (Texas Radio and the Big Beat)"
10. "Riders On The Storm"
Disc Two: All Selections Previously Unissued
1. "The Changeling" – Alternate Version*
2. "Love Her Madly" – Alternate Version*
3. "Cars Hiss By My Window" – Alternate Version*
4. "L.A. Woman" – Alternate Version*
5. "The WASP (Texas Radio and the Big Beat)" – Alternate Version*
6. "Been Down So Long" – Alternate Version*
7. "Riders On The Storm" – Alternate Version*
8. "She Smells So Nice"
9. "Rock Me"*
L.A. WOMAN: THE WORKSHOP SESSIONS
LP Track Listing
Side One
1. "The Changeling" – Alternate Version*
2. "Love Her Madly" – Alternate Version*
3. "Cars Hiss By My Window" – Alternate Version*
4. "L.A. Woman" – Alternate Version*
Side Two
1. "The WASP (Texas Radio and the Big Beat)" – Alternate Version*
2. "Been Down So Long" – Alternate Version*
3. "Riders On The Storm" – Alternate Version*
Side Three
1. "She Smells So Nice / Rock Me"*
* Previously unreleased