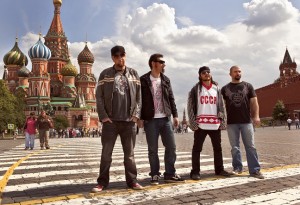 There is no other band around who can match the audacity, intensity and progressive nature of SYSTEM OF A DOWN.
With SYSTEM OF A DOWN operating at such astonishing creative and emotional heights they quite simply leave the rest of the herd scrabbling in the dust.
It was 2001's 'Toxicity' that cemented their reputation. With every track tightly coiled, urgent and "cast in layers upon layers of aural intricacy, Toxicity charters new frontiers, yet it's still grinding rock at its most deafening."  – L.A Weekly
In 2005, against all odds, the completed Mezmerize/Hypnotize project was unleashed and it quickly became impossible to think of it as anything else than one epic piece of work. SYSTEM OF A DOWN delivered, and in doing so have given us one of the great rock double albums of all time…."rarely are albums this thrillingly original". Q Mag
As the headliners for the 2012 Soundwave Festival, SYSTEM OF A DOWN will be bringing their frantic, frenetic and brutal live assault to Sydney and Melbourne for two headline sideshows only.
Tickets go on sale Thursday 1 December, 9am.
TUESDAY 28 FEBRUARY            SYDNEY, ENTERTAINMENT CENTRE – Lic A/A
www.ticketmaster.com.au or call 136 100
WEDNESDAY 29 FEBRUARY     MELBOURNE, ROD LAVER ARENA – Lic A/A
www.ticketek.com.au or call 132 849