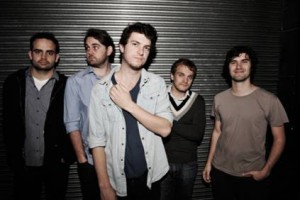 Forget Hercules, the only supermen of mythical proportions you need to worry about this summer is Perth quintet SPLIT SECONDS. The power pop protagonists are suiting up, saying their prayers and getting ready for an almighty battle against…the month of November?
That's right, Split Seconds have been chosen to support fellow West Australians JEBEDIAH as they lead the charges on their Battle For November Tour. The pair face some trying times ahead, with wild crowds and ungodly flight schedules awaiting them in battlefields across Fremantle, Melbourne, Adelaide, Sydney and Brisbane. Thankfully they will have the supreme sidekick sisters STONEFIELD riding shotgun on this treacherous voyage.
The road ahead is long and arduous, and it doesn't get any smoother once they come off tour with Jebediah. Summer festivals, including Homebake, Pyramid Rock and Southbound, New Year's Eve parties and recording sessions for their debut album all loom large for Split Seconds, but our brave heroes are sure to take it all in their stride.
The road to 2012 is getting shorter and shorter. For Split Seconds, it's been one that's presented many challenges, but ultimately one that's reaped its share of rewards – like triumphant national tours with THE PANICS and OWL EYES, and high rotation of their single 'All You Gotta Do'. What lies beyond the end of this year is anyone's guess, but one thing is certain: the run home is gonna be a whole lotta fun! 
Catch Split Seconds at the following dates:
 supporting JEBEDIAH:
Thursday 10 November
METROPOLIS
Fremantle 
Thursday 17 November
BILLBOARD
Melbourne 
Friday 18 November
FOWLER'S LIVE
Adelaide 
Saturday 19 November
METRO THEATRE
Sydney 
Friday 25 November
HI FI
Brisbane
festivals:
Saturday 26 November
Y-FEST
Joondalup, WA
w/ Mind Electric, Ruby Boots, Sam Perry and more
Saturday 3 December
HOMEBAKE
Sydney, NSW
w/ Grinderman, Cut Copy, Icehouse and more
Thursday 29 December – Sunday 1 January
PYRAMID ROCK FESTIVAL
Phillip Island, VIC
w/ Scissor Sisters, The Living End, Gotye and more
Saturday 7 January – Sunday 8 January
SOUTHBOUND
Busselton, WA
w/ Arctic Monkeys, Fleet Foxes, Crystal Castles and more
other shows:
Friday 16 December
SONIC SESSIONS @ FREMANTLE ARTS CENTRE
Fremantle
Sean Pollard solo
Saturday 31 December
THE ESPY
St Kilda
w/ Jebediah, Paul Dempsey, Big Scary and more
www.facebook.com/splitsecondss