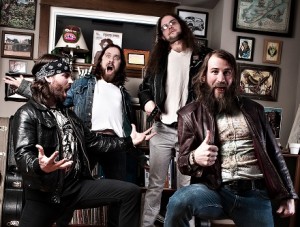 For fans of: Swords, Stoner Rock, Beards.  http://ilovemonstertruck.com
There's something comforting about a band name that delivers exactly what you are expecting to hear…
In 2009, these four Canadians came together as Monster Truck, as somewhat of a side project for their other more serious bands (The Reason, Saint Alvia), but their original plans of getting wasted and playing sloppy rock got twisted into something new entirely.
Everyone's influences gelled in a cohesive and exciting new take on classic rock and show offers suddenly started piling up. And now with the arrival of the band's second EP, that cohesion is snowballing into something a side project should never become…the main attraction!
'The Brown EP' contains not only a firm grasp of classic rock riffs but also hints of sludgey grunge and snotty punk influences.
The band's intoxicating riffs piqued the attention of Alexisonfire vocalist George Pettit and he soon found himself contributing to bonus track Sworded Beest.
Not even Canadian rock royalty can resist the rhythmic ruckus of Monster Truck.
Listen to Sworded Beest feat. George Pettit of Alexisonfire: http://soundcloud.com/monster-truck/sworded-beest-feat-george