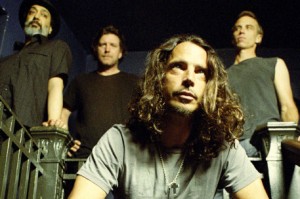 SOUNDGARDEN SYDNEY AND MELBOURNE BIG DAY OUT SIDE SHOWS ANNOUNCED!
When BIG DAY OUT was born 20 years ago, a new wave of music was emerging from the American north-west. At the crest of that wave was one of the most incendiary heavy rock bands of our time: SOUNDGARDEN. It's been fifteen years since they last graced our shores and the first time since 1997 that SOUNDGARDEN will perform outside of the USA! Chris Cornell, Kim Thayil, Matt Cameron and Ben Shepherd – the Seattle foursome known as SOUNDGARDEN – have chosen the BIG DAY OUT to mark their triumphant return to the international stage and we are thrilled to welcome them back.
"This is one reunited band that can pick up right where it left off." (New York Times, July 2011)
SOUNDGARDEN first hit the US Top 40 with their third album, 1991's Badmotorfinger. In 1994, they played their first BIG DAY OUT – two months later, their biggest success, Superunknown, would be unleashed.
Home to Spoonman, Black Hole Sun and Fell on Black Days, Superunknown hit No.1 in Australia and New Zealand, won two Grammys, sold five million copies in the US, and earned a place among the greatest albums of the '90s. In 1997, SOUNDGARDEN returned for their second BIG DAY OUT on the back of their fifth album, Down on the Upside, home to Burden in My Hands, Blow Up the Outside World and Pretty Noose.
In their dozen years apart, Chris Cornell joined members of Rage Against the Machine to form Audioslave and released three solo albums, while Matt Cameron became drummer for fellow Seattle heroes Pearl Jam.
In 2010, Cornell took to Twitter to speak directly to SOUNDGARDEN loyalists the world over, "Knights of the Soundtable ride again!" he tweeted. Fans across the world stood to attention as the band's website launched again after the 12 year hiatus. A secret show in Seattle soon followed, as did a headlining spot at Chicago's Lollapalooza, a retrospective titled Telephantasm and the band's first live record titled Live on I-5. SOUNDGARDEN toured in the US this past northern summer for the first time since 1997.
SOUNDGARDEN are "truly brutal and inventive" said The Los Angeles Times of their show earlier this year at LA's The Forum. "Cornell and band attacked opposite poles of rock music – the sex-god wail and drone-based jams of Led Zeppelin and the black-tar scrim of peers like The Melvins – and made something new from both."
"So, here was SOUNDGARDEN at full power once again. And was that ever something to see… a shockingly great performance." (National Post, July 2011)
"It's been too long as far as I'm concerned," Chris Cornell told The Advertiser of the band's return to Australia. We couldn't agree more. For those who were there the first time, and for those who only know the legend, BIG DAY OUT presents the one, the only, SOUNDGARDEN.
SOUNDGARDEN will be joined on these side shows by very special guests, THE BRONX. This L.A quintet churn out raw riffs and piercing hooks, the band channels their kinetic live energy through razor sharp wit and unbridled aggression. No sombreros or alter egos here just the straight up power of THE BRONX.
These are the ONLY AUSTRALIAN SOUNDGARDEN shows outside of the Big Day Out 2012 dates.
Tickets go on sale for both dates at 9am AEDT on Tuesday 6 December, 2011.
SOUNDGARDEN and special guests THE BRONX
Sydney Entertainment Centre, SYDNEY
Wednesday, 25 January, 2012
Tickets available from: www.ticketmaster.com.au Ph 136 100 & www.bigdayout.com
Sidney Myer Music Bowl, MELBOURNE
Wednesday, 1 February, 2012
Tickets available from: www.ticketmaster.com.au Ph 136 100 & theartscentre.com.au Ph 1300 182 183 & www.bigdayout.com
Also appearing at Big Day Out 2012:
FRIDAY, 20 JANUARY, 2012 – AUCKLAND MT SMART STADIUM
SUNDAY, 22 JANUARY, 2012 – GOLD COAST PARKLANDS
THURSDAY, 26 JANUARY, 2012 – SYDNEY SHOWGROUND
SUNDAY, 29 JANUARY, 2012 – MELBOURNE FLEMINGTON RACECOURSE
FRIDAY, 3 FEBRUARY, 2012 – ADELAIDE SHOWGROUND
SUNDAY, 5 FEBRUARY, 2012 – BROWNES STADIUM (Proposed Permit Pending)
For further details on The Big Day Out check out
www.bigdayout.com
twitter.com/bdo_official (And don't forget to #bdo2012)
facebook.com/bigdayoutofficialpage
youtube.com/bigdayoutofficial