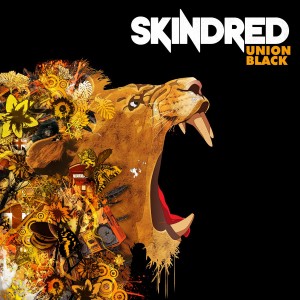 In 25 words or less:  "Only your own ears can determine whether they like a concoction of reggae, nu-metal, dub step, metal, hard rock, beats and rhymes"
Since 1998, the Welsh based Skindred have been bringing it with their genre defining, well actually, let's say genre creating, blend of reggae and metal that they themselves refer to as "ragga metal".  The bands fourth album Union Black was recently released on September 23rd here in Australia through 3Wise Records and how do I even begin to describe this?  All elements combined, it's like nothing I have ever heard before…other than Skindred of course, and honestly, Skindred are a band that you really need to listen to yourself to make up your own mind.  I could take the ultimate cop-out and state "I think this CD is awesome and you really need to hear it for yourself…" but that would be doing it a total injustice!  I mean only your own ears can determine whether they like a concoction of reggae, nu-metal, dub step, metal, hard rock, beats and rhymes…and that could be just in one song!
Being the first album the band have recorded in the UK, as opposed to the USA and with a producer that hasn't tried to tame the "beast" that is Skindred and front man Benji Webbe, Union Black sees the band well and truly unleashed.  Opening with the intro title track, which is a Skindred'ised version of God Save The Queen, there's no doubt a significance of this track, given lyrically, the album explores the ethnicity and togetherness of the UK.  The album then launches straight into first single Warning featuring Jacoby Shaddix of Papa Roach, it cuts through with razor sharp metallic riffs and is as I can attest, this chorus incites madness with the "Newport helicopter" in a live arena.
For me, if I had to pick a song that best illustrates what Skindred is all about as I tried to describe above, then it's Cut Dem, check the video below and make up your own mind…  Vocally, Benji Webbe's performance for me is one of the most captivating aspects of the album, seemingly traversing from the growls and heaviness on a track like Doom Riff all the way through to the other extreme with a full on reggae assault on Guntalk.  At the heart of most songs, there are some killer choruses to be found and none better than Own You and Make Your Mark which to throw another spanner in the works, at times sounds like a bit of Spandau Ballet in the chorus.  Aurally, there's certainly a lot to digest over the journey of Union Black, but every song offers little twists and turns right to the very end with album closer Game Over.
Having seen Skindred perform here in Australia on their recent tour, I am slightly tainted by the reality that you just can't capture the untamed frenetic live energy of a band such as Skindred on a shiny plastic disc.  Union Black however sees the band go closer to capturing this than they have ever before and for the musically adventurous amongst you who have never heard Skindred before, watch the video below, buy the album and thank me later…
Essential information
Check it out if you like: To be musically adventurous!
Release date: Out now
Label: 3Wise Records (Australia) www.3wiserecords.com
Produced by: James Loughery
Website: www.skindred.net
Track listing:
1            Intro (Union Black)
2            Warning
3            Cut Dem
4            Doom Rif
5            Living A Lie
6            Gun Talk
7            Own Ya
8            Make Your Mark
9            Get It Now
10           Bad Man Ah Bad Man
11           Death To All Spies
12           Game Over