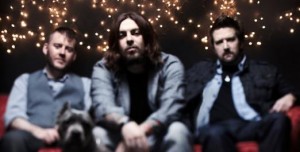 South African rockers Seether are returning to Australia in support of new album Holding Onto Strings Better Left To Fray. Frontman Shaun Morgan announced, "We are anxious and excited to get back to Australia. It has been three years too long and we have a lot of catching up to do with our Aussie fans.  Can't wait to see everyone at the shows."
Their latest single Tonight has been added to Triple M rotation across the board.
The single is the follow up to Country Song, the debut single from their latest release. The video for Country Song received over 2,000,000 plays online. Since being released through EMI in May, their latest album – Holding Onto Strings Better Left To Fray – has scanned over 200,000 copies worldwide since.
Seether have spent the past two months on the road as part of the Rockstar Energy Drink Uproar Festival playing alongside Avenged Sevenfold, and Three Days Grace among other acts.
Looking back on Seether's career path, the band has sold millions of albums to date worldwide and in Australia have seen two Top 40 ARIA Albums. Originally founded in Johannesburg, South Africa, by Shaun Morgan and Dale Stewart, Seether made their initial impact with Disclaimer in 2002. They rerecorded the acoustic track Broken as an electric version featuring Evanescence vocalist Amy Lee which went on to became a massive international hit for the group. In 2004, they remixed and remastered Disclaimer, adding eight new songs to create the two-disc set Disclaimer II, going Platinum in the US. 2005 saw the release of Karma & Effect, with Finding Beauty In Negative Spaces following in 2007 which has also since gone platinum in the US.
Seether is Shaun Morgan (Guitars/Vocals), Dale Stewart (Bass) and John Humphrey (Drums).
TOUR DATES
TICKETS ON SALE TUESDAY 1 NOVEMBER
PERTH
Wednesday 1 February
Rosemount Hotel
Heatseeker
Rosemount Box Office08 9328 7062
BUY TIX | MORE INFO
ADELAIDE
Thursday 2 February
Fowler's Live
Moshtix1300 438 849
BUY TIX | MORE INFO
SYDNEY
Sunday 5 February
Metro Theatre
Metro Box Office02 9550 3666
Ticketek132 849
BUY TIX | MORE INFO
BRISBANE
Tuesday 7 February
The Hi-Fi Bar
Hi-Fi Box Office1300 843 443
Moshtix1300 438 849
BUY TIX | MORE INFO