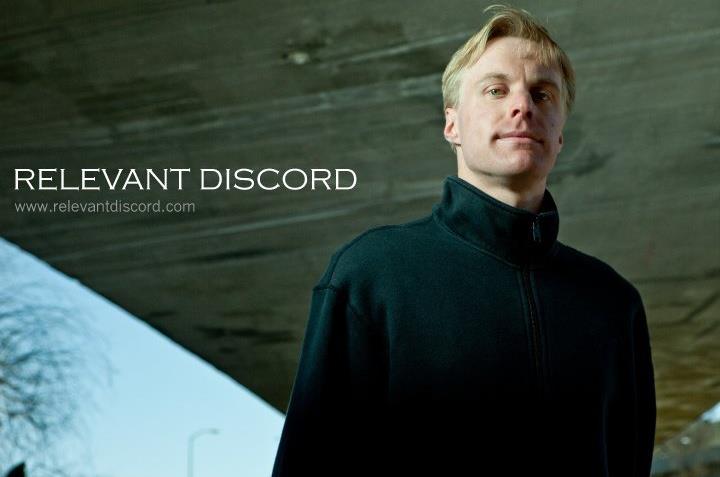 Official band bio courtesy of (www.relevantdiscord.com) – "Relevant Discord is a modern rock act whose roots find ground in the raw angst and energy of the post-grunge movement yet whose branches of sound find distinction with the beauty and tension of string work and occasional dissonant elements. Lyrically, RELEVANT DISCORD's work captures a depth, intensity, and honesty often found absent in many mainstream releases. All the while, RELEVANT DISCORD offers listeners a finished product possessing both independent and commercial appeal.
Initially founded in 2002, Relevant Discord is fronted by Nicholas Andrew Depew (published author of: Character in Transition – A Guide to Not Burning the Bridge). Nicholas is the only official member of Relevant Discord. However, a skilled cast of musicians rotate in and out of the band as support for live events and studio work.
In March of 2011, Relevant Discord re-entered the studio in northern California, enlisting the co-production assistance of industry veterans Sylvia Massy (producer/engineer behind TOOL's Opiate and Undertow, System Of A Down's self-titled release, Powerman 5000's Tonight the Stars Revolt, the Red Hot Chili Pepper's remix of One Hot Minute, and songs from Johnny Cash's The Legend Of) and Rich Veltrop (engineered/mixed projects for artists including: Rage Against the Machine, Tom Petty, Slayer, Spinal Tap, 311, Buddy Guy, and David Coverdale and worked alongside several award winning producers/engineers, including: Rick Rubin and Butch Vig).
The result of the Massy/Veltrop collaboration is Relevant Discord's radio-ready singles: The Days of Deferment and The Refrain (a revision of the band's earlier effort). Both songs reenlist the talents of drummer Jai Callahan, and feature string work by Scott Fegette (cello) and Stephanie Lee (Violin). Both songs were mastered by Tom Baker (mastering engineer behind mainstream releases for Nine Inch Nails, Stone Temple Pilots, Avenged Sevenfold, 30 Seconds to Mars, Seether, Red, and countless more).  The Days of Deferment and The Refrain appear on Relevant Discord's Dual Singles EP. The EP and both singles released on June 21, 2011 on both digital and physical platforms. Both tracks are being met with rave reviews and are quickly being added to radio station playlists across the globe."
We now hand over to Nicholas Depew to provide more insight into Relevant Discord…
For the benefit of our readers most who have not yet heard Relevant Discord, how would you describe the style of music that Relevant Discord performs?
First of all, thanks for this opportunity. Relevant Discord plays driving modern rock with string accents and harmoniously dissonant tones. Lyrically, our music aims to get the listener to question in search of truth – both on an internal and external level.
An obvious and clichéd question, but one that always intrigues us, what can you tell us about the background to choosing Relevant Discord as your band name?
The band name was actually the title of my first solo record that released in 2001. I originally came up with the name between 1997 and 1998 when I was writing material for that first solo project. At the time, I found myself being really drawn to photographs and imagery that displayed a sense of beauty and meaning in the midst of chaos. A prime example of that concept was the picture I used for the album cover on that first record. The picture was of a striking winter sunset seen through the bare branches of an aspen tree.
As time went on, the name "Relevant Discord" just always seemed to stick. I knew that in time I would be pursuing more music, and that term basically became my default option for a band name. Over the years, the meaning behind the name has grown to encompass more ideas. The few meanings that I share regularly with people are: 1. The act or process of finding meaning, purpose, truth, and/or beauty in the midst of chaos and/or uncertainty. 2. To make an appeal against the boundaries and confines of tradition and/or indifference. 3. A civil yet necessary movement of resistance and/or discourse. 4. A voice of reason in disharmony. 5. Musical tension and dissonance coming together in a unified, relatable message of reflection and/or resolve.
Relevant Discord as a band largely consists of yourself, Nick Depew…how do you find the dynamic of assembling a band when it comes time to record and/or perform live events…as opposed to having a permanent band as such?
I admit – it's a different arrangement; not completely original, but definitely different. It's similar to the relationship of Trent Reznor with Nine Inch Nails.
As far as recording, I pretty much just take drummer Jai Callahan with me into the studio. He is extremely talented on several instruments – so, if I need someone to bounce ideas off of – he's there to give input beyond just playing drums.
To be completely forthcoming, assembling a band for live performances is often a challenge. The guys I work with are all great people. The problem is simply that all of us have busy lives and a number of responsibilities that often take precedent. The pseudo solution to this problem is to have a number of people who can rotate in and out of performance duties depending on available schedules.
Nevertheless, there are times where this too is difficult to accomplish. However, should schedules and circumstances align to establish a "permanent" line-up, I would be open to the idea.
You have recently released a Dual Singles EP with the songs The Refrain and The Days Of Deferrment. How has the reaction to this EP been from fans around the world?
The reaction has been quite strong, especially from fans outside the United States. As far as the two songs, "The Days of Deferment" has been performing a little better in the US, while "The Refrain" has had the edge internationally.
Many up and coming artists in the US often forget about the international audience. However, it's the international audience (right now) that is giving us more airplay, attention, reviews, magazine features, and so forth. It's always a little surreal yet exciting to see your work connect with someone from a totally different culture who may not necessarily speak your own language.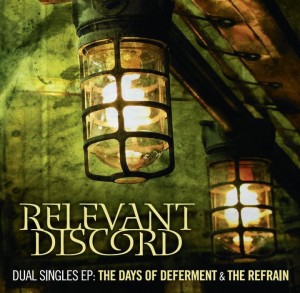 You had previously released an EP, The Pathways of Brokenness – Volume 01 EP, how would you compare this release to the Dual Singles EP?
Until releasing our "Dual Singles EP," everything I had ever recorded was more or less done through a home studio type of set up. "The Pathways of Brokenness – Volume 01" EP was the best quality, and most recent, of such recordings. It was also the first release fully under the band name Relevant Discord, and it was the first to bring Jai into the equation. However, I still view that project largely as a demo release.
"Dual Singles EP" was our first experience truly entering a professional studio arrangement. The experience and finances that went into that gave us a sound that is big, full, and competitive with most anything being released by mainstream artists.
You assembled an "all-star" cast as far as the production/engineer expertise that worked on this EP, what were you specifically shooting for with the sound? Were the likes of Rich Veltrop (Rage Against the Machine, Tom Petty, Butch Vig) and Sylvia Massy (Tool, System of a Down, Red Hot Chili Peppers) people you had specifically chosen on the basis of their past works?
The primary goal with the sound was to create something truly professional that could be played on the radio alongside the modern rock "pros". Before finding Rich and Sylvia, I had basically come to the point of "I need to either do this right or give it up." I knew how to write and craft the music; I just needed someone who could really get the recorded sound right.
The story behind finding Rich and Sylvia was quite something. It was December of 2010, and I very reluctantly attended a light rock concert where some friends from growing up were playing. After the event, I met up with one of them and asked if he knew of any quality places to record. He introduced me to their drummer, who is actually an r&b/hip hop artist named Kelly Easter. Kelly mentioned Sylvia's studio located in Weed, California. Weed is just over an hour south of where I live, nestled at the base of Mount Shasta – which I can see from my bedroom window. Kelly said that Sylvia and her team had worked for a lot of well known artists.
Later that day, I went home and researched the studio online. I was blown away to discover that Sylvia was the producer behind music I actually owned, including Tool's "Undertow". So, I sent her an e-mail to see if she was willing to record an "unknown," along with the latest demo work. She responded later that day with an open invite. The whole experience was surreal for two reasons: (1) I found that my work was being validated by real professionals. (2) I only had to drive south of my rural community about an hour to get to a world class studio that was still working on world class projects.
So, getting to the second question directly – yes, I chose them for their past works and receptiveness to my own.
In terms of your song writing, what do you consider to be the most important things that need to be featured in a Relevant Discord song to give you your trademark sound?
Most everything for me starts with a guitar riff or two. From there the pieces and sounds just start coming together. I love to incorporate strings into my work. I've been doing so for more than 10 years. However, not necessarily every song uses them.
I really love the sound of angst, tension, and beauty feeding off of one another. I think that Relevant Discord's sound offers more to listeners beyond those things; however, those elements will typically form the foundation of most songs.
What inspires and influences your music the most, in both a lyrical and musical sense?
Lyrically, I'm inspired by a personal drive to question and challenge. As mentioned earlier, this applies both internally and externally. I believe that one should always strive to be better. Oftentimes, that involves some painful self-reflection and examination. I'm also a firm believer in not blindly accepting anyone's or any institution's opinions, doctrines, or sentiments. In all things, I believe the search for truth should be paramount.
Musically, I'm inspired by many things. While any artist pulls from the other artists from which he/she respects, I am also largely influenced by my physical surroundings. It may sound a little strange to some, but things like the subtle details of autumn foliage colors, striking sunsets, night skies, and many other atmospheric elements just get the creative juices flowing. I have a couple songs waiting to be recorded that shed a little clearer light on this process. I play those ones often during acoustic sets.
If you had the opportunity to contribute your music to a movie soundtrack, what kind of movie do you think your music would be best suited to and why?
I would love to see Relevant Discord music in a movie. Our current singles are actually in the enrollment process right now with a couple companies that could potentially make that happen.
As far as the kinds of movies, I could definitely see our heavier songs filling the backdrop well for several action movies. Some of our lighter, pensive work could probably cross into a few film genres – such as intelligent drama, suspense, or even documentaries.
How active is Relevant Discord as a live act, how would you describe the Relevant Discord live experience?
The live element comes and goes. Right now, we are largely in a behind the scenes business building phase with the band. We are not currently touring; however, we are working constantly on many other avenues to interact directly with fans. Aside from being active on social media platforms, we offer meet and greet opportunities to our fans called Insider events, where we meet up and just hang out with fans in a particular region. I really enjoy these because there is rarely any pressure involved. Taking a live show to new cities involves a lot of planning and preparation. The Insider event gives us the opportunity to interact with fans on a real, uncontrived, and uncomplicated level.
When we play live, we offer two different types of show – (1) the full rock set that is loud and features backing elements, and (2) a very stripped down acoustic set. The acoustic set consists of me and usually only one of the guys. On a few occasions, I've gone completely solo – but that's not my preference. The acoustic shows are often very Nirvana-Unplugged-esque.
One other note about live performances – since we are building a great group of fans internationally, we are looking into avenues to play for those audiences as well. We are currently looking into options such as UStream to be able to give fans in places like Turkey, Indonesia, and the great nation of Australia the opportunity to join us live for a show.
Here's a chance to gaze into your crystal ball. In the next 6 months Relevant Discord will have:
While I can't predict it, my goals for the next six months are:
1. To have grown the fan base and raised the finances necessary to re-enter the studio.
2. To be ready to start performing again.
3. To have Relevant Discord music placed in a movie, TV show, or some significant feature.
Essential Information
From: USA
Sounds like: Modern rock
Band members: Nicholas Depew
Website: www.relevantdiscord.com
Latest release: Dual Singles EP: The Days of Deferment and The Refrain