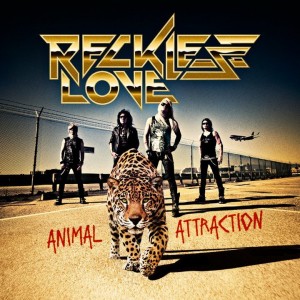 In 25 words or less: Insert disc, press play and prepare yourself for about 45 minutes of the best damn feel good hard rock anthems heard this side of the 80's…
Finnish rockers Reckless Love return with their second album Animal Attraction that is bound to get the hard rock world talking, just as did their debut album. The dance rock anthem that was first single Hot which came out a few months back, hinted at one thing and the album certainly proves that, on Animal Attraction the feel good factor has been upped to the max…and that suits me perfectly fine!
The opening double shot of Animal Attraction and Speedin' are Reckless Love at their most rockin' and either track wouldn't sound out of place on the debut album, except noticeably this time around the production is bigger.  Born To Break Your Heart is where things really start to hot up, pardon the pun, a blissful melodic rocker that displays the advancement on this album as far as song arrangements go.  Hot is Beautiful Bomb from the first album on steroids, in single every way, video clip, lyrics, catchiness, you name it…  Best track on the album perhaps? – Fantasy is a Def Leppard styled ballad and I just can't get enough of this song, the solo from Pepe is killer!
Dirty Dreams will forever be known as the Cutting Crew song for me, and that's nothing against the song, it's a great song, it's just that my mind always merges the Cutting Crew classic I Just Died In Your Arms Tonight with the chorus of this song.  With song titles such as Fight and Switchblade Babe it's no surprise to hear that these tracks take a turn for the sleazy…  Tucked away towards the end of the album, don't let On The Radio slip by, it's a track that takes a while to shift into gear but once you get to the chorus, it's about as radio friendly as you can get.  Depending on which version of the album you have, it may end with Coconuts and how could you not love this track, seriously with lyrics such as "big adventure calls, hell yeah this shit's bananas, all you need is big balls, Coconuts baby"…  However if you have the UK version of the album as I do with the bonus track Young N Crazy, it might leave you scratching your head how it could be left off the album proper, a killer rock song with the big shout out chorus that is very much in the vein of the first album.
When it comes to the music that Reckless Love deliver, it's really not that hard….insert disc, press play and prepare yourself for about 45 minutes of the best damn feel good hard rock anthems heard this side of the 80's.  That's all you really need to do, there's no need to over complicate things people…
Essential information
Check it out if you like: Feel good hard rock such as Danger Danger, Def Leppard and Bon Jovi
Release date: Out now
Label: Spinefarm Records/Universal Music Finland
Produced by: Ilkka Wirtanen
Website: www.recklesslove.com
Track listing:
Animal Attraction
Speedin'
Born To Break Your Heart
Hot
Fantasy
Dirty Dreams
Dance
Fight
Swtichblade Babe
On The Radio
Coconuts
Young N Crazy (UK Bonus Track)