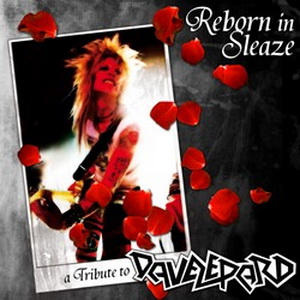 The early 2000's really were a wasteland for fans of sleaze rock, glam metal and just hard rock in general.  Whilst around 2006 and the years beyond would see a proliferation of 80's hard rock bands reuniting for reunion tours and being the catalyst for a bunch of USA festival line-ups such as Rocklahoma etc, a true hard rock/sleaze rock revival was happening elsewhere, far, far away in Stockholm, Sweden.  CRASHDÏET, led by frontman Dave Lepard, formed in 2000, taking strong influence from the likes of Skid Row, Guns N' Roses, Kiss and W.A.S.P.  Whilst the initial lineup may have only lasted a couple of years, it wasn't long before Lepard had at his side Martin Sweet, Pete London and Eric Young.  2004 saw the band signed to Universal Music and on May 20th 2005 the debut album Rest In Sleaze was released hitting number 12 in the Swedish charts and singles such as Riot In Everyone, Knokk Em Down, It's A Miracle and Breaking The Chainz announcing their arrival worldwide.  In a time mind you when social media, let alone Myspace barely even existed.  Tragically, on January 20 2006, less than a year after the release of Rest In Sleaze, Dave Lepard took his own life after a bout of depression.
Now in 2011, with CRASHDÏET touring worldwide on the back of the killer 2010 release Generation Wild, comes this release on Italian label Street Symphonies titled Reborn In Sleaze: A Tribute To Dave Lepard.  Italy has progressively been building it's own little scene of hard rock bands in the last year or two and a bunch of these acts feature on this release, which presents recordings of the Rest In Sleaze album in it's entirety, plus the bonus track Lost Horizons which appeared on the CRASHDÏET EP release.  Initially slated for a release in 2010, with a number of bands over the course of the journey withdrawing their involvement obviously delaying proceedings, the album was finally released in October 2011.
Going into listening to this album, I certainly never expected it for a moment to compare to Rest In Sleaze and with each band having it's own distinct musical style, the song interpretations certainly bring their own individual personality.  By saying this, I certainly don't mean that there is a country and western version of Breakin The Chainz, or a dance version of Straight Outta Hell.  Whether it's the super trashy, horror inspired sounds of Superhorrorfuck or the Ragdolls, to the straight up hard rock of Hell In The Club or the more metal sounds of Midnite Sun through to the sleaze of Peep Show, it's all hard rock and metal being delivered.  Performing CRASHDÏET songs aside, there are certainly a bunch of bands on this release that are worthy of being investigated further in their own right and that in itself is reason enough to check out this album, even if the thought of hearing interpretations of such an iconic album doesn't.
In 2011, the legacy of Dave Lepard reigns supreme, with Rest In Sleaze and ultimately the initial vision Lepard had with CRASHDÏET being the influence and inspiration to many bands and fans worldwide, including no doubt the many who were involved with this release.

Essential Information
Check it out if you like: Crashdiet
Release date: Out now
Record label: Street Symphonies
Website: www.streetsymphonies.com
Track listing
1. Knokk 'Em Down MIDNITE SUN
www.midnitesunband.com
2. Riot In Everyone SPEED STROKE
www.myspace.com/speedstrokeband
3. Queen Obscene / 69 Shots SKULL DAZE
www.myspace.com/skulldazeband
4. Breakin' The Chainz PEEP SHOW
www.myspace.com/peepshowonline
5. Needle In Your Eye SUPERHORRORFUCK
www.superhorrorfuck.net
6. Tikket RAGDOLLS
www.myspace.com/ragdollsvbg
7. Out Of Line CYANIDE 4
www.myspace.com/cyani4de
8. It's A Miracle DNR
www.dnrofficial.com
9. Straight Outta Hell HELL IN THE CLUB
www.hellintheclub.com
10. Back On Trakk SHINING LINE
www.myspace.com/shiningline
11. Lost Horizons (bonus track) BLACKRAIN
www.blackrain.fr