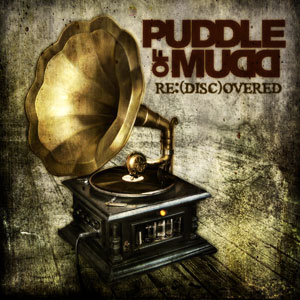 In 25 words or less:  "A highly enjoyable album, featuring a collection of timeless songs that are no doubt as intrinsic to many of our own musical upbringings, as they are the members of Puddle of Mudd." 
Cover albums, tribute albums, whatever you may want to refer to them as, are always an interesting proposition and there never usually seems to be any real middle ground with them…they either work, or they don't work.  Most of the time however, that determination is purely in the ears of the beholder to speak.  Well this time it's Puddle Of Mudd's turn to enter the fold with Re:(disc)overed.  But firstly, for the benefit of those of you in Australia reading this who may recognise the name Puddle Of Mudd, then let me refresh your memory with song titles such as Blurry, Drift & Die, Control and She Hates Me which come from the bands debut album Come Clean released in 2001 and as of even yesterday, I can confirm that those songs are still heard on Australian rock radio.  It may be news to some of you, but Puddle of Mudd have released 3 albums since Come Clean, sold over 7million albums worldwide, in the USA have had over a dozen radio hits.  As a live band they are in high demand at some of the biggest rock and metal festivals in the world such as the UK's Download Festival in June 2011
On this their fifth album, Puddle Of Mudd cover a bunch of their favourite songs and the songs selected are probably not what you expect.  I am sure the expectation of many would be a CD full of covers from a selection of 1990's grunge, alternative, metal and nu-metal bands…  Well sorry to disappoint, but you have to skip a few decades and head back to the 70's for the decade that provide the majority of the albums songs, and what a selection of songs at that.  Rather than going for a selection of obscure bands and tracks, the band have picked a collection of some of the most timeless songs, from equally as timeless artists and there in lies the success of what I found to be an incredibly enjoyable album.
One of my favourite Rolling Stones songs Gimme Shelter opens proceedings and follows into Neil Young's Old Man.  Referring to both these specific songs as well as the album as a whole, the band have mostly stayed very faithful to the original versions albeit with the distinct vocals of Wes Scantlin providing a definite Puddle Of Mudd flavour such as on their take of AC/DC's TNT.  Songs that are so far removed from the style that Puddle of Mudd are renowned offer up some of the albums greatest highlights with the duet of Scantlin and up and coming singer BC Jean on the Stevie Nicks and Tom Petty Stop Dragging My Heart Around.  The guys make Billy Squier's Everybody Wants You well and truly their own, man, what a smokin' version this is, whilst Puddle Of Mudd doing Elton John's Rocketman on face value just shouldn't work, but believe me it does, once again the use of backing singers is a real highlight.  Led Zeppelin's reggae tinged D'yer M'aker and the funk of The James Gang/Joe Walsh track Funk#49 sees the band well and truly push themselves in a musical sense.  Catering to my already self-confessed love of female backing vocals, then imagine my delight with hearing With A Little Help From My Friends, which takes from the Joe Cocker epic interpretation, rather than The Beatles original 3 minute pop version.
Whilst the execution of the songs and the bands musical ability on display throughout this album can't be faulted, the real strength for me as to why Re:(disc)overed is so damn enjoyable is undoubtedly the song selection.  A collection of timeless songs that are no doubt as intrinsic to many of our own musical upbringings, as they are the members of Puddle of Mudd.
Essential information
Check it out if you like: Puddle Of Mudd, classic rock
Release date: Out now
Label: Goomba Music
Website: www.puddleofmudd.com
Track listing:
1. Gimme Shelter
2. Old Man
3. T.N.T.
4. Stop Draggin' My Heart Around
5. The Joker
6. Everybody Wants You
7. Rocket Man
8. All Right Now
9. Shooting Star
10. D'yer Mak'er
11. Funk #49
12..Cocaine
13.With A Little Help From My Friends