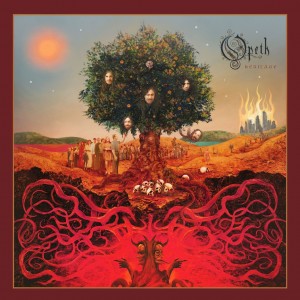 In 25 words or less: A prog, jazz, blues, psychedelic, metal vibe delivered in a great slab called Heritage
From the opening piano intro I truly didn't know what to expect with this new release from Opeth but as that faded out and directly in to the next track I could finally get a gist for what I was in for. This being Opeth's 10th release in their 21 year career they have continued on with their prog, jazz, blues, psychedelic, metal vibe and delivered a great slab in Heritage. I could easily just sum it up as that and be done but I won't. Although it is hard to talk about these hour long prog style records I'll give it a go. Rather than my usual track by track commentary, I'll try it this way…
Hailing from Sweden, and we love Sweden, you can hear the European production values on this release, showing the lack of the American polish that many of us are used to, and don't get me wrong, that's not a bad thing at all it just makes for a very different sounding record and what makes this Opeth record what it is, that being a great mix of different genres to produce a blend that works. Would I listen to it every day? No. But is it a great relaxing album to chill with after a long day? Actually yes it is and could be.
There are I fell no stand out songs on the album as they all have their own qualities but that's what makes it interesting. It's nowhere near as heavy as I thought it would be but again, coming in to this album blind I had no idea what to expect and they're always the albums I like as it's exciting to hear new music for the first time. The playing is great on this with haunting keys, great solos be it drum or guitar and vocally, singer Mikael Åkerfeldt couldn't suit these songs or this band more. The album does play out as it came in, instrumentally, and it's a cool way to fade out what was a completely different album to listen to. Great work Opeth.
So I'm ashamed to say it but Opeth is a band I've never seen live, but would love to see how these songs would transcribe to the stage. Australian fans will get the chance to see just that when the band returns in December and I'll make sure I'm one of them!
Tracks:
1. Heritage
2. The Devil's Orchard
3. I Feel the Dark
4. Slither
5. Nepenthe
6. Häxprocess
7. Famine
8. The Lines in My Hand
9. Folklore
10. Marrow of the Earth
Essential Information
Released: Out Now
Label: Roadrunner Records
Produced By: Mikael Åkerfeldt
Website: www.opeth.com
Check it out if you like: Prog Rock & Metal!
Catch Opeth on tour in Australia this December:
THURSDAY 15 DECEMBER          BRISBANE, THE TIVOLI – 18+ www.ticketek.com.au
FRIDAY 16 DECEMBER                  SYDNEY, THE ENMORE – LIC A/A www.ticketek.com.au
SUNDAY 18 DECEMBER                MELBOURNE, THE PALACE – 18+ www.ticketek.com.au
TUESDAY 20 DECEMBER             PERTH, FREMANTLE METROPOLIS – 18+ www.oztix.com.au
For more info check out www.soundwavetouring.com and www.opeth.com