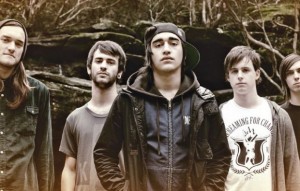 Official band bio/press release: "Australian Hardcore is officially out of the bag. Once the nation's best kept secret, the mainstream has been forced to take notice of the massive underground scene that has been taken to new heights both locally and internationally with the success of bands like Parkway Drive, The Amity Affliction and Dream On Dreamer. And as the music industry struggles to make sense of exactly where it all came from (and how they can get involved), hundreds of young bands are already making headway into becoming the next success to be born out of the scene.
Northlane are one of (if not the best) new bands out there. Combining a ferocious live show, an unwavering message and a passion-before-fashion approach to their aesthetic, Northlane has everything that makes heavy music powerful – the raw energy of hardcore, the technical proficiency of metal and the attention to detail in their songwriting. While the metal / hardcore crossover has been present in the scene since the mid eighties, in 2011 it's rare to find such a refreshing take on the mix.
Forming in 2008, the young Sydney five piece has spent the last five years carving out an enthusiastic fanbase all across Australia. Without doing any big supports, they've managed to become a headline act in regional and city centres via word of mouth and live shows that look and sound fit for arenas.
Earlier in 2011, Northlane settled to record their debut album, "Discoveries". Self-Produced and sent to the US to be mixed by Will Putney, the album immediately caught the attention of Australian powerhouse music company UNFD, who had already had bountiful success with the likes of The Amity Affliction, The Getaway Plan, Dream On Dreamer and I Killed The Prom Queen. A deal was subsequently signed, and a new relationship formed.
With the talent to match their enthusiasm, and the outlook of a band hell bent on carving out their niche, the new relationship and album should prove to make Northlane yet another Australian success to shock the mainstream."
In the midst of album release festivities and national tour, bass player Alex shares more insight into the band…
Let's start with the basics first, when did the band first get together and what is the background to your band name?
The band first came about in mid 2009 when Jon and I (Alex) started sharing some songs and riffs over the Internet. We liked what each other had came up with and from there on we started writing songs and recruiting members under the name Northlane.
For the benefit of our readers who would have not yet heard Northlane, how would you describe the style of music that Northlane performs?
We have a lot of big sound scapes and layering, along with a very post hardcore influence and Meshuggah type grooves.
Can you introduce each member of the band and give us a fun rock 'n' roll fact or myth about each?
We have Adrian Fitipaldes on vocals and he is also known as the Enrique Iglesias of Hardcore. Josh Smith who plays guitar, he can bench press 2 kids per arm at any show! Jonathan Deiley also plays guitar and he lives so far up the Blue Mountains that he has to ride a donkey half way to band practice. Nic Petterson is our drummer and he has the tendency to fall backwards off stage and have half his kit fall on top of him and my names Alex Milovic, I play bass and also strive to one day have the worlds greatest moustache!
It's been a big year for hardcore fans in Australia and you have just released your debut album, Discoveries on November 11th. Here's your chance to tell us why everyone should go out and buy it?
I urge people to go and buy our CD for a few reasons, first off the songs on there are our pride and joy, this is what we have worked so hard for and its finally out for the world to hear, the artwork might I add is also amazing! Last but not least at the time of the album recording we had no financial backing and was all done and paid for out of our own pockets.
In terms of your song writing, what do you consider to be the most important things that need to feature in a Northlane song to give you your trademark sound?
A key trademark to the Northlane sound is layers, 9 times out of 10 we have sections of our songs which will have 3 or even up to 4 guitars playing melodies and harmonizing sections at one time. Also a key ingredient is Adrian's distinctive vocals and passionate lyrical content.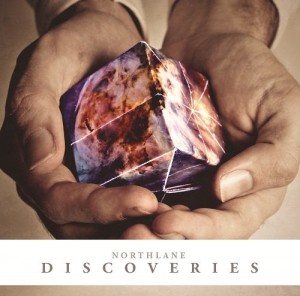 What inspired and influenced the songs on your album Discoveries in a lyrical sense and what is the significance of that album title?
All the boys in the band are very like-minded and we see eye-to-eye on many topics whether public or personal and is part of the reason we are brothers. The album covers topics that are both personal and public, what we have discovered about the universe and ourselves as we tackle the future head on.
Looking back on the experience of recording your first album, what were some of your biggest learning experiences in comparison to past experience recording EP's/demo's?
As a band we had to be much more particular about everything and we felt that everything had to be perfect. This however meant that we ran over time in the studio, so the biggest learning curve we had was time management.
Whilst your album has only just been released in Australia, with the strong focus now on the Australian hardcore scene internationally…are there any plans being discussed yet for world domination?
Yes! But they are top secret, for the time being we will be spending most of our time touring domestically.
If you had the opportunity to contribute your music to a movie soundtrack, what kind of movie do you think your music would be best suited to and why?
I think our music would be best suited to an action movie, we are a relatively heavier style of band so I think that a good car chase scene or fight scene would flow best with our type of music.
As I type this, you have just kicked off the first show in your Australia wide tour. For the benefit of those who haven't yet seen you perform live, but will be doing so in the next few weeks, what can they expect from your live show?
We strive on having the best live performance we can possibly give, so for those coming to see us in the coming weeks, they can expect an energetic and in your face experience, we also try our best to get everyone involved so that the crowd is having just as much fun as we are.
Here's a chance to gaze into your crystal ball. In the next 6 months Northlane will have:
1. OUR VERY OWN TRAILER!!
2. Hopefully some new guitars.
3. Hair on our chests!
Essential Information
From: Sydney, Australia
Sounds like: Hardcore
Band members: Adrian – Vocals, Jon – Guitar, Josh – Guitar, Alex – Bass, Nic – Drums
Website: www.facebook.com/northlane
Latest release: Discoveries (2011 – November 11th, We Are Unified)
Tour dates:
NORTHLANE – 'DISCOVERIES TOUR' with IN HEARTS WAKE
Presented by Fetch Agency, UNFD & KillYourStereo.com
Friday 18 November – Flynns Beach Surf Club, Port Macquarie (AA)
Saturday 19 November – The Loft, Newcastle (AA)
Sunday 20 November – Lithgow (AA)
Wednesday 23 November – Cambridge Hotel, Newcastle (18+)
Thursday 24 November –Gee Whiz, Central Coast (18+)
Friday 25 November – Pow Nightclub, Werribee (18+)
Saturday 26 November – Narre Warren Learning Centre (day show), Melbourne (AA)
Saturday 26 November – Bang Nightclub, Melbourne (18+)
Sunday 27 November – Collingwood Masonic Hall, Melbourne (AA)
Thursday 1 December – The Loft, Warnambool
Friday 2 December – Purplez Entertainment Centre, Mt Gambier (LIC/AA)
Saturday 3 December – Fowlers Live, Adelaide (AA)
Sunday 4 December – The National, Geelong (AA)