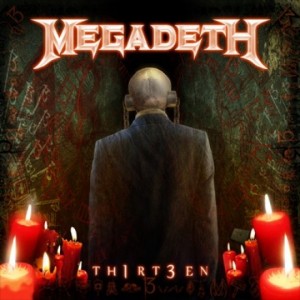 In 25 words or less: "It's a heavy, at times classic sounding metal album and one I'll be happy to listen to again"
Im not sure if I'll be berated for this but my favourite Megadeth album is 'Countdown To Extinction'. So when I heard this new album from Dave and the boys was somewhat similar to that awesome album I was ready, willing and rocking to check out their thirteenth release aptly titled 'Th1rt3en.'

Within seconds of 'Sudden Death' you get a feel for what you're in for on this album, it's big riffs, bigger bass and massive kick drums that if I tried to do this I wouldn't be able to walk for a week, how these guys do it is beyond me but I suppose that's why I'm not a drummer. It's pretty damned impressive actually. This is a well done album, the production is great, handled by rock producer royalty in Johnny K and with Mr Mustaine also up for producers chair credits he knows what his band should sound like and he's presented that to us here.
First single 'Public Enemy No. 1' is a ball tearer, check it out below so you can see what I mean and get a feel for what the album is like.  Some of the solos on Th1rt3en are ridiculously good, but then again with 13 albums and almost 30 years in the business you'd expect that, I mean even more so when you're considered one of The Big 4.  Let's hope that The Big 4 make an appearance in Australia one day and along with that, some of these songs performed live!
'Black Swan' blows my mind, the movie and the song, more so the song, this one I think is my favourite on the album.  Yeah, can't beat this one.  I mean really, it's hard to pick a song that stands out on the album besides the ones mentioned as they're all as heavy, thrashy and ballsy as the next.  So overall, it's all good and great to hear Megadeth can still cut it with a kick ass album where others from their time and or genre struggle.  The only song I struggled with was the 'ballad' called 'Millennium Of The Blind' that didn't really work for me sorry, Megadeth and power / thrash ballad shouldn't play together.
Overall though, what I like about this album is that I can hear shades of Alice Cooper at times within the tracks and that's fine by me!  It's a heavy, at times classic sounding metal album and one I'll be happy to listen to again.
Essential information
Check it out if you like:  Thrash metal
Release date: November 1
Label: Roadrunner Records
Produced by: Johnny K & Dave Mustaine
Website: www.megadeth.com
Track Listing:
1. Sudden Death
2. Public Enemy No. 1
3. Whose Life (Is It Anyways?)
4. We the People
5. Guns, Drugs, & Money
6. Never Dead
7. New World Order
8. Fast Lane
9. Black Swan
10. Wrecker
11. Millennium of the Blind
12. Deadly Nightshade
13. 13