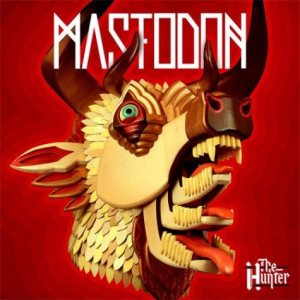 In 25 words or less: A great album that is not too heavy, not too light, it's just right.
The new album from mastodon is pretty damn good. There, I said it. This is an album full of chunky riffs and catchy heavy songs. This album is their first since 2009's 'Crack The Skye' and continues to show the growth of the band along their 12 year career. I currently find myself tapping along to the songs as I write this which is always a good sign as it tells me that they're on to something with this album so hopefully that momentum keeps up.
Songs like 'Stargasm' and 'Black Tongue' are standouts for me at the moment as is a contender for greatest song name of 2011 in 'Octopus Has No Friends' this track at times has a Muse meets Ozzy Osbourne feel to it, yeah I know what I mean but that sounds weird. The underlying guitar riff is what catches it for me. Nice work and I'm not sure why the Octopus wouldn't have any friends as this song rocks. We move almost into prog rock as we move on which isn't so much a bad thing but the songs take twists and turns and it's pretty cool. Next, I suppose you could call the title track somewhat of a ballad in a Metallica 'Hero Of The Day' kind of way… Love the solo in this one too by the way. We continue on with some more great rockin tracks that are just perfect for chilling out to. Not too heavy, not too light. They're just right and this works for me, until you get to track 11, this one will blow your head off, heavy as shit! Love this one, check that one out first. It wins!! The album finishes up with a rocker and a ballad, the ballad builds and builds and then surprise, wall of rock!! A great way to finish a really cool album.
With the band heading to Australia for Soundwave in 2012 I can't wait to hear these ones played live and given the justice they deserve which is to be played in front of people that may have never heard of Mastodon but probably should've
Tracks:
1. Black Tongue
2. Curl of the Burl
3. Blasteroid
4. Stargasm
5. Octopus Has No Friends
6. All the Heavy Lifting
7. The Hunter
8. Dry Bone Valley
9. Thickening
10. Creature Lives
11. Spectrelight (feat. Scott Kelly)
12. Bedazzled Fingernails
13. The Sparrow
Essential Information
Released: Out Now
Label: Roadrunner Records
Produced By: Mike Elizondo
Website: www.mastodonrocks.com
Check it out if you like: Hard Rock & Metal!
SOUNDWAVE FESTIVAL VENUES AND DATES
FEBRUARY/MARCH 2012
SATURDAY 25                    BRISBANE, RNA SHOWGROUNDS
SUNDAY 26                         SYDNEY, SHOWGROUND
FRIDAY 2                              MELBOURNE, SHOWGROUNDS (SOLD OUT)
SATURDAY 3                       ADELAIDE, BONYTHON PARK
MONDAY 5                         PERTH, CLAREMONT SHOWGROUNDS