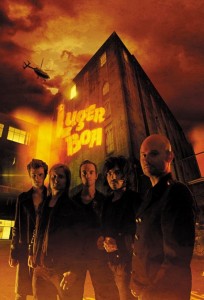 From Official Bio: LUGER BOA is the brainchild of Jimmy Christmas and the result of a multitude of strange influences and experiences touring Europe, Japan, Australia & The USA as singer/guitarist with NZ garage rock heroes the D4, who wowed audiences at all the major festivals, appeared on major US TV shows Letterman & Jimmy Kimmel Live, and sold in excess of 100,000 albums.  The D4 achieved massive success, released 2 albums and became legendary for their incendiary live shows before going on 'hiatus' in 2006.
2009 saw the formation of LUGER BOA and the release of the critically acclaimed 'Mutate Or Die', which catapulted the band into the public eye with an album and outfit described as ' a glam version of the Hives with a dash of T-Rex' . The album spawned the hit singles 'What Is Real?', 'I Wanna Girlfriend' and the Rock radio single of the Year, 'On My Mind'. The band toured relentlessly, sharing the stage with the likes of Shihad, The Mint Chicks, Airbourne, The Living End, and HLAH, as well as playing as main support for international heavyweights The Kings Of Leon. 2010 saw them headline the hugely successful 'State Of Rock Tour' and return to the studio to create a new album described as "12 deliciously twisted tales from the concrete jungle".
We chatted to Luger Boa front man Jimmy Christmas about the band and their new awesome slab of rock 'New Hot Nights' and what it was like opening for Meatloaf…
For those that have never heard of you before how would you describe your music to them?
I would describe our music as Mutant Rock and Roll, I think it's the true genre which is rock and roll which I put my heart and soul into and we try to twist it around and mix it up a little and add our colour and flavour to it.
Now a lot of people may not know that you once headed up D4 and released 2 albums with them. Is the D4 done?
We're on hiatus mate.  I mean we love each other like brothers, it was just the time, that I think as writers and as a band we wanted to go somewhere else.  D4 set pretty big parameters of what it was what it sounded look and what it looked like and we didn't want to change that or mess with that but I think we wanted to try and do different things, so we decided to take the time and say we'll leave that there for the time being and  we'll see what happens
Was starting Luger Boa always on the cards or did it all just come together after the lengthy hiatus of D4?
After the hiatus, I had a year of sitting around doing the things I wasn't able to do because of the amount of time the D4 took up.  I had a lot of time at home, a lot of reading, a lot of hanging around by myself just walking the streets and Luger Boa was pretty much the result of that, that's pretty much this record, a solo record I put together and then got some great players in to help make it and then put the band together, decided that I really like the gang and so now we've been playing for a couple of years now, we've got another record and we're ready to assault Australia so to speak.
As no stranger to playing live, how do you approach a Luger Boa show?
With wild reckless abandon, pretty much mate, Luger Boa is at a stage we're coming over in November to play Sydney and Melbourne and it's really do or die for us because we've got a great fan base here and we've toured the country lots and we've had some massive supports, Kings Of Leon, we've just come off the Meatloaf tour, we've done our National tour in clubs and we need to push it further, so every show that we do is do or die for us.  We have to make an impact, we've had a lot of experience and we're a really hot rock and roll band with a bunch of really hot players with two albums of material to play and firing up!
You're heading over to Australia for a few shows in November. What can people expect from a Luger Boa live show?
It's got to be our goal to impress and it's got to be our goal to make an impact, it can't be any other way so I'm gonna give it everything I've got.
You mentioned you opened for Meatloaf in NZ, so how were those shows?
They were really good, Meatloaf played to 12,000 here, we're getting used to that kind of crowd, and Meat was a great guy and his band were really awesome and they treated us really well and it's a great experience to go out there with your band to walk out in front of 12,000 people and especially myself, we were on fire, its gets us a lot of confidence moving forward and helps you with how to do it, it was an amazing experience and that was off the back of our own National tour we'd just done so the boys were itching to continue.  Also the band gets hot, we play shows, live shows are worth 50 – 100 rehearsals, surely 12,000 people is worth 500 rehearsals.
Hailing from New Zealand, how do you see the music scene differ over there compared to somewhere like Australia?
Well having not really spent a lot of time in the Australian music scene at the moment, I don't know, there's a lot of diversities here and there's a lot of new stuff coming out, I guess it's the same as any place where you've got your mainstream and there's a lot of stuff that seems to be indie at the moment, a lot of glockenspiels and ukuleles which isn't my real cup of tea but it's vibrant, there's a lot of people doing a lot of crazy stuff.  I think we're going to find a home in Australia, there's got to be surely a taste for indie rock and roll, in general, good rock and I know it's a good scene in Melbourne and I've been there many times and I think people appreciate honesty in music, we're an honest band, we're not trying to sell you anything we're not.
Your newest album 'New Hot Nights' is killer, what are the major elements that you feel need to be in a Luger Boa song?
I think it's gotta have, a lot of the stuff I start on the bass guitar and it all starts with a big groove, that's quite a big role in it, then I want it to be strong melodically, I want it to be something that sticks in your head, I like to take a standard arrangement and just fuck it up a bit, I don't like it when people can predict what's coming next.  I would say with a lot of the Luger stuff that you listen to, there are excellent surprises in there and we got to work with some really great people and I want everything to progress and move on, there's no waste of time with a Luger Boa song, people like spicy, we want to give them something to listen to, I got bored frequently listening to music, so for me when it's our stuff, if it's not moving along then it's out, then getting the sound right it's just more fun trying to fuck it up.
I think diverse is a great word to use to describe the album with all sorts of different feels and sounds was that intentional?
Yeah well what we did the first record was very much a transitional piece, like it was an exploration of what is this thing that makes us you know? So it was very high energy, high intensity and with 'New Hot Nights' the band settled in now, we tracked pretty much everything live, but the goal on the second record was to make something that wasn't a repetition of the first record and be as diverse as we could be or wanted to be and there would be no parameters put around Luger Boa and we could do whatever the hell we want on another record.  Like if I made another record just like 'Mutate Or Die' you'd think well that's that but when you look at 'New Hot Nights' and the difference between them is like fuck the kids, or doing the same thing or lazy or paralysed.  I'm also trying to write a record, I want to write my own Ziggy Stardust you know, that album I love to bits, I've listened to it a million times, I could listen to it a million times more because I feel there is such diversity in that record.
I hear shades of Lou Reed, The Hives, and I saw T-Rex mentioned in your bio, but do you look to any influences when putting your songs together?
I think that those are great references, I'm thinking Bowie, Ike & Tina Turner, Lou Reed, they're all the people I really like, it's more like greasy rock and roll with electric vocals and trying to get some sort of rhythm to the delivery.  It comes from all of that you know, I could probably go through again and find out where all those influences have come from both consciously and sub consciously you know but a lot of stuff starts for me just jamming.  Start with Nutbush City Limits and suddenly you're in to something like…
Dirty Boulevard…
Yeah ha ha ha
You co produced the album, how is being behind the scenes different for you compared to being in front of the microphone?
The writing and production side is something that really appeals to me, and it's too close to the same thing.  I've started to produce other bands, I really like producing my own stuff, my own band and it's like getting all the fellas together with the Luger stuff the foundations are there, it's taken away and then twisted and twisted and twisted and twisted, I really like that side of it, messing with the arrangements, trying to get out the performances, trying to put in the performances myself and I've been fortunate enough to work with Barry Palmer, the producer on these records, Barry and I have been fortunate enough, been really lucky to work with Barry on a number of things and he's as demented as I am.  Like the relationship is really positive and it just flows and we go 'Hey what about…?' and he says 'Yeah' we don't even have to talk about it, we just do it.  He brings the best out of me.
What's the inspiration behind the album name and very rock radio friendly title track 'New Hot Nights'?
It was the last song written on the record, it's been the most successful here, it was number one at rock radio for ages, which is great.  That one was a working demo, although I never use the word demo anymore because we're always recording, but it was a song called 'Hot Nights' just a throw away title, then we decided in the process of recording the album that it was too much of a rock song, we wanted something to give it a different mood, so I sat down with a guitar and worked out a transition and we got it a new arrangement and everything and then we just jumped in with the band and just called out the changes as we were going you know, it had a real organic boost then we got the lyrics around it, so it was 'New Hot Nights' and then we realised that when we got in to it that the album has become a loose concept record about a night out on the town, because I spend a lot of time with the lyrics and a lot of the stuff has been written on K Road, I'm not sure if you know it, it's the red light district at the top of town and you get all the freaks, you've got transvestites mingling with kids or preppy kids all dolled up, mixing with deros and a lot of time we were just hanging out and watching that street and watching everybody collide and the personalities the songs just happen, so the artwork as well so loosely is kind of a concept as well and New Hot Nights seemed to work as well.
I love the artwork, I opened it up and was looking for lyrics and it was just pictures, it's so good.
Yeah ha ha, all we did there was we shot that street when there was no one on it and we re edited, it and made it a fictional street and all the shop names and the signs and everything are connected to the band and in jokes and stuff like that and we got all our mates to come and dress up and become the characters that we saw that are in those songs.
What's next for Luger Boa?
Well we've got this stuff in Australia in November, and we need to make an impact, we're a live band we're a really good live band, we've got a couple of albums up our sleeve, we're trying to get it released in Australia and we want to keep hitting Australia for a little while and keep pushing on through in to Europe and Asia and take it off shore, that's the plan, it's kind of do or die for us which is why we're doing this, to smash it.
Essential Information
From: New Zealand
Sounds like: Mutant Rock and Roll
Band members: Jimmy Christmas – Vox/Guitar, Sam Lockley – Guitar, Simon Nicholls – Bass, Joe Mac – Drums, Johnny Lyon – Guitar
Website: www.lugerboa.com
Latest release: New Hot Nights (2011, Stuka Records)