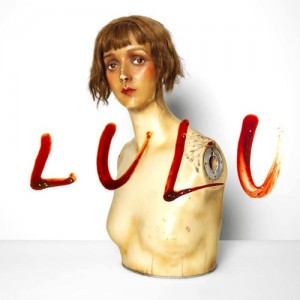 In 25 words or less: "On paper this had every potential to be good, basically on every medium besides the recorded one this had potential to be good. Sadly…"
Now, before I even start this album I have been warned. Basically the resounding reviews are saying it's terrible, they don't get it and my favourite which was something along the lines of 'It's like what Jar Jar Binks did to Star Wars' but I need to make up my own mind. For starters I'm not happy as it's over two discs but that's just due to laziness of me having to get up in 40 minutes when it's time to turn the tape over… Ok. Time to press play and see what happens…
I don't understand what I'm listening to, that first song 'Brandenburg Gate' was a whole lot of noise, I really wish I could type the face I'm making. I'm confused. Did Metallica say to Lou Reed "Hey Lou, you just do whatever and we'll play whatever and then let's play a fun game and just put the two together regardless of what it'll sound like… That'll be amazing!" now look that conversation probably didn't happen but it sure as hell sounds like that's what they've done.
I'm not sure what I expected when I heard about this project, I was thinking new songs that would be similar to rocked up versions of 'Dirty Boulevard' or something but I can tell you what it wasn't. This. In all honesty, what is the concept they were going for? Is it a poetry thing read over 'Metal?' let me go and suss that out, oh ok they're songs based on songs originally written by Lou Reed for the play Lulu. So wait, wait, I don't understand, ahh fuck it, I know I won't so why bother trying to work it out? For instance, 'Pumping Blood' what? At times the music is bearable but even then, not all the time. Touch wood so far this 'Iced Honey' song isn't terrible, or is it? Partly. Next in 'Cheat On Me' we're asked "Why do I cheat on me?" over and over again… Ok let's do this, replace do with am, cheat with listening, on with to and me with this, now THAT is a good question. I think what I am with this album is disappointed. Ooh the little chime just went off 'turn tape over.'
Four tracks to go, four very long tracks, but OK 'Frustration' PLEASE be an instrumental. Ahhh crap. It's not. Man, why wasn't this music saved for a REAL Metallica album? That could've been good. 'Little Dog' run away, don't go inside, run, find a new family, you don't want to be a part of this one. Seriously, at what time did all four members of Metallica think this was good? I just can't fathom that would've happened. I mean, I'm now going to listen to 'St Anger' to try and get this one out of my head, that's how 'good' Lulu is. 'Dragon' again, you've got some great music in there you've, I feel, wasted. That's such a shame as it's that signature Metallica sound too, oh well. Last song. 'Junior Dad' any redemption here? Can we go out on a high note, or any note for that matter? Not really but this and 'Iced Honey' were about the only bearable tracks on Lulu and because 'Junior Dad' goes for over 19 minutes I'm left with over 8 minutes of strings fading us out. Weird. Really weird.
So after listening to Lulu, maybe I just don't get it, all I know is it'd never be an album that myself or anyone should say 'oh I'm in the mood to listen to Lulu' so I'm not sure what place it has, anywhere. On paper this had every potential to be good, basically on every medium besides the recorded one this had potential to be good. Sadly…
Essential Information
Check it out if you like: Geez, I don't even know…
Release date: Out now
Record label: Universal Music
Produced by: Greg Fidelman, Metallica, Lou Reed, Hal Willner
Track Listing:
1. Brandenburg Gate – 4:19
2. The View – 5:17
3. Pumping Blood – 7:24
4. Mistress Dread – 6:51
5. Iced Honey – 4:36
6. Cheat on Me – 11:26
7. Frustration – 8:34
8. Little Dog – 8:01
9. Dragon – 11:08
10. Junior Dad – 19:29
Website: www.metallica.com &  www.loureedmetallica.com