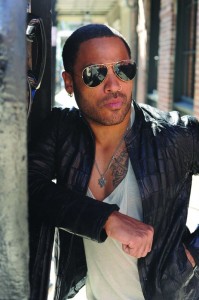 FIRST AUSTRALIAN CONCERT APPEARANCE IN 18 YEARS
JOINED BY SPECIAL GUESTS THE CRANBERRIES AND WOLFMOTHER
Get ready to rock Australia! McManus Entertainment in association with F1 Rocks is thrilled to announce the return of rock icon Lenny Kravitz to Australia in March 2012. Marking his first concert appearance in the country in 18 years, Lenny will be joined by Irish chart-toppers The Cranberries, and Aussie rockers Wolfmother.In addition to playing Melbourne's Sidney Myer Music Bowl during the Australian Grand Prix weekend, Lenny Kravitz, The Cranberries and Wolfmother will also be playing shows in Sydney, Wollongong, Brisbane and Perth.
"Not only will rock fans around Australia get to enjoy these three great artists, highlights of Lenny's performance will be broadcast around the world via the F1 Rocks network to a huge international audience. It's been 18 years since Lenny Kravitz last toured Australia. Lenny is an international superstar and it's a pleasure to bring him back here. And it's perfect timing for those that are at the Grand Prix in Melbourne. Fans can conveniently walk over from the track to the Sidney Myer Music Bowl and enjoy a great night of rock in Melbourne," says promoter Andrew McManus.
Regarded as one of the preeminent rock musicians of our time, Lenny Kravitz has transcended genre, style and class into a 20-year musical career, one which revels in the rich influences of '60s and '70s soul, rock and funk. Lenny Kravitz is a four-time GRAMMY Award winner and has sold more than 35 million albums worldwide. The artist's multiple talents as a writer, producer and multi-instrumentalist have resonated through eight studio albums into a timeless catalogue.
Lenny Kravitz released his ninth studio album earlier this year, Black and White America (out now through Roadrunner Records). Marking his first release of new material in three years, Black and White America is a rich rock and funk-infused collection filled with Lenny's signature guitar riffs, compelling melodies and the undeniable anthemic lyricism that has been his trademark over the course of his 20-year career. In addition to the release of his new album, Lenny Kravitz will appear in the upcoming motion picture "The Hunger Games" set for release in March 2012.
"I am excited to return to Australia after so many years away," says Lenny. "It's going to a great show and I cannot wait to see all my fans there. We are going to bring it!"
Put it in your calendar – Lenny Kravitz, The Cranberries and Wolfmother is a rock show not to be missed! Proudly presented by Triple M, Wave FM, MAX, Channel Nine, Beat, Brag, Drum Media, Scene, Dangerfield and Australian Guitar Magazine. Tickets go on sale from 9am on Monday 21 November via the below outlets

2012: LENNY KRAVITZ, THE CRANBERRIES & WOLFMOTHER
Saturday 17 March –
F1 Rocks In Melbourne, 
Sidney Myer Music Bowl
Tickets from 
www.ticketmaster.com.au
 and 136 100, 
Formula 1 After Race Concert 18+*
Sunday 18 March –
F1 Rocks In Melbourne, 
Sidney Myer Music Bowl
Tickets from 
www.ticketmaster.com.au
 and 136 100, 
Formula 1 After Race Concert 18+
*
*Sidney Myer Music Bowl tickets also available from www.theartscentre.com.au 1300 182 183

New album 'Black And White America' is out now through Roadrunner Records