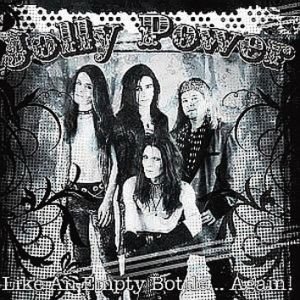 Now here's a release that all the truly dedicated sleaze merchants worldwide may have been waiting for….the CD release of Like An Empty Bottle from Italian sleaze rockers Jolly Power, previously only available on cassette tape.  That being said, quite obviously this is a very raw sounding release, however in a way that fits in perfectly with the brand of sleazy, punky and trashy rock delivered by Jolly Power.  With some acoustic guitar, harmonica and a definite swagger added to the mix, there's certainly more than a hint of a Hanoi Rocks kinda vibe going on here.  With the addition of 5 additional tracks and some fan filmed video footage, it's certainly an essential purchase for all Jolly Power fans out there…if you aren't already a Jolly Power fan and love to be buried up to your neck in a gutter full of sleaze, then check them and their other releases out.
For those unfamiliar with the band….read on below for the "official" press release/history.
Jolly Power History/Official Press Release (www.streetsymphonies.com)
The band starts out in 1988 thanks to a project created by Luchy Chiva (guitar), Bely (bass) and Dynamite XXX (drums); then they are joined by Elia (vocals).
The demo-tape "Like an Empty Bottle" (1994) and the cd "Fashion, Milk and Smokin' Pills" (1996), recorded with this line-up, let them gain a widespread success both in Italy and abroad; the band has also been included in the American compilation "It's only Rock'n'Roll but I like it" which includes bands like Vain, Hollywood Teasze and Paradise Alley (1996).
During these years The Jolly Power have been followed by a growing number of fans, thanks to the insulting live shows which have brought them to a tour of the north and the centre of Italy and to take part of The 69 Eyes' tour on December, 1997.
At the beginning of 1998 Elia leaves the band due to personal reasons and they spend a whole year looking for someone to replace him until Bely decides to become the leading voice.
A new guitarist, Sergy Boy, who perfectly suits the new sound direction of the band, joins them and with this new line up they record "The 7th Crash From Hell" (2000) under Boundless Records label.
After numerous concerts and after taking part in the Metallic KO compilation playing Deuce (Kiss), the band comes back to the studio to work on a new album "Taste The Blood Of The Sonic Revolution" released in 2004 under Red Room Records label.
After many concerts made in Italy and in the foreign countries to promote the cd, the band decides to stop and rest for a while.
On February, 2007 the band returns to the studio with Elia (vocals) and Alex (bass) at Lucky Chiva and Dynamite XXX's side. They record three previously unreleased tracks, dating back to 1994/96, included in the cd version of "Like An Empty Bottle" which is going to be released in a few months. The 2006 reunion lead up to the making of some concerts and to the production of three new songs that, actually, belong to the period between "Like An Empty Bottle" and "Fashion, Milk and Smokin' Pills" . In 2009 Elia left the band once more, still looking for a singer who could be the missing piece.
Essential Information
From: Italy
Check it out if you like: Jolly Power and sleaze rock
Record label: Street Symphonies
Website: www.facebook.com/TheJollyPower
Track listing:
1. It's Only Your Law
2. If Your Heart Is Closed
3. Rebel Soul
4. Like An Empty Bottle
5. Sixteen
6. Downtown
7. No Room For You
8. Thank You (Goodbye)
9. Beautiful
10. F**k You
11. Smokin' Pills
12. Better Be Alone
13. Take All You Want