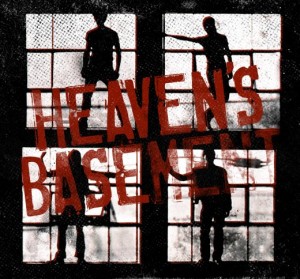 UK Rockers HEAVEN'S BASEMENT have announced three shows to end the year and welcome in the festive season. Their Xmas gift comes in the form of three (nearly) free shows in Sheffield, Manchester and London. Drummer Chris Rivers explains:
"Three special shows packed with all the energy of a full Heaven's Basement tour, everything you expect from our live show and more. It'll be the first chance for everyone to have a taste of Heaven's Basement 2012 before the year is out. What better time for a huge party with everyone than a few days before Christmas?"
It being the season of goodwill, HEAVEN'S BASEMENT have teamed up with TEENAGE CANCER TRUST and are asking for a £1 minimum donation to the charity in exchange for admission, which will be on a first come first serve basis.
The band have been working on their long-awaited debut album, which is set for a Spring 2012 release via RED BULL RECORDS, who they've recently signed with. For a taster of what to expect, check out new song "Paper Plague" available for free download from: http://heavensbasement.com/
Catch HEAVEN'S BASEMENT at the following shows:
19 December – Sheffield – Corporation – 14+ // openers Dear Superstar and Raven Vandelle
20 December – Manchester – Moho Live – 16+ // openers The Fallen and Raven Vandelle
21 December – London – Borderline – 14+ // openers Dear Superstar and Raven Vandelle
http://www.facebook.com/HeavensBasement
http://heavensbasement.com/
http://twitter.com/#!/heavensbasement
http://www.teenagecancertrust.org/
(Teenage Cancer Trust is a Registered Charity, Number 1062559).
A little about Teenage Cancer Trust:  When you're young, life is all about hanging out with your mates, going to festivals and experiencing what life has to offer for the first time, but for six young people each day in the UK everything is put on hold to deal with having cancer. Usually placed on a children's ward or with elderly patients, young people often feel extremely isolated whilst being treated. Teenage Cancer Trust believes young people shouldn't stop being teenagers just because they have cancer; nor should their lives be defined by it, so the charity builds units in NHS hospitals that offer young people specialist care, bringing them together so they can support each other in an environment suited to their needs.
Comments
comments