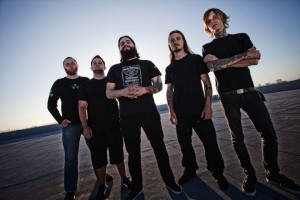 Returning to Australia for their second visit, Bay Area natives and exponents of deathcore, All Shall Perish will bring with them their brutal live show that is none better evidenced than the film clip for their latest single, Royalty Into Exile (watch below!!).  This years release This Is Where It Ends and the bands fourth, sees the band having unleashed what is widely regarded as their best album yet.
Whilst busy out sorting Ibanez guitar supplies for the upcoming tour, guitarist Francesco Artusato chatted to us about the bands imminent arrival in Australia and how he has settled in since joining All Shall Perish.
Hey Francesco, thanks for taking the time to chat today.   So where in the world do we find you right now?
Actually today I am hanging out at Ibanez in L.A getting some guitar picks before the upcoming tours.  We just had a show here in L.A on Saturday with Exodus that went really well.  Then this weekend we are heading to Mexico and then we head to Australia.  We are very excited about that!
So as you just said, soon you will be out here in Australia.  It's the bands second time to Australia and I am assuming this is your first, given you joined All Shall Perish since the last visit.  What have you heard of the bands previous Aussie experience?
Oh man, they loved it so much, that's why we are very excited to come back.  We can't believe it's been so long, a few years now.  But with the new album out, we just can't wait to be back there.
What are you personally looking forward to about your first Aussie visit?
I have had family and friends who have been there and I've heard so many good things about it.  I hope we have a fair amount of spare time so we can walk around and visit and check it all out.
You are touring quite extensively in South East Asia, Australia, and Europe, how well established is the band in some of these countries outside of the USA?
You know, with the USA and Europe the band has played a lot of shows.  Australia it's going to be our second time and first time in those Asia countries.  It's very exciting and we are very curious to see how well we are going to do. From the Internet we know we have a lot of fans in these places but we are very anxious to see the reaction when we are there.  We were in Mexico last year for a small tour and it was incredible, we had a lot of, lot of fun.  South America will also hopefully come soon.  You just never really know how the fans are going to react, in Mexico they were just so into it, we even had fans waiting outside the hotel during the day, which is very different to what it's like in the USA.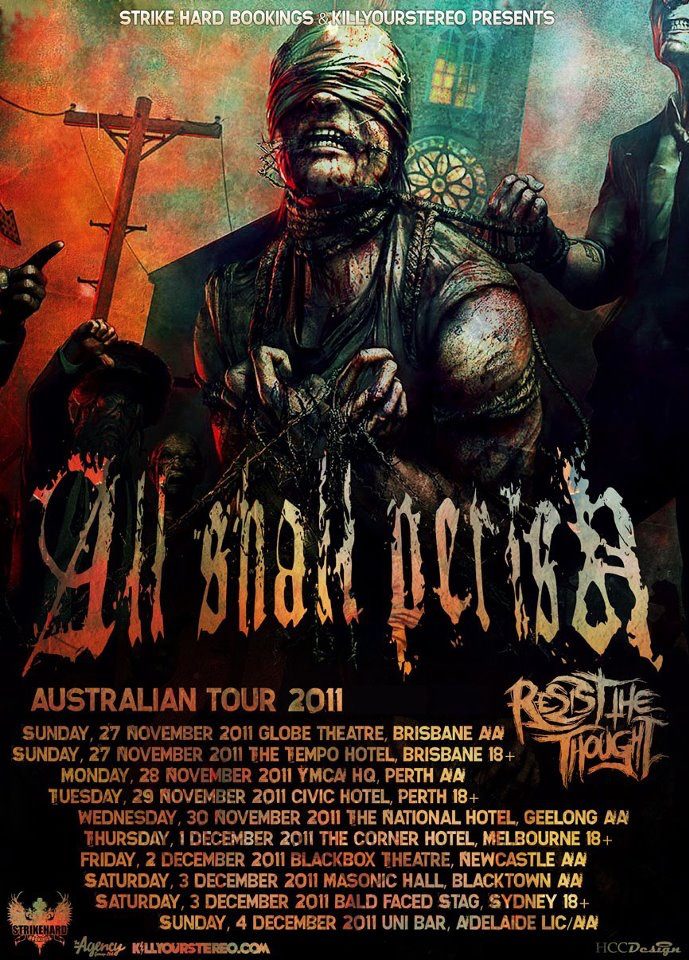 Watching the video for your single Royalty Into Exile, for those that haven't seen you guys perform live before, does this pretty much display what it's like at an All Shall Perish live show?
That's for sure!  That was a great show and we had so much fun.  For that specific show in the video, we had fans flying in from all over the country and driving 10 to 12 hours and the show was sold out.  The fact they knew we were filming the video, the crowd was so incredibly excited.  It definitely shows what an All Shall Perish show can be like!
As far as the set list goes, how many songs off the new album have you guys been playing?
Right now, the set list we've been playing is pretty much 50% old material and 50% new material.  The new material we are very excited about, but we know we have to play the old classics for the fans.
Your new album, This is Where it Ends came out on July 26th now that you've had a while to reflect on the recording process, how do you look back on that now?
It was pretty much a year ago when we really started focussing on that new album after we got back from a European tour.  That was the first time for me and our drummer Adam, working and writing with the band.  It came out so easily, in two or three months we had everything down, it was a very quick process and very natural.  We all felt like we were on the same page and were very excited by the entire album.
How did you find that experience of working with the band, given this was your first time?
They were great.  Of course we had to adapt our style to the established All Shall Perish sound, but we had a lot of freedom still for our own styles.
How has the reaction been to the album so far from around the world, particularly at your live shows?
The fans love it, especially the first single we released before the album was out.  Then there's the music video song, so fans are definitely familiar with some new stuff.  We see a lot of good reactions to the new songs already, as well as the older material.
Using Zach again to produce and mix the album, obviously he works really well with the band, how did you find working with him for the first time?
We were completely happy!  That was my first experience working with him and he's just so talented.  He really knows what the band wants in each situation, so it just makes a lot of sense to have kept working with him.
The track In This Life Of Pain, which starts off with a couple of minutes of piano, which you played, what can you tell us about the creation of this song?
Well that song all started with our bass player sending over and idea that he had for a piano track and I tried to embellish it more by adding strings and stuff to it.  We all had a lot of fun with that song and a lot of people love that part of the track, it's definitely a string contrast to the very heavy parts of the album.
This year, you have also released an instrumental guitar CD Chaos and the Primordial, which came out around about the same time as the new All Shall Perish album.  That must have kept you busy!
The timing of it was more of a coincidence.  Before I joined the band I was in the process of finishing the recording and mixing the album.  Pretty much then the process of talking to labels and getting some interest, it all happened at the same time as All Shall Perish.  I had been writing a lot of those songs on the solo album over the last 5 or 6 years.
Which album do you think best represents you as a guitar player, or possibly neither of them?
It's hard to say.  With All Shall Perish, I definitely have to adapt my style to fit in with the All Shall Perish established sound.  With my solo album I had complete freedom to do what I wanted, which was the whole vibe of that album and has a lot more experimentation on it.
I notice that you are also working on a few other projects at the moment, Star Monarchy being one of them.  You obviously love keeping busy haha!
I just love that involvement with other projects and working with talented musicians.  I get asked to work on other things and if it feels like an exciting project, I'm definitely interested in working on it. I'm currently working on a bunch of other projects and it's crazy sometimes I don't even know why I'm doing them all.  I come back from a tour and am straight into working on writing and recording, but that's who I am and I have a lot of fun doing it!
Essential Information
From: USA
Band members: Hernan Hermida, Ben Orum, Mike Tiner, Adam Pierce, Francesco Artusato
Website: www.allshallperish.com
Latest release: This Is Where It Ends (2011, Nuclear Blast/Riot! Entertainment)
Tour dates:
Sunday, 27 November 2011 – The Globe, Brisbane AA
WITH: Time Has Come, The Construct + Aversions Crown
Tickets from Oztix on 1300 762 545, www.oztix.com.au and Oztix Outlets 
Sunday, 27 November 2011 – The Tempo Hotel, Brisbane 18+
WITH: Signal The Firing Squad, The Kidney Thieves + heaps more
Tickets from Oztix on 1300 762 545, www.oztix.com.au and Oztix Outlets 
Monday, 28 November 2011 – YMCA HQ, Perth AA
WITH: Saviour, Paradise In Exile + Reflections Of Ruin
Tickets from Moshtix on 1300 438 849, www.moshtix.com.au and Moshtix Outlets 
Tuesday, 29 November 2011 – The Civic Hotel, Perth 18+
WITH: I Am Eternal, Anchored + Sensory Amusia
Tickets from Moshtix on 1300 438 849, www.moshtix.com.au and Moshtix Outlets 
Wednesday, 30 November 2011 – The National Hotel, Geelong AA
WITH: Empires Fall + I Seek Existence
Tickets from Oztix on 1300 762 545, www.oztix.com.au and Oztix Outlets 
Thursday, 1 December 2011 – The Corner Hotel, Melbourne 18+
WITH: Trainwreck, Internal nightmare + Boris The Blade
Tickets from Corner Box Office 11am-8pm Mon-Sat, 0394279198 or www.cornerhotel.com
Friday, 2 December 2011 – Blackbox Theatre, Newcastle AA
WITH: Taken By Force, Allay The Sea + Paradise Found
Tickets from Moshtix on 1300 438 849, www.moshtix.com.au and Moshtix Outlets
Saturday, 3 December 2011 – Masonic Hall, Blacktown AA
WITH: Sienna Skies, Pledge This + Beneath The Crown
Tickets from Moshtix on 1300 438 849, www.moshtix.com.au and Moshtix Outlets
Saturday, 3 December 2011 – Bald Faced Stag, Sydney 18+
WITH: Segression, Alice through The Windshield Glass +Hearts Like Wolves
Tickets from Moshtix on 1300 438 849, www.moshtix.com.au and Moshtix Outlets
 December 2011 – Uni Bar, Adelaide Lic/AA*
WITH: Far West Battlefront, A Dead Silence, Graveyards + Armed With Integrity
Tickets from Moshtix on 1300 438 849, www.moshtix.com.au and Moshtix Outlets