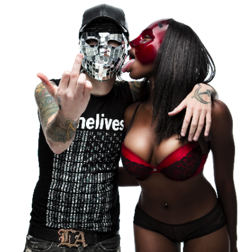 Former Hollywood Undead Frontman Signs with New Label Debut Solo Album to be Released Globally on March 27, 2012
Los Angeles, CA – California based lyricist, producer and knows-no-boundaries singer/rapper Deuce has announced plans to release his intensely anticipated debut solo album Nine Lives via Five Seven Music on March 27, 2012 worldwide. Experiencing unprecedented success as the frontman for Hollywood Undead, and creatively fueling the band's fire that lead to millions of views on YouTube and over 800,000 in album sales of Swan Songs, Deuce's solo effort picks up right where the aforementioned sensation left off.
"This album has that signature Deuce sound and is similar in flavor to what I created on Swan Songs, but completely unrestricted and rated NC-17. I took some of the shit I couldn't get away with on Swan Songs and brought it to another level for Nine Lives. If you liked what I did before you will love this shit. Deuce lives mother-f***er," says Deuce.
Deuce recently wrapped two music videos in Los Angeles, directed by Nathan Cox (Marilyn Manson, Linkin Park, Black Veil Brides), for "Let's Get It Crackin'" and "America" from the upcoming album.
Deuce is a songwriter, producer, singer/rapper hailing from Los Angeles, CA. As the co-founder, former lead singer and main songwriter/producer for Hollywood Undead, Deuce emerged as the creative force that led the band to staggering albums sales of their debut, Swan Songs, which also reached #1 on the Alternative, Hard Rock and Rock album charts. Deuce is known for his signature masks and ability to jumpstart any party with his often raunchy and vulgar lyrics. Since his departure with Hollywood Undead in 2010, Deuce has performed in front of thousands at 2011's Epicenter and has been gearing up for the release of Nine Lives.
For more information on Deuce, please visit www.deucela.com.
Like Deuce on Facebook at www.facebook.com/DeuceLA.
Follow Deuce on Twitter at www.twitter.com/#!/Deuce9Lives.
Photo (Credit: David Jackson Photography): https://10thst.box.net/s/ra5b75jkpiza5ye3fhit