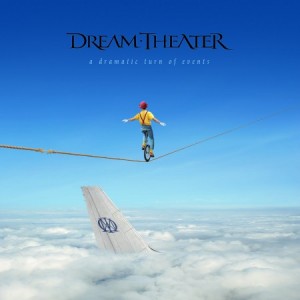 In 25 words or less: Amazing playing, amazing songs, something to get lost in…
Ok. Now forgive me for saying this but I know of Dream Theater but I can honestly say I've never listened to any Dream Theater before. I know, stop mocking me, it's not nice, so forgive me if I can't compare to previous releases.  This being their 11th studio album in 15 years, you'd think I may have checked them out before, but as this new album blasts away in my headphones I am kicking myself that I never have before. This shit is amazing. These guys are some killer musos, I'm only 2 songs in which has pretty much been about 47 minutes but I'm blown away by the musicianship so far. What I have found is that as long as the songs are that you don't even notice, you're sucked in to what they're selling and I want more. Take this next track 'Lost Not Forgotten' it goes for 10 minutes, the intro has been going for the best part of 3 minutes but it is so good, I actually don't want that to end. I just had to kick myself again.
I feel myself getting lost in this album for instance I've forgotten to talk about the last two tracks because I was so engrossed in the songs, that to me = awesome. Besides for the odd sounding didgeridoo / burping / chanting guy on 'Bridges In The Sky' everything is killer! Ok 'Outcry' I'm pretty sure I'm going to like you and your haunting sounds, let's see where it goes in the next 11 mins and 23 seconds. Man, that was a solo bordering on ridiculous but a good ridiculous, so many different instruments just got a run but holy shit these are good players. Wait. What's going on here? A big piano ballad that's just under 4 minutes?! Are Dream Theater trying for a radio single? Surely not… But 'Far From Heaven' is a really cool departure from what we've been rocking out to, no guitars, no drums, just some strings, piano and vocals. I love this song. That didn't last long as we get straight back into the rock and 12 mins 25 seconds of it at that! In fact this one 'Breaking all Illusions' is one of my favourites on the album, it takes twists and turns through different tempos and musical styles but it grabbed me. I can only imagine the songs from this album being played live, it would be a spectacle I tell you. The album finishes with another big ballad in 'Beneath The Surface' and is actually a pretty cool way to cap off this killer release. I really am a sucker for a ballad.
So I honestly don't know if this is any good compared to previous Dream Theater releases and although I did follow a little of the story of the departure of original drummer Mike Portnoy and now with Mike Mangini behind the kit, he is pretty damn good, so as a newbie, if you were to pick this album up and truly appreciate amazing playing and musicianship then you'd be one happy little camper with this one. I know I am!
Tracks:
1. On the Backs of Angels – 8:42
2. Build Me Up, Break Me Down – 6:59
3. Lost Not Forgotten – 10:11
4. This Is the Life – 6:57
5. Bridges in the Sky – 11:01
6. Outcry – 11:24
7. Far from Heaven – 3:56
8. Breaking All Illusions – 12:25
9. Beneath the Surface – 5:26
Essential Information
Released: Out Now
Label: Roadrunner Records
Produced By: John Petrucci
Website: www.dreamtheater.net
Check it out if you like: Prog Metal