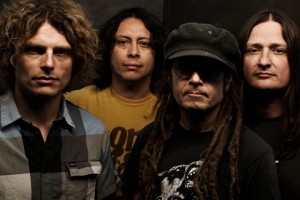 "Well, it's not going to last that long, so you better get there on time or you are going to miss half the set!!  I think it's going to be really intense, we're a really good band you know…"
With the sum of all parts including such legendary bands such Black Flag, Circle Jerks, Burning Brides, Red Kross and Rocket From The Crypt…OFF! are a matter of weeks away from bringing their brand of punk hardcore to Australia.  Fronted by Black Flag and Circle Jerks vocalist Keith Morris, whilst the evolution of OFF! may have been somewhat accidental, the live show they will be bringing to Australia promises to be anything but!
Most likely giving his hiding spot away in a game of hide and seek with his daughter, OFF! guitarist Dimitri Coats (Burning Brides) took our call to chat about the upcoming tour.
Hey Dimitri, thanks for taking the time to chat today?  So, very soon you will be hitting Australia, which is the first time for OFF!, but is it your first time here?
Well actually my wife and I toured there with our other band Burning Brides in 2004.
Well in that case, what are you looking forward to about returning to Australia?
Well it's really all about the people for me.  My job every night is to throw a party and having that role, you end up meeting a lot of interesting characters and the party goes on late into the night!
What are the expectations you have as far the reaction OFF! is likely to get?
Well I expect nothing but total mayhem and excitement, because Australia is known to be a rock n roll country, one that appreciates the kind of music a lot of us comes from.  Based on ticket sales it looks like its going to be very well attended and hopefully very rowdy!
Obviously you will soon find out here in Australia, but in terms of other parts of the world, have you got a sense of who is coming to see your shows?  Is there a strong element of fans of your past collective bands, or is there a whole new audience who have gotten into OFF!?
I think it's a bit of both.  We've been really conscious not to rest or rely in the strengths of our past and our backgrounds.  Fortunately here in the States, our story has been told in such a way by websites such as Pitchfork and so forth to the point that we are being taken seriously as a relevant, new band.  That's caused some really young crowds to come seek us out.  So it's a real mixed audience, which is great because anybody is invited to the party!  We are fortunate that people seem to think we are doing something important for the genre of punk or hardcore or whatever you want to call it.
And at your Meredith Music Festival "party", I see even a lunar eclipse has been invited to the party haha!
That's definitely pretty crazy, isn't that meant to be when Grinderman are hitting the stage or finishing?
Yeah something like that I believe, I guess you just never know what you are going to get out here in the land down under!
Well I tell you what, something I am looking forward to, is just looking up at the sky whether there is a lunar eclipse or not, you guys have a totally different constellation of stars.  I'm not going to see a big dipper anymore, I am going to see a Southern Cross!  I'm going to feel that I am truly on the other side of the world.
Given that we obviously haven't seen you guy's play here before, what can WE expect from your live show?
Well, it's not going to last that long, so you better get there on time or you are going to miss half the set haha!!  I think it's going to be really intense, we're a really good band you know.  We've been around a while, we know what we're doing and we let the songs do their work and kind of go on autopilot, it's a physical experience both for us and the audience.  It's a real celebration!
As far as the set list goes, have you felt any pressure in anyway to play a token song or 2 from any of your past bands?
There's really been no reason too, we are a new band and we really didn't want to rest on the laurels of the past, which would have been too easy.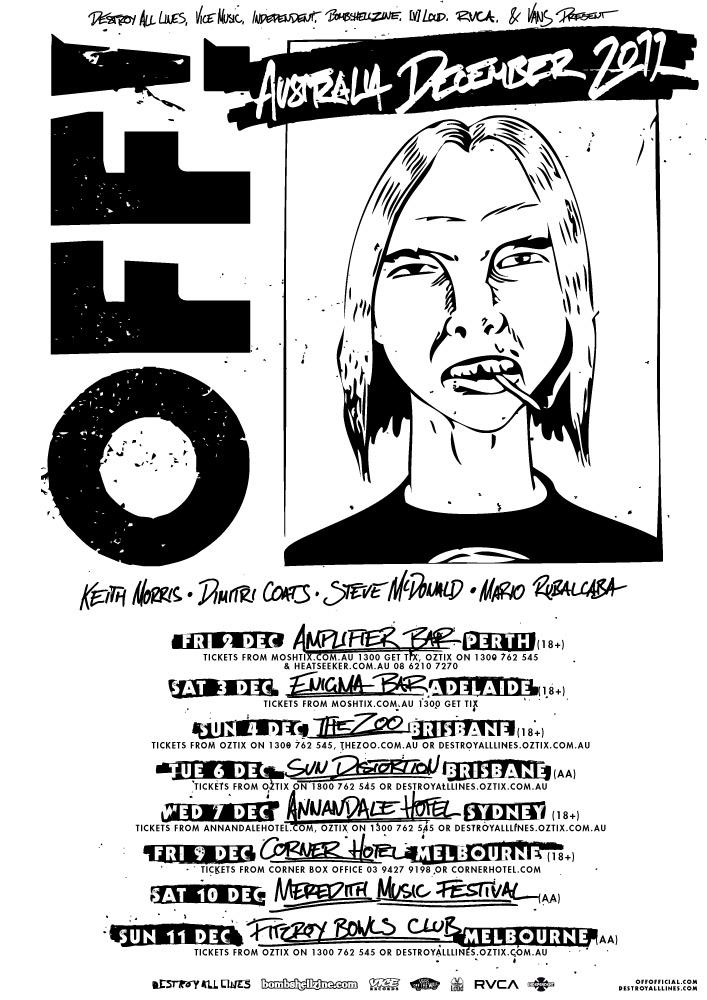 You've had some pretty big tours recently, such as spending most of August in Europe, how has that all gone?
That was incredible, most of the shows were sold out.  We made a point of co-headlining with bands that we like a lot, such as Fucked Up.  There were some really big shows that I think people will be talking about for a while.  We already know we are going back in June next year.
So did it take a while for the band to settle as each of your own distinct musical backgrounds blended together in terms of both a song writing and live performance perspective?
Well the band is pretty accidental.  It's based around me writing songs with Keith, which was very explosive right off the bat and not even intentional.  It was Keith putting a guitar in my hands one day and saying "hey, what would you do in this situation".  I'd never really played music like "that" before, I didn't grow up with hardcore.  It brought out something in me, which really excited him.  As far as the other two guys, they wanted in as soon as they heard it and they were our first choices and the moment we played those songs in a room together, it was explosive.
And for you personally, how difficult was it to adapt musically, given as you said, you didn't come from a hardcore music background?
It took me about a day to re- teach myself and how to play with my right hand as everything is downstrokes.  But the good news is it created a certain kind of attack and intensity that pulled me into a new direction.
So I guess this is stating the obvious, but as you mentioned earlier with the band being all rather accidental in a way, you could never have really anticipated the band taking off in the way that it has.  I mean travelling to the far reaches of Australia, that's commitment for the plane flight alone haha!
Yeah I know!  We started off with very modest expectations that we were going to put out a few 7 Inches and play a few parties around the Los Angeles area.  People started hearing what we thought were demos, but which then ended up being the actual record and started talking about the shows and it was all very organic and word of mouth and I think people are responding to the honesty of it and it's not contrived in any way.  It comes from a real friendship and it's kind of like, you know that feeling kids get that first time they smoke pot in junior high school and turn each other onto Black Flag and Black Sabbath…it's just that we happen to be in our 40's and 50's haha!
So what lies ahead for the band, are you talking of more recordings?
Keith and I have already started writing the next record.  We will keep writing up until we leave for Australia, then we will finish writing it in December, January and record in February and then come out in early May.
And what of the Burning Brides, is that pretty much on indefinite hiatus…
Well you know, Burning Brides really is up to my wife and I and whether we feel like we ever want to throw anything out there.  I think the touring aspect of it is limited, but I know she misses it and I would be curious to see how I would reapproach that band after having the experience of OFF!
Well Dimitri, that's it from me.  Hope you guys have a great tour out here in Australia and thanks for chatting!
Thanks a lot, it was great taking with you Scott!
Essential Information
From: USA
Band members:
Keith Morris – vocals (Circle Jerks/Black Flag/Midget Handjob/Buglamp)
Dimitri Coats – guitar (Burning Brides)
Steven McDonald – bass (Redd Kross/Tourists/Tater Totz/Sparks/Beck)
Mario Rubalcaba – drums (Earthless/RFTC/Hot Snakes/Clikitat Ikatowi & a few others)
Website: www.offofficial.com
Tour dates:
Fri 2 Dec – Amplifier Bar Perth (18+)
With: Project Mayhem & Chainsaw Hookers
Tickets from Moshtix.com.au 1300 GET TIX, Oztix on 1300 762 545 & Heatseeker.com.au 08 6210 7270
Sat 3 Dec – Enigma Bar Adelaide (18+)
With: Stolen Youth & Blood Sucking Freaks
Tickets from Moshtix.com.au 1300 GET TIX
Sun 4 Dec – The Zoo Brisbane (18+)
With: Dick Nasty & Mouthguard
Tickets from Oztix on 1300 762 545, thezoo.com.au or destroyalllines.oztix.com.au
Tue 6 Dec – Sun Distortion Brisbane (AA)
With: Shackles & Waiting Room
Tickets from Oztix on 1300 762 545 or destroyalllines.oztix.com.au
Wed 7 Dec – Annandale Hotel Sydney (18+)
With: Hard Ons & Epics
Tickets from annandalehotel.com, Oztix on 1300 762 545 or destroyalllines.oztix.com.au
Fri 9 Dec – Corner Hotel Melbourne (18+)
With: Meanies & Marching Orders
Tickets from Corner Box Office 03 9427 9198 or cornerhotel.com
Sat 10 Dec – Meredith Music Festival (AA) – SOLD OUT
Sun 11 Dec – Fitzroy Bowls Club Melbourne (AA)
With: Extortion & Bits Of Shit
Tickets from Oztix on 1300 762 545 or destroyalllines.oztix.com.au