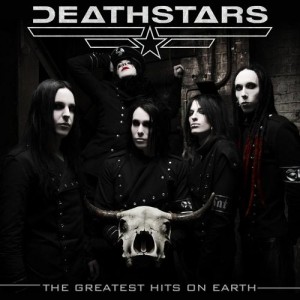 In 25 words or less:  Best band names ever? – "Whiplasher Bernadotte","Skinny Disco", "Nightmare Industries", "Vice" and "Cat Casino".
Releasing a "greatest hits" album when you have only released 3 albums in your 11 year history may seem a little over the top…but then again, over the top is what those Swedish natives, Deathstars have built their foundations upon, with their "deathglam" image and music.  To the uninitiated, Rammstein is a very close reference point musically to the Deathstars and this point was mentioned by my good self for a specific reason, for the Deathstars are currently out on tour in Europe supporting Rammstein.  Going back to my opening point, it is then more than just pure coincidence that this album has been released prior to the tour that will see the Deathstars play to thousands upon thousands of potential new fans.
For existing fans already familiar with the previously released tracks that make up this album, the only real interest in this release will obviously be in the new tracks Death Is Wasted On The Dead and Metal.  Both tracks are distinctly Deathstars, and when you have such a recognisable vocalist such as Whiplasher Bernadotte, it's hard to not sound like anything but.  Death Is Wasted On The Dead certainly up's the atmospheric, new wave, electronica sounds, whilst METAL is all about stomping, menacing, industrial metal.  Featuring the bands new drummer "Vice", you can check out the video clip below…
With all three albums (Synthetic Generation 2003, Termination Bliss 2006, Night Electric Night 2009) pretty much equally represented, the 14 previously released tracks don't hold any major surprises, save for the omission of the title track from the 2009 release, Night Electric Night, which is one of my personal favourites.  Whilst the song titles themselves may on face value appear dark and menacing, the Deathstars have always infused their songs with a strong dose of dark lyrical humour and littered them with hooks and melodies, no better example than Blood Stains Blondes.
Having already visited Australia a few years back and no doubt with the exposure gained from the current tour of Europe with Rammstein, I await to see if world domination awaits the band upon the eventual release of what will be their fourth studio album?
Essential Information
From: Sweden
Check it out if you like: Deathstars, Rammstein, industrial rock
Record Label: Nuclear Blast/Riot! Entertainment
Website: www.deathstars.net
Tracklist:
1. Death Is Wasted On The Dead (previously unreleased)
2. METAL (previously unreleased)
3. Death Dies Hard
4. Blitzkrieg
5. Motherzone
6. Synthetic Generation
7. Tongues
8. Blood Stains Blondes
9. Cyanide
10. New Dead Nation
11. The Mark Of The Gun
12. Chertograd
13. Semi-Automatic
14. Syndrome
15. Play God
16. Opium