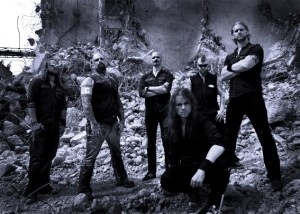 Official bio from www.devanband.com:  "De Van´s journey began when Eric De Van met producer Tord Bäckström and Stefan Åberg in 2007. Eric had been hired to do the vocals for a theme song for a show to be aired on MTV. The young singer´s impressive potential was immediately recognized by Bäckström and they decided to team up.
The song writing duo soon realized that they had some truly great material and the idea to form a band grew stronger for each song.
Together they eventually started to scan Stockholm for talented musicians, which fortunately were not hard to find. After all Stockholm is the most vibrant music city in northern Europe.
In the summer of 2008, bass player Cee was the first to join the band. Then, in a period of ten months, followed Greg Andersson on rhythm guitar, lead guitarist Mike Lavér, keyboard player J. Adler and drummer Joakim Janthe who was recently replaced by Bjarne Garmundsson.
De Van played their first live gig in early spring of 2009 only three weeks after the band had been completely solidified. The gig nevertheless received rave reviews and the raw energy they displayed that night assured everyone involved that this band is set for greatness. With strong and memorable songs, the seasoned veterans that complete De Van are determined to conquer metal loving music fans worldwide."
Let's start with the basics first – how did the band come together and what was the inspiration behind the band name, aside from it obviously representing your last name haha?
The late summer of 2008 was the starting point of De Van. It started with me and my friend, mr Cee, the bass guitar player. We´ve known each other for a long time so that was a solid foundation. A great guy and a great bass player!  The musical scene in Stockholm, we´re we all live, is filled with great musicians and the town is not that big so I didn´t have to search too long to get hold on some top notch guys. There are people knocking on our door trying to get in, still, but now we´ve become a solid live band!
We´ve only been playing live for like 2 years. Of course there has been some changes in the band throughout the jurney so far but I guess that´s pretty common in the beginning of a band.Mike Lavér, our lead guitarist took a different kind of way in. He saw us on Myspace just by "accident" and at that point we searched for a lead guitarist. He sent me an email an we met and the rest is history!The inspiration behind the bandname is not that special. It´s just a cool name, haha!
Can you introduce each member of your band and give us a fun rock "n" roll fact or myth about each of them?
– Cee(bass guitar & b-vocals) spends most of his days at an engine plant and loves it. He may seem conventional,but likes to stretch out and do things outside the box. Like dress up in weird clothing…  He also plays in a 40´s Swing Band. He spent many years playing the classical violin.
– Greg (rythmguitar &b-vocals) used to be the guitarist in a Gothlandic Dance band!
– Keymaker Adler tried to win a longest beard contest when we were in Finland! He finished last… But he has a very expensive keyboard…
– Mike Lavér (Leadguitarist)is the only one in the band without a beard or mustasch. He also used to play banjo in a swedish bluegrass band.
– Bjarne "Captain" Gudmundsson (drummerboy)still hear people talking about themselves as the drummer of De Van.  I guess people envy his position and don´t know that they are talking TO the actual drummer of De Van!! That´s funny!  Oh yeah, he only drink girly drinks like strawberry daiquiri…
– Eric De Van (leadvocals)  Used to be a singer in a soulfunk band(14 years ago).  It was a music contest and we kicked ass with the Swedish metalband "Entombed".  Drives a van…
You have twenty seconds in an elevator to try and convince someone to listen to you music…what would you tell them?
Hey, take 10 minutes of your life and you´ll either love what you hear or maybe just like it, but probably love it!
You recently released your awesome debut album "Planet Botox". How long did the process of writing and recording the songs take?
I took a year or maybe a little less. We´re co-writing with "Tord Bäckström" who has been my friend for a long time.  He don´t like standing on stage so we found another way to work together. Our second album, that has not been fully recorded or released yet, have had a shorter journey.  We had a lot to choose from and the writing process is getting shorter and shorter but more critical. Now we really know what works and what doesn´t.
Listening to the album, musically, there are very many different styles covered. Musically, what do you consider to be the most important things that need to be feature in a De Van song?
We haven´t thought that much about it I must say. It´s a blend between the mystique feeling the keyboard gives, the heavy riffing and the melodic song.  And everything lays on a carpet of a steady ground, which is the bass guitar and drums. Everybody contribute with their own important brick to the wall!  If we took away just one piece it wouldn´t be the same at all!
Writing the songs for the album, did the process of songwriting involve the whole band, or were there a few key contributors?
In the beginning we were a few key contributors, like me, Mike, Tord and a lyrical genius called "LillJan".  Now we´re all getting more and more involved in the whole process!
Lyrically, you certainly cover a range of themes throughout this album with songs such as "Plastic Surgery" and "I Lose My Faith" for example.  Was there a general lyrical theme you tried to convey throughout this album?
The lyrical theme throughout the album "Planet Botox" is to take a look from above. How we live and the different situations we seem to get into. The choices we make and the results of those. Irony!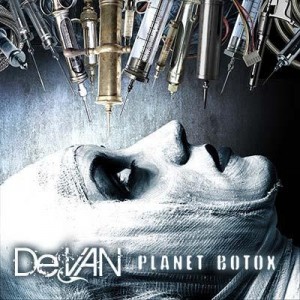 What or who would you say inspires/influences your music the most?
Everything around us. Things we see, things we hear! Nothing particular!
As mentioned earlier, your album sure is a wide ranging musical landscape/soundtrack so to speak.What kind of movie do you think your music would be best suited to and why?
Drama thriller!
Visually, the band portrays a strong image through your CD cover art and video clip for "I Lose My Faith" for example. Is this strong visual impact in combination with your musical impact, something that you have paid particular attention to developing?
We try to be something else, something new, something fresh. Find new ways to get people to react!  Of course we´re trying to put different parts together to affect people, hopefully in a way they like!
For those reading this who haven't yet had the pleasure, how would you describe 45 minutes spent at a De Van live show?
Energy! New! Fresh! Loud! GREAT!!
You hail from Stockholm, Sweden. For those reading this in galaxies far, far away, what do you have to say about the current state of the rock scene in Stockholm at the moment?
It´s a great scene with lot of great bands and musicians. It´s very tough though. It should be more stages available. It´s crowded!  The owners of the livestages in this town should also be more willing to pay the band who´s playing. The mentality is that we should be happy to be there and maybe get a beer and a steak!
Here's a chance to gaze into your crystal ball, over the next 6 months, De Van will have:
1. Released something new, a single or EP maybe!
2. Made some more great gigs!
3. We´ll hopefully be on our way to Australia!
Essential Information
From: Sweden
Sounds like: Metal, melodic  – but with a twist.
Band members: Eric De Van – Vocals, Mike Laver – Lead Guitar, Greg Andersson – Lead Guitar, Cee – Bass Guitar, Bjarne Gudmundsson – Drums, J. Adler – Keyboards
Website: www.devanband.com
Latest release: Planet Botox (2011, Sound Pollution)