The Fray are a band who you'd probably know, well at least you'd know a song or two or three.  Namely 'Over My Head (Cable Car)' , 'You Found Me' and the song that was pretty much everywhere for years 'How To Save A  Life' with it's longevity due to it being used on Grey's Anatomy, but that aside, The Fray in their six years releasing music have well and truly cemented themselves as a name in the pop rock world and now they're back with a new album, their third titled 'Scars And Stories' due in February, with a somewhat new sound they are sure to win over a whole new bunch of fans as well as keep their existing ones happy if first single 'Heartbeat' is anything to go by.
While in Australia performing as part of the X-Factor finale, we had the opportunity to talk to The Fray guitarist Dave Welsh about the new album, when we'll see them back in Australia for a tour and also test him on his life saving techniques, see how he went and what he had to say…
You're in Australia at the moment for the X-Factor finale, but obvious question straight off the bat is when do you think we will see you back here for a full tour?
Yeah it's funny, I've been thinking that the entire time we've been here as fun as X-Factor has been, I think it's in May if I'm not mistaken, I think we're trying to put something together then.
What's the inspiration behind the new album title 'Scars & Stories'?
We tossed it around a lot, we went back and forth, it was liked by some, not liked by others but ultimately it ended up being a pretty good summation of the record itself, you know, Scars being healed, it's not an open wound perse.  It's kind of the idea that we are moving on, we're looking back, we're looking at the stories, stuff we've been through, but it's all healed and it's a bit more positive than negative.
This being your third album, did you consciously do anything different compared to previous releases?
Well yeah, we worked with a new producer which is probably the biggest thing that we did differently, we worked with Brendan O'Brien of amazing 90's rock fame.
What was the decision behind using Brendan?
He expressed interest a little while back and we didn't get a chance to work with him, it was kind of one of those things where we hoped if it was the right timing it'd be a no brainer because he'd done so many of the records that we looked up to as young musicians, so yeah, and he made room, and he's a tireless worker, he works all the time.
Did he bring anything out of the band that you wouldn't have considered doing previously?
I mean, he turned the guitars up, I was happy with that.  I think he gave us some confidence, or maybe the idea that we already had in us what it took, we just maybe hadn't accessed it in the past sort of thing.
In the three years since your last album, what if anything inspired the songs on your new album?
I think for us, song writing has remained similar in a way, a lot of it is experiential, a lot of it is what Isaac and Joe have gone through as the primary song writers in the last few year, there was more travel this time too.  Isaac took a trip to Africa to prompt some sort of writing even and actually the song 'Heartbeat' came out of that trip or part of it did.
So different environments?
Yeah, different environments for them, a lot.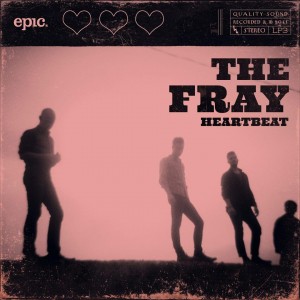 First single 'Heartbeat' is an up tempo rocker, and has a great summery feel to it, is this the sort of vibe we can expect from the new album?
More of that yeah, more of that than in the past for sure.  Yeah, this is like the extraverted kid, whereas the last couple of albums have been the introverted ones.
I thought the middle child was always the extroverted one?
Ha ha exactly, no but it comes with all the baggage, the middle child baggage ha ha.
I've been reading though that this new album takes on a bit of an anthemic / classic rock feel at times.  Would that be a fair assessment?
I think that could be a compliment to us, we've always wanted to make timeless music and I think that's ultimately our goal, so when you pair up with somebody like Brendan that actually maked or helped to make timeless music and to work with those artists, he worked with Pearl Jam, he worked with Springsteen, it helps and rubs off in certain ways.
After two highly successful albums, how do you prepare for the release of a new album?  Are there nerves?
Yeah, there are nerves for sure, in some regard it feels a little like we're starting over.  I think only in the sense, now days, there are very few bands that have earned the right to be a household name, be centre stage for everybody no matter what time they've taken off and everybody else needs to work for it, quite a bit.
Looking back at your early work, what was it do you think that made people attach to the songs so easily?
I don't know, I think they were certainly personal songs and that's all we know how to do and I guess there's an element of personalisation that lets people feel their own thing in the songs, you know, put it in their life the way they needed to I guess.
You've been to Australia a few times now, do you have one moment from one of your visits that stands out that you can share with us?
Well the most memorable, was the first time only because I'd never been here before.  We have a buddy who lives up on The Gold Coast and we stayed with him I think last time we were here, he's a big surfer and jet skier and all that sort of stuff, so just really good memories of being at a beach, eating fish, surfing, jet skiing, kind of like what I imagine a lot of people do here.
I wanted to ask about your live show, have you been playing any of the new songs to get a feel for them and how the people react to them?
Yeah we have, we've been playing six of them at home.
Are they digging it?
I think they are, most notably that they hear the tempo, the majority of the songs are a little bit livelier or something about them, nothing else makes them dance which is kind of fun, they never do that at our shows.
So, I've always been curious and thought well now I have the opportunity to ask, I will.  Obviously, you have the song called 'How To Save A Life' well, I wanted to test you on life saving techniques.  If I give you a situation, can you tell me the appropriate course of action?
There's a good chance I won't be able to but yes…
Someone is choking on food: Um, give them the Heimlich.
Someone has stopped breathing: Give them CPR.
Snake bite: Suck the venom out with your mouth ha ha.
Watching an episode of Grey's Anatomy:  oooh, mouth to mouth resuscitation…
As long as it's with Katherine Heigl
Ha ha ha yeah that's fair.
With 'Scars and Stories' not out until February next year, give us your best sales pitch as to why people should go out and buy your new album
Yeah, we're back and we rock more than we used to ha ha ha ha
Lastly, do you have a message for your Australian fans?
Yes, be patient, we will be back here as soon as we can, we really enjoy playing here actually.
We look forward to seeing you, so May you think?
Yeah I think so.
Well the single is great, we're looking forward to the album and thanks for releasing it on my Birthday next year, I'm sure that's why you did it…
Oh yeah of course ha ha
Essential Information
From: USA
Band members: Isaac Slade — Vocals/Piano, Joe King — Guitar/Vocals, Dave Welsh — Guitar, Ben Wysocki — Drums
Website: http://www.thefray.net/
Latest release: Scars And Stories – (February 3, 2012 – Sony Music Australia)