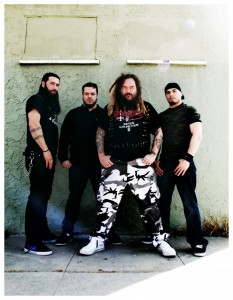 Cavalera Conspiracy Announce Australian Tour
Performing for the very first time in Australia, Cavalera Conspiracy are set to cause mayhem around the nation performing at all Big Day Out festivals and select east coast shows.
Cavalera Conspiracy was created following a decade long silence between Max and Iggor, the two brothers who formed the legendarily trailblazing heavy metal band Sepultura as teenagers together in 1984. Across six studio albums the Brazilian punishers perfected the art of metal (look no further than thrash classics like Beneath the Remains and Arise) while exploring the underbelly of third world political issues and broadening the genre's horizons with an exploration of indigenous culture, culminating with the landmark Roots album in 1996.
Max left Sepultura and formed Soulfly in the late 90's, whose seven albums have garnered worldwide success and acclaim. Iggor stayed in Sepultura for a few more albums before splitting himself in January, 2006. A few months later the phone rang. It was Iggor calling Max to set aside the bullshit that had pursued them both in the press during the ten year period since they had last played together.
Less than two years later the metal world was turned upside by the debut album from Cavalera Conspiracy.
Max Cavalera is very forthright about the fact that Cavalera Conspiracy is a metal band. "Cavalera is super metal, it's supposed to be metal, it's not supposed to have anything else but metal and hardcore in it. The new album is even heavier and more aggressive than the first one." While that's all of course true and metal is known to be a very aggressive and sometimes negative genre, there's an overwhelming positivity surrounding the Cavalera story.
See Max and Iggor Cavalera unleash Cavalera Conspiracy in major cities and regional centre's across the nation.
Cavalera Conspiracy – Australian Tour Dates 2012
Tuesday 24th  January- Panthers- Newcastle
TICKETS AVAILABLE FROM WWW.OZTIX.COM.AU & WWW.MOSHTIX.COM.AU

Friday 27th January- ANU BAR- Canberra
TICKETS AVAILABLE FROM WWW.TICKETEK.COM.AU 132 849
Saturday 28th January- Metro Theatre- Sydney
TICKETS AVAILABLE FROM WWW.TICKETEK.COM.AU 132 849
Wednesday 1st February- Billboard -Melbourne
TICKETS AVAILABLE FROM WWW.TICKETEK.COM.AU 132849 & WWW.MOSHTIX.COM.AU
TICKETS ON SALE MONDAY 28TH NOVEMBER FROM ALL USUAL OUTLETS 12 NOON