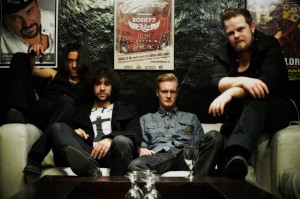 From Bio: Captain Black Beard made it's live debut on the 31st of October 2009 and has since been playing most of the clubs in Stockholm. At the end of 2010 the band decided to pick it up a notch and record a full length album. Having been in talks with the biggest rock producers in Sweden – Chips Kiesby (Sator, The Hellacopters), Tobias Lindell (Europe, Mustasch), Patrik Frisk (Takida, Corroded) – the band chose to work with David Castillo (Opeth, Katatonia) who had already shown himself capable when working on the bands single "Rock Is My Life".
The completion of the debut CD was celebrated together with hundreds of friends and fans at Göta Källare in Stockholm on the 28th of May, 2011.
As you know, we love pretty much everything that comes out of Sweden, so we got Rob from Captain Black Beard to give us the info on the band and why they're one of our Best Things…
Let's start with the basics first – what brought the band together and what is the inspiration behind the band name?
Zakk and Victor had been playing together for a while when Fredrik joined them. They had a bass player early on who quit and then rehearsed for almost a year until they stumbled upon me.
The name was picked in a hurry. Soon as I joined the band, we booked a studio to do a demo. It wasn't until a few days before our first gig that we came up with the name. I don't think there's any particular inspiration behind it. Perhaps Fredrik came up with it after staring at Zakk's beard for too long.
You have twenty seconds in an elevator to try and convince someone to listen to your music, what do you tell them?
Listen to the new Captain Black Beard CD and let the music make love to your ears.
Can you introduce each member of your band and give us a rock 'n' roll fact or myth about each of them?
Fredrik is the ladies man, the rock star, a great guitar player and a very deep dude.
Victor is living the dream. He hits hard, he parties hard and then crashes hard.
Zakk is the dad of the band. He brings a lot of the music, he's a great guitar player, the front man. He's actually kind of grown-up at times and tries to get some order when the rest of us are gofing around.
I'm the workaholic who can't help caring about every little thing we do and always have an oppinion about it all. I love playing live and probably show it more than the others.
You have released your debut album earlier this year, how would you describe both the experience of recording and musically what people can expect to hear on the album?
The experience of recording was certainly an experience! It was a lot of hard work, a lot of stress and a lot of… Well, let's just say. Sometimes you can't understand why bands break up. Try doing an album and you'll see why.
It's all good though. We've got a CD with eleven awesome songs that we're all really proud of. The music has influences from 70s hard rock and 80s heavy metal with a touch of today. It's a clear sound. The songs are quite simple but catchy and will grab your attention.
In terms of your song writing, what do you consider to be the most important ingredients that make up a Captain Black Beard song?
Strong chorus, heavy guitar riff, smooth vocals and at least one tasty guitar solo.
The song I wanted to ask about in particular is 'Rock Is My Life' what was the inspiration behind this track?
Zakk had the idea of this song with a melow verse that then launched into a heavy guitar-driven chorus. So he came up with the riffs and we arranged it together to find the right structure. Zakk wrote the lyrics about his life, all our lives really. Rock is my life, that's it.
Both lyrically and musically, what or who inspires/influences your music the most?
That's a bit different for each member. Victor listens to a lot of new, heavy bands. But he likes the old stuff too. Fredrik probably listens to everything. Zakk is really into the 80s stuff, Journey, Van Halen, Winger, but also 70s bands like The Allman Brothers…
I like almost all rock music; KISS, The Beatles, Aerosmith, Deep Purple, The Yardbirds, Gary Moore, 220 Volt, The Hellacopters and so many more…
You worked with David Castillo on the album as producer who is best known for his work with Opeth and Katatonia.  Why was he the best choice to produce this album for you?
We ended up working with him on our single "Rock Is My Life" because he's a friend of a friend. When we did the album we talked with a lot of big producers. We eventually decided that it'd be easiest to work with David again. We knew what he could do and he knew what we wanted to do.
What kind of movie do you think your music would be best suited to the soundtrack and why?
That's a hard question. I always loved the Rocky-soundtracks so if there's a Rocky 7 to be made, Captain Black Beard would probably be great for that one. Any movie with a bit of action and a bit of love could probably fit.
For those that haven't yet seen you perform live in Stockholm, what can people expect from one of your live shows?
Plenty of energy, excitement and fun! We're a crowd pleasing band.
Obviously as we love, the Swedish rock scene is alive and well with some amazing melodic / AOR bands coming out of there, what do Captain Black Beard do to stand out above the rest?
We don't look too much for inspiration in the past. And we've got balls!
Here's a chance to gaze into your crystal ball.  In the next year, Captain Black Beard will have:
1. Toured the world
2. Had our music played in a major motion picture
3. Started work on our next album
Essential Information
From: Stockholm, Sweden
Sounds like: Melodic Kick-Ass Rock
Band members: Zakk – vox & guitar, Vic – drums, Fredrik – guitar, Rob – bass
Website: http://www.captainblackbeard.net
Latest release: Captain Black Beard (2011)
Check out our review of their debut album here…