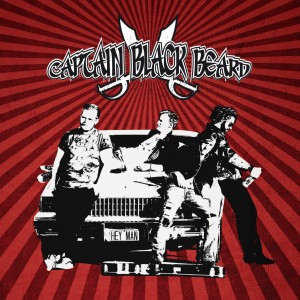 In 25 words or less: Melodic Kick Ass Rock
I love it when a band you've never heard of makes an album this good. This to me is what I'm listening to now with the debut album from our newest 'Best Thing You've Never Heard' Captain Black Beard from Sweden (of course, I mean does any bad rock music come out of that country?) The songs are catchy and there are 11 of them so you've got plenty of time to take it all in.
From the opener 'Hey Man' that you'll be singing along to in no time it just doesn't slow down with the bitchin' tunes, until you hit a ballad or two of course. I absolutely love 'Rock Is My Life' it's an anthem for all of us, I love it's soft verses and massive choruses and is definitely one to check out. I always enjoy bands that write about the 'American Dream' As bands like Captain Black Beard from a country who would've grown up with all that music and glitz from America, why not write about it as that's what they want, aspire to have.  Hell, I want the American dream too ha ha.
'Summer Nights' is a perfect driving song on a sunny day, it's as cruisy as the drive would be. As we get towards the end of the album we find one of their best tucked away at track 10! 'Rock Bottom' is awesome! Great riff, killer groove and pure energy. 'Rockin' Body' rounds out this debut as it began, just a happy, foot tapping good time.
I can't really find a band to compare Captain Black Beard to, it's tough as they just have a raw honest rock sound and that's good as they stand out on their own. So if you just love great rock songs then this is a band you should really check out.
Check out our Best Thing You Never Heard interview with Captain Black Beard Here…
Essential Information
Check it out if you like: A good dose of Melodic Rock / AOR
Release date: Out now
Record label: Independant
Produced by: David Castillo
Website: http://www.captainblackbeard.net/
Track Listing:
Hey Man
Don't Turn Your Back On Love
Rock Is My Life
American Dream
Concrete Jungle
Ex-Convict
No Worries
Summer Nights
True Love
Rock Bottom
Rockin' Body