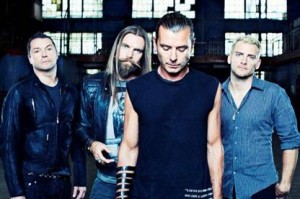 Multi-platinum rock band BUSH are set to release their highly anticipated new album THE SEA OF MEMORIES November 25th via Shock Records.
Recorded with legendary producer Bob Rock (Aerosmith, Metallica), THE SEA OF MEMORIES is the seminal band's first studio release in 10 years and the first to be released via their own imprint, Zuma Rock Records.
THE SEA OF MEMORIES captures the electricity and trademark intensity of classic Bush delivered in a setting that's fresh and alive. Songs like "The Sound of Winter," "The Heart of the Matter" and "All Night Doctors" are propelled by heavy guitar and hypnotic beats, simple song structures and sublime textures.
About the album, Gavin Rossdale says, "When making music, you have a choice to repeat what you've done or move on. It would've been safe to just rework (1994's debut album) 'Sixteen Stone' over and over, but what kind of life would that be? When you're driving down the road, you're focused on what's in front of you; you don't really think to keep checking in your rear view mirror. I like the idea of art changing, developing and morphing."
Over the course of their remarkable career, Bush has sold more than 16 million albums in the U.S. and Canada alone. They've also compiled an amazing string of 14 consecutive Top 40 hit singles on the Billboard Modern Rock and Mainstream Rock charts, including ten that hit the Top 5.  Four of these became No. 1 hits: "Comedown," "Glycerine," "Swallowed" and "The Chemicals Between Us."
On October 18 1011, BUSH made US rock radio history by becoming the first band ever to hit No. 1 at Alternative Radio with a self-released single. Groundbreaking hit "The Sound Of Winter" appears on the group's new album THE SEA OF MEMORIES.
"The Sound of Winter" also holds the distinction of being the reunited group's first No. 1 single since 1999's chart-topping hit, "The Chemicals Between Us." The single will be released on iTunes in Australia 11.11.11.
"It's the most brilliant start we could have imagined," says Bush vocalist/guitarist Gavin Rossdale. "Having a No. 1 song at US radio is a testament to not only the band, but the great team that surrounds us, the support at radio and of course, the tireless fans who give us daily oxygen – thank you all."
For more information check out bushofficial.com