With the second release of bands recently announced to play the 2012 Big Day Out (details here) the time has come for the first round of Big Day Out 2012 sideshows, check out below as to who will be playing shows.  We know there are still a lot of fingers crossed for possible side shows by the likes of Soundgarden and Cavalera Conspiracy along with others, so if we hear anything, we'll let you know straight away.
Note that the below are the ONLY side shows that these bands will be performing outside of the Big Day Out 2012 dates.
All shows are on sale at 12.00pm AEDT on Monday 28 November, 2011.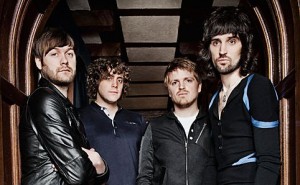 KASABIAN
with special guests THE VACCINES
KASABIAN aren't the type of band to make promises they can't keep. So when this Leicester crew sing "Hit me, harder! I'm getting rewired. I flick the switch that make you feel electric, even faster than before…" you know they're gonna do exactly that. Faster and harder: KASABIAN are heading back to BIG DAY OUT to make you feel electric.  Guitarist/singer Serge Pizzorno, frontman Tom Meighan, bassist Chris Edwards and drummer Ian Matthews have never swaggered into BIG DAY OUT this well armed. Their setlist is now wall-to-wall killers – Club Foot, Empire, Shoot the Runner, Fire, LSF – and the power-pop-stormin'-electro-psychedelic-rock'n'roll of their brand new album, Velociraptor!
SYDNEY: THE HORDERN PAVILION – TUESDAY, 24 JANUARY, 2012
Tickets available from: www.ticketek.com.au Ph: 132 849 & www.bigdayout.com
MELBOURNE: FESTIVAL HALL – SATURDAY, 28 JANUARY, 2012
Tickets available from: www.ticketmaster.com.au Ph 136 100 & www.bigdayout.com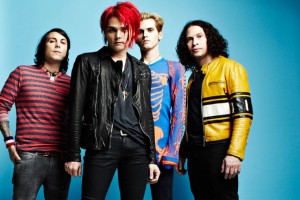 MY CHEMICAL ROMANCE
and special guests CLOSURE IN MOSCOW
Now celebrating 10 years as My Chemical Romance, they broke out of the Jersey punk underground with 2002 debut I Brought You My Bullets, You Brought Me Your Love, then 2004's Three Cheers for Sweet Revenge, before heightening the drama with 2006's game-changing rock opera The Black Parade. Just when fans thought they couldn't take it any further, 2010's Danger Days: The True Lives of the Fabulous Killjoys created a whole new world – a dystopian, disco-punk future where life is short, cars are fast, and where a raised voice is a lost soul's best defence.
BRISBANE: EATONS HILL HOTEL – TUESDAY, 24 JANUARY, 2012
Tickets available from: www.oztix.com.au Ph: 1300 762 545 & www.bigdayout.com
SYDNEY: HORDERN PAVILION – FRIDAY, 27 JANUARY, 2012
Tickets available from: www.ticketek.com.au Ph: 132 849 & www.bigdayout.com
MELBOURNE: FESTIVAL HALL – TUESDAY 31 JANUARY, 2012
Tickets available from: www.ticketmaster.com.au Ph 136 100 & www.bigdayout.com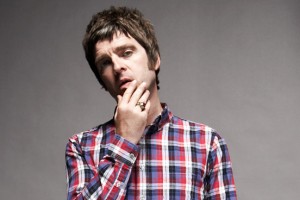 NOEL GALLAGHER'S HIGH FLYING BIRDS
and special guests to be announced
As the driving force behind Oasis he did everything you can do in music, but never before has NOEL GALLAGHER played BIG DAY OUT – that all changes this summer when NOEL GALLAGHER'S HIGH FLYING BIRDS make their Australian debut. For the past two decades, his songs have stitched themselves into the fabric of our lives. And GALLAGHER knows it, swearing to never let a gig pass without playing a few Oasis classics. "I'm proud of them and of what they mean to people." Therefore, NOEL GALLAGHER'S HIGH FLYING BIRDS will be bringing not only their brand new material, they will also bring a host of the some of the most loved rock anthems of the last 20 plus years; classics like Wonderwall, Don't Look Back In Anger etc will feature in the set.
SYDNEY: ENMORE THEATRE  – MONDAY, 23 JANUARY, 2012
Tickets available from: www.ticketek.com.au Ph: 132 849 & Enmore Theatre Box Office Ph 02 9550 3666 & www.bigdayout.com
MELBOURNE: THE PALAIS – TUESDAY,  31 JANUARY, 2012
Tickets available from: www.ticketmaster.com.au Ph 136 100 & www.bigdayout.com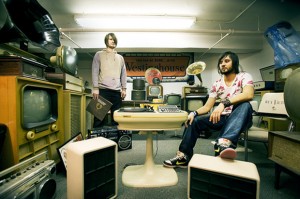 RÖYKSOPP
and special guests to be announced
For more than a dozen years now, Svein Berge and Torbjørn Brundtland have been dreaming up ever more exciting experiments in electronica and ever more elaborate live performances. Making their very first visit to Australia for BIG DAY OUT 2012, RÖYKSOPP's four albums – Melody A.M., The Understanding, Junior and 2010's critically acclaimed, instrumental Senior – have produced earworms as infectious and instantly recognisable as Eple, What Else is There?, Only This Moment, Forsaken Cowboy (which screened at the British Film Institute) and The Girl and the Robot.
SYDNEY: ENMORE THEATRE – FRIDAY, 27 JANUARY, 2012
Tickets available from: www.ticketek.com.au Ph: 132 849 & Enmore Theatre Box Office Ph 02 9550 3666 & www.bigdayout.com
MELBOURNE: THE PALACE – THURSDAY 2, FEBRUARY, 2012
Tickets available from: www.oztix.com.au Ph 1300 762 545  & www.palace.com.au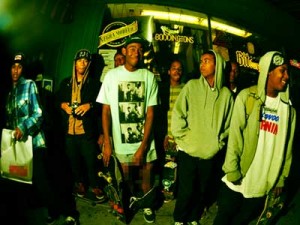 ODD FUTURE
and special guests to be announced
Alternative hip-hop has found its strongest voice in a very long time. This sensation rolls like an avalanche through the web's many music blogs with concert footage of some young hip hoppers who clearly take the genre all the way in a punk direction. This phenomenon is called OFWGKTA – Odd Future Wolf Gang Kill Them All or simply Odd Future. Tyler, The Creator is the centre of the wolf pack and around him is a whole formation of young, talented rappers. Formed in 2007, with ages between 17 and 25, they've already released numerous mixtapes and studio albums, all for free at the band's website.
SYDNEY: ENMORE THEATRE – TUESDAY, 24 JANUARY, 2012
Tickets available from: www.ticketek.com.au Ph: 132 849 & Enmore Theatre Box Office Ph 02 9550 3666 & www.bigdayout.com
MELBOURNE: THE PALACE – WEDNESDAY, 1 FEBRUARY, 2012
Tickets available from: www.oztix.com.au Ph 1300 762 545  & www.palace.com.au & www.bigdayout.com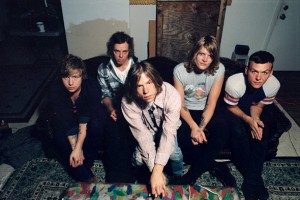 CAGE THE ELEPHANT
and special guests to be announced
The Kentucky five-piece – singer Matt Shultz, guitarists Brad Shultz and Lincoln Parish, bassist Daniel Tichenor and drummer Jared Champion – stomped into wider consciousness with their second album, January 2011's Thank You, Happy Birthday, which debuted at #2 in the US. Written in an isolated Kentucky cabin and inspired by the likes of The Pixies, The Shins, Mudhoney, Butthole Surfers and '50s surf rock, it's packed full of slinky guitars, explosive loud-quiet-loud moments, super-catchy anthems, trippy jams, ferocious, thrashing odes to staying true to yourself and Matt Shultz's best letting-off-steam cries.
SYDNEY: OXFORD ART FACTORY – SATURDAY 28 JANUARY 2012
Tickets available from: www.moshtix.com.au Ph 1300 438 849 & www.bigdayout.com
MELBOURNE: THE NORTHCOTE SOCIAL CLUB – TUESDAY 31 JANUARY 2012
Tickets available from: Northcote Social Club Ph: (03) 9486 1677 or www.cornerhotel.com Ph 03 9427 9198 & www.bigdayout.com


All bands are also appearing at 2012 Big Day Out:
FRIDAY, 20 JANUARY, 2012 – AUCKLAND MT SMART STADIUM
SUNDAY, 22 JANUARY, 2012 – GOLD COAST PARKLANDS
THURSDAY, 26 JANUARY, 2012 – SYDNEY SHOWGROUND
SUNDAY, 29 JANUARY, 2012 – MELBOURNE FLEMINGTON RACECOURSE
FRIDAY, 3 FEBRUARY, 2012 – ADELAIDE SHOWGROUND
SUNDAY, 5 FEBRUARY, 2012 – BROWNES STADIUM (Proposed Permit Pending)
For more information on all of the above and for further details on the Big Day Out 2012 check out
www.bigdayout.com
twitter.com/bdo_official  (don't forget to #bdo2012)
facebook.com/bigdayoutofficialpage
youtube.com/bigdayoutofficial