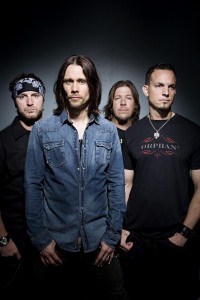 …Meet Myles Kennedy (Slash's frontman), Mark Tremonti, Brian Marshall and Scott Phillips; the future of rock.
ALTER BRIDGE are fast becoming a rock juggernaut and are on the way to firmly placing themselves in the rock 'n' roll pantheon forever.
With 2 brilliant albums already under their belt ALTER BRIDGE has crafted one of the best rock records of recent time with AB III. In fact, it's a sprawling masterpiece that illuminates just how brilliant this band truly is, and it's going to make believers of the world.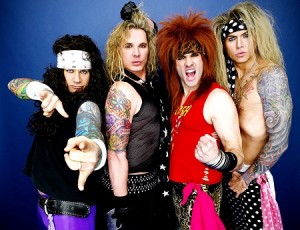 This double bill of debauchery could not be filled by anyone else except STEEL PANTHER.

STEEL PANTHER is the hottest band out of Hollywood since Motley Crue, Guns N' Roses and Poison ruled the Sunset Strip. They remained rock's best kept secret for decades — prowling the Sunset Strip with weekly residencies while keeping the sleazy flame of rock 'n' rock alive…"But no longer. The ferocious Steel Panther has been let out of its iron cage and has only one mission: to roar with the tiger-like growl and strut with the sensual prance of glam rock n' roll from the halcyon days of the 1980s." – Metal As Fuck
With their brand new album 'Balls Out' in tow, STEEL PANTHER are "Crude, rude, filthy, and more infectious than a bad case of herpes. – Revolver Mag.
TICKETS ON SALE FRIDAY 25 NOVEMBER, 9AM
TUESDAY 28 FEBRUARY            SYDNEY, ENMORE THEATRE – Lic A/A www.ticketek.com.au
WEDNESDAY 29 FEBRUARY     MELBOURNE, THE PALACE – 18+
www.oztix.com.au / www.ticketek.com.au 132 849