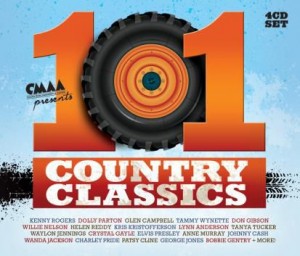 Our good friends at EMI Music Australia know that we love ALL fields of rock and this proves it!  But seriously, check out some of the talent on here.  I mean Elvis is on here and he was as rock as they come!  Plus who doesn't love the song 'Amazed' by Lonestar?  See that right there is enough for you to enter!  Throw in 'The Devil Went Down To Georgia' and well, need we go on?
PLUS, think of it this way rockers, scared to buy country music but secretly love it?  Well now you can WIN the 4 CD set of 101 Country Classics by simply sending us an email.  No catches!  We wont even tell anyone!
To win one of 5 copies, send us an email to mtrbwy@maytherockbewithyou.com with the subject of 'I secretly love Country Music' along with your name and address and we'll choose 5 lucky winners.  Entry is open WORLD WIDE.
Entries open -Wednesday 12th Rocktober

Entries close – Friday 28th Rocktober
Let's Ride!!
Check out the 101 tracks of country (partly rock) goodness!
Disc 1
1. Kenny Rogers – The Gambler
2. Dolly Parton – Jolene
3. Glen Campbell – Rhinestone Cowboy
4. Lynn Anderson – Rose Garden
5. Willie Nelson – On The Road Again
6. Tammy Wynette – Stand By Your Man
7. Kris Kristofferson – Me & Bobby Mcgee
8. Crystal Gayle – Dont It Make My Brown Eyes Blue
9. Waylon Jennings – Dreaming My Dreams With You
10. Anne Murray – Could I Have This Dance
11. The Bellamy Brothers – Let Your Love Flow
12. Jeannie C. Riley – Harper Valley Pta
13. Don Gibson – Sea Of Heartbreak
14. Helen Reddy – Delta Dawn
15. Elvis Presley – I Cant Stop Loving You
16. Bobbie Gentry – Raindrops Keep Falling On My Head
17. George Jones – He Stopped Loving Her Today
18. Juice Newton – Angel of The Morning
19. Charley Pride – Kiss An Angel Good Mornin
20. Billie Jo Spears – Blanket On The Ground
21. Rick Nelson – Hello Mary Lou (Goodbye Heart)
22. Johnny Cash & June Carter – Jackson
23. Johnny Horton – The Battle Of New Orleans
24. Marty Robbins – El Paso
25. Jim Reeves – Hell Have To Go
26. Nitty Gritty Dirt Band – Mr Bojangles
Disc 2
1. Tammy Wynette – D.I.V.O.R.C.E.
2. Willie Nelson – Crazy
3. Gene Pitney – The Man Who Shot Liberty Valance
4. Glen Campbell & Bobbie Gentry – All I Have To Do Is Dream
5. Tennessee Ernie Ford – King Of The Road
6. Anne Murray – Snowbird
7. B.J. Thomas – Im So Lonesome I Could Cry
8. Sue Thompson – Sad Movies (Make Me Cry)
9. Johnny Tillotson – It Keeps Right On A-hurtin
10. Slim Whitman – Ill Take You Home Again, Kathleen
11. Patsy Cline – Walkin After Midnight
12. Ray Price – For The Good Times
13. Jean Shepard – Sing Me An Old Fash-ioned Song
14. Faron Young – Your Cheatin Heart
15. George Jones – Take These Chains From My Heart
16. Jody Miller – He Walks Like A Man
17. Eddy Arnold – Make The World Go Away
18. Porter Wagoner & Dolly Parton – The Last Thing On My Mind
19. Ned Miller – From A Jack To A King
20. Ray Stevens – Misty
21. Jesse Colter – Im Not Lisa
22. Joe South – Games People Play
23. Sammi Smith – Help Me Make It Through The Night
24. The Stone Poneys feat. Linda Ronstadt – Different Drum
25. Ronnie Milsap – Smoky Mountain Rain
Disc 3
1. Johnny Cash – I Walk The Line
2. Frankie Laine – Rawhide
3. Tennessee Ernie Ford – Sixteen Tons
4. Jimmy Dean – Big Bad John
5. Faron Young – I Fall To Pieces
6. Stonewall Jackson – Waterloo
7. Frank Ifield – I Remember You
8. Jerry Lee Lewis – Jambalaya (On The Bayou)
9. Rick Nelson – Travelin Man
10. Claude King – Wolverton Mountain
11. Tex Ritter – High Noon (Do Not Forsake Me)
12. Ferlin Husky – Wings Of A Dove
13. Johnny Ashcroft – Little Boy Lost
14. Don Gibson – Oh Lonesome Me
15. Les Paul & Mary Ford – Tennessee Waltz
16. Slim Whitman – Rose Marie
17. Jack Scott feat. The Chantones – What In The Worlds Come Over You
18. Hank Thompson – Hangover Tavern
19. Sonny James – Young Love
20. Jeanne Black – Hell Have To Stay
21. Walter Brennan – Old Rivers
22. George Jones & Melba Montgomery – We Must Have Been Out Of Our Minds
23. Wanda Jackson – Funny How Time Slips Away
24. The Statler Brothers – Flowers On The Wall
25. The Willis Brothers – Give Me Forty Acres (To Turn This Rig Around)
26. Dave Dudley – Six Days On The Road
27. Glen Campbell – By The Time I Get To Phoenix
Disc 4
1. Leann Rimes – Blue
2. Lonestar – Amazed
3. Gretchen Wilson – Redneck Woman
4. The Charlie Daniels Band – The Devil Went Down To Georgia
5. Juice Newton – Queen Of Hearts
6. Kenny Rogers – Coward Of The County
7. Crystal Gayle – Never Ending Song of Love
8. Mel Mcdaniel – Babys Got Her Blue Jeans On
9. Tanya Tucker – Would You Lay With Me (In A Field Of Stone)
10. Charlie Rich – The Most Beautiful Girl
11. Dottie West – Hey, Mr. Dream Maker
12. Don Williams – Another Place, Another Time
13. Deanna Carter – Strawberry Wine
14. Dan Seals – Meet Me In Montana
15. Linda Davis – Just Enough Rope
16. Chris Ledoux – Under This Old Hat
17. Lacy J. Dalton – Love Hurts
18. Asleep At The Wheel – Lay Down Sally
19. Suzy Boguss – Take It To The Limit
20. Steve Wariner – Two Teardrops
21. Shelby Lynne – Lonesome
22. Dr Hook – Only Sixteen