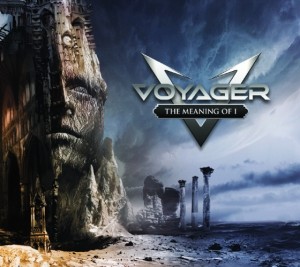 Official press release: What an incredible year 2011 has been for Perth Prog Metal masters VOYAGER.  Having nationally supported the huge Alestorm 'Back through Time' Australian tour in May, completed to their first USA trip to take part in the prestigious Prog Power Festival USA in September, and recently been selected as the nationwide support for Finnish Metal act Children of Bodom on their Australian tour in November, VOYAGER are set to cap off their most successful year to date with the release of their highly anticipated fourth full length album 'The Meaning of I':
A dark, heavy introspective, at times electronic, yet occasionally uplifting journey into the mind in search of meaning. 'The Meaning Of I' is a culmination of the Voyager sound: polished yet organic, heavy yet melodic, dark yet playful.
'The Meaning Of I' comes a stunning digipak complete with 12 page booklet and is to be released nationally through Riot! Entertainment and available in stores from October 28th. VOYAGER's adventurous and unique sound merges Amorphis' thirst for melody, Soilwork's heaviness and the crystal vocal clarity of A-Ha's Morton Harket and features guest appearances from Daniel Tompkins (Tesseract), DC Cooper (Royal Hunt) plus a special tribute to the late Peter Steele.
The Official launch show for VOYAGER's new album 'The Meaning Of I' has been set for October the 15th @ the Amplifier Bar, Perth with Guests Chaos Divine, Hemina and Meridian
THIS IS THE MEANING OF KICKASS – 5/5
THE ANGRY METAL GUY
Deal with them now or deal with them later, Voyager is here to stay and they are bringing FUN back to Prog Metal!!
THE METAL PIT CANADA – 9.5/10
Hello world, meet Voyager. They are ready to captivate your ears , eyes and all other senses. Are you ready? You better be
LOUDMAG AUSTRALIA – 97%
VOYAGER have confirmed artwork and track listing for their ambitious fourth full-length album, The Meaning of I.  The bold cover art aptly fits the expansive concept album, which covers vast amounts of '80s pop-infused, prog metal territory, encompasses nearly 53 minutes.
The Meaning Of I Track Listing:
01. Momentary Relapse Of Pain
02. Stare Into The Night
03. Seize The Day
04. Broken
05. The Pensive Disarray
06. He Will Remain
07. The Meaning Of I
08. Iron Dream (In Memoriam: Peter Steele)
09. Feuer Meiner Zeit
10. Fire Of The Times
11. She Takes Me (Into The Morning Light)
12. It's Time To Know
13. Are You Shaded?
VOYAGER's Confirmed Live Performances:
10/15/2011 Amplifier – Perth, Western Australia [record release show]
11/06/2011 Capitol – Perth w/ Children Of Bodom
11/07/2011 HQ – Adelaide w/ Children Of Bodom
11/10/2011 The Palace, Melbourne w/ Children Of Bodom
11/12/2011 The Big Top – Sydney w/ Children Of Bodom
11/13/2011 The Arena – Brisbane w/ Children Of Bodom
http://www.voyager-australia.com
http://www.facebook.com/voyageraustralia
http://www.riotact.com.au