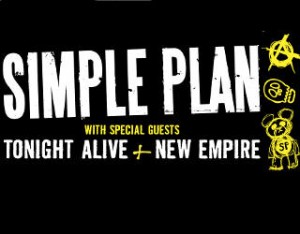 Canadian pop punk rockers Simple Plan always put on a fun show, and tonight's SOLD OUT gig at the Enmore Theatre in Sydney was no exception but more on them later…
The first of two supports, Sydney's 'New Empire' got the crowd warmed up with their amazingly friendly rock music and within seconds of opening with hopefully the next single  from their album 'Worth The Wait' they were on fire. Given the support they deserve they should be huge in the Australian market. I can't wait to hear more of what New Empire can do and fingers crossed that involves them very soon headlining the venue we're at right now!
Second support 'Tonight Alive' have obvious comparisons to other bands which is very easy to do with a female fronted rock band, but why do that?  What they have and what they gave us was catchy song after catchy song and got the crowd pumped and ready to rock. For a group of youngsters out there obviously passionate, they are going to go far if they can keep up the momentum.  With their debut album due this month and their own national tour, I look forward to seeing them becoming a household name.
OK, back to the main act and the reason the crowd is here.  A deafening scream is heard as Simple Plan rush the stage and kick it off with their huge hit 'Shut Up' and to be fair that is the last thing they were about to do.  From seeing this band a couple of times before it is obvious to see the maturity of the band now, the songs have progressed as you can hear from their newer material and their stage banter is well delivered and witty at one point declaring that Australia is like Canada but everything is better and that we can all be Austranadians!  Works for me.
As players, they are pretty much flawless, this is one tight band.  The duelling vocals between front man Pierre Bouvier and bass player David Desrosiers work as they bounce off each other trading verses and keeping the crowd 100% focussed on this show.  David also was pick tricking ala Butch Walker to his best ability, and I have to say, any band that does pick tricks on stage, you get my vote.  I'm all about a show when I go to see a band and Simple Plan give you that show.
Belting through this twenty song set with the crowd in the palm of their hand, they were even singing the new songs back to the band louder than some of the bigger hits which is testament to their great new album 'Get Your Heart On' although one of the biggest sing a longs of the night was a fun little medley of 'Fuck You, Dynamite and Raise Your Glass' very well done and had the crowd ready for more.  More coming in the way of biggest hit this year 'Jet Lag' with the Natasha Bedingfield part being handled by Jenna from Tonight Alive who showed everyone as I said before that she can sing!  This song was my favourite of the night and it was the predecessor to what you'd expect to come up, meaning songs like 'Welcome To My Life' and 'I'd Do Anything' before the band left the stage.
Encore, of course.  To see a bunch of guys in their 30's still singing 'I'm Just A Kid' is somewhat funny but the crowd didn't care if they were 50, this song was insane, the floor was shaking with the crowd jumping and just shows that regardless of how old you are you can always be a kid.  Pierre gave us an acoustic rendition of 'Everything' as the band headed back on stage to give us the closer.  'Perfect' was a huge hit for Simple Plan and it showed.  It was an excellent way to finish the show with a promise of a return visit in 2012, the crowd were cheering and
If you're a fan of fun pop rock music then you really should check out a Simple Plan show if you get a chance, you will walk away with a big smile on your face and that's exactly how a gig should end.  Bring on 2012.
Essential Information
Venue: The Enmore Theatre – Sydney
Date: October 1 2011
Supports: New Empire  and Tonight Alive
Website: www.simpleplan.com
Set List:
Shut Up
Can't Keep My Hands Off You
Jump
Take My Hand
When I'm Gone
Addicted
You Suck At Love
Thank You
Your Love Is A Lie
Astronaut
Summer Paradise
Medley (Fuck You / Dynamite / Raise Your Glass)
Jet Lag (feat: Jenna from Tonight Alive)
This Song Saved My Life
Welcome To My Life
I'd Do Anything
Loser Of The Year
I'm Just A Kid
Everytime
Perfect