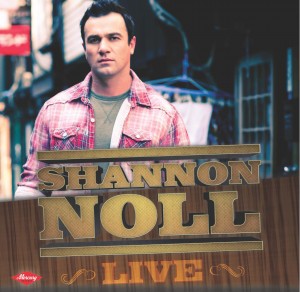 Today was the day that Shannon Noll releases his fourth album 'A Million Suns' and to celebrate this he is doing a run of what he's calling preview shows in support of it.  He couldn't have picked a better venue than that of The Basement in Sydney which tonight was packed to see Mr Noll.  More on him shortly…
Supporting Shannon tonight was Tim Chaisson hailing from Canada, here on his first visit to Australia.  Battling through early technical problems and a very talkative crowd (pet hate), Tim powered through his acoustic driven folk rock with passion and enthusiasm.  He was soon joined by fellow Canadian John Angus MacDonald from The Trews who blended perfectly with Chaisson's vocals as they showcased more of Tim's new album which just an FYI is a must for any folk rock fan. An amazing fiddle piece got the crowd clapping along and finally made them listen and let him run it home with people's full attention. A true talent with an amazing voice  and one to look out for.
But of course the crowd was here to see Shannon and his blend of straight up Aussie Rock.  Those that have followed him from his Australian Idol days would've loved tonight's show, it was essentially a best of with some new ones thrown in for good measure.  Kicking it off with one of his biggest hits 'Shine' and with the crowd already happy he could do no wrong and I think he knew that.  His big black shiny car got another run with crowd favourite 'Drive' and then the moment any artist fears, time to play some new songs… but 'My Place In The Line' and 'Living In Stereo' fit perfectly into his sound and were a hit, even if he did need to seek approval from the crowd afterwards.  He had no need to worry at all.
Continuing on with the heartfelt 'Now I Run' into big rocker 'Loud' before another couple of new ones, he's truly structured the set list well tonight to balance these, and I have to say, title track 'A Million Suns' is destined to be a big hit given the chance. But it's the next couple that pretty much steal the night, the massive power ballad-esque 'Lonely' was met with massive applause and you could truly tell that song means a lot to Shannon.  On the flip side, next was a song that he said meant a lot to many and humbled him because of it, as he started 'Lift' the crowd errupted, this song has truly become an anthem of sorts and the emotion of it live is pretty special.
Noll's band were tight and worked through the new songs like they'd been playing them for years, case and point the massive rocker 'Til We Say So' which got the crowd up but as that came to an end, the band left the stage leaving only Shannon and his keyboard player to give us a special rendition of the song that made Shannon a household name 'What About Me?' the Australian classic was turned into a piano ballad and crowd sing along, it was one of the best versions of that song I've ever heard and to hear it in a venue like The Basement was pretty special.
The encore gave us a cover in the form of James Brown's 'It's A Man's Man's Man's World' which is actually on his new album, but as good as this song was, Shannon got outshined by his guitarist who's amazing solo during the song had the crowd going nuts!  The night ended with his new single 'Switch Me On' and it was the perfect way to end a great night of Aussie Rock and Roll.  He really is a great performer, he's funny, engaging and the crowd love him because of it.  An extremely thankful Shannon Noll bid us good night and head out to meet his fans.
Essential Information
Venue: The Basement – Sydney
Date: October 14 2011
Supports: Tim Chaisson
Website: www.shannonnoll.com
Set List:
Shine
Drive
My Place In The Line
Living In Stereo
Now I Run
Loud
A Million Suns
Long Way Home
Lonely
Lift
'Til We Say So
What About Me'?
It's A Man's Man's Man's World (James Brown cover)
Switch Me On