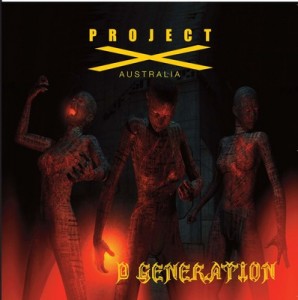 Western Australian traditional/power metallers Project X are offering a free download of the song 'Last Man Standing' in advance of the Halloween release of their second album "D Generation".
Project X features vocalist Matt Williams (Black Steel), drummer Richard Lovett (Glamnation), bassist Gareth Hughes (The Siren Tower, Graphic Fiction Heroes) and guitarists Jamie Page (Trilogy, Brian May, Black Steel, Black Alice), Sandy Calvezzi (Countdown), Leon Todd (Ragdoll), and Ryan Rafferty (Ragdoll).  There are also some notable guest appearances from bassist Dave Harrison (Allegiance, Black Steel), and guitarist/vocalist Graeme Smailes (Cheeky Monkeys).
To receive your free download of 'Last Man Standing', LIKE Project X Australia's Facebook page (www.facebook.com/pages/Project-X-the-band ), and email your name to projectxinfo@ymail.com
'Last Man Standing' can be heard via YouTube at http://www.youtube.com/watch?v=v9PuRo80-QE&feature=share
"D Generation" is now available to order from www.100percentrock.com, CD Baby, and iTunes.
BUY NOW: http://www.100percentrock.com/cd-releases/project-x-d-generation.html
OFFICIAL FACEBOOK : www.facebook.com/pages/Project-X-the-band
OFFICIAL WEBSITE : www.projectx-theband.com