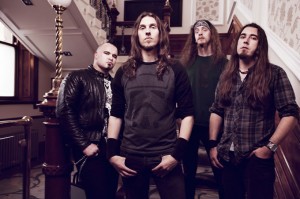 With their brand new album Five Serpents Teeth having recently been released, it seems like the time is nigh for UK heavy metal band Evile to really make some inroads in the pursuit of global domination!  The journey between their second album Infected Nations and their now third release wasn't an easy, with the tragic passing of bass player Mike Alexander in 2009.   With the eventual addition of new bass player Joel Graham, 2010 saw the band touring the USA with some of the heavy hitters of metal, in Kreator, Overkill, Forbidden, Voivod and Warbringer, not to mention appearances at the biggest European metal festivals such as Wacken, Bloodstock and Hellfest!
Here in 2011, it's all about Five Serpents Teeth and we caught up guitarist Ol Drake to talk about the album as well as what it's like sharing a stage with his brother, Evile vocalist Matt Drake.
Hey Ol, thanks for taking the time to chat, your new album Five Serpents Teeth is not quite out yet (released September 29th) and you are currently in that no mans land period where media have heard the album and you are doing interviews, but the album is still weeks away from release.  How do you anticipate Evile fans will find this album compared to your past releases?
I'm really not sure.  We did make a conscious effort after playing the material off the second album live, that we wanted to go back a bit to the approach off the first album.  It was a lot more straightforward to the point of just riff, riff, riff and vocal lines and we just wanted to go back and concentrate on the riffs.  I think the stuff we wrote will cater to our live audience, it's fun for us to play live these songs and I think it will go down really well.  There might be a few tracks people will be thinking, what are you doing, but oh well!
Being your third album now, in what ways do you think you are wiser as a band when it comes to the process of writing, recording and producing an album?
The first album, pretty much all the songs were written before we were signed.  The first album technically wasn't written to cater for an album release, they were songs written in the rehearsal room.  The second album, we sat back and thought, ok now we have to write and album that is going to be released around the world.  I think that was a bit of pressure for us and we put a few technical things in there and it might have been too much.  We learnt a lot of worked for us and what didn't work and it grew for us naturally to this 3rd album.  The first one was a bit more juvenile, but in a good way.  The second one we tackled a bit more serious stuff and especially this past year or two has been hard for us, so we sat down and really took this album seriously as we want to do this for the rest of our lives basically.
I love personally knowing the stories behind album titles, what inspired Five Serpents Teeth?
That's actually one of Matts.  He's very much into books and sci-fi kind of things.  It's from a book called The Demolished Man by Alfred Bester and I don't really know the meaning, as I haven't read the book.  I do know it's not necessarily about serpents, so you might just have to read the book to find out what's going on.
So as far as writing lyrics is Matt the main writer for those?
Yeah he is.  The lyrics for In Memoriam for Mike were written by me, but the rest is pretty much from Matt.  He sometimes feels uncomfortable singing lyrics that he didn't create, he likes them to come from his head and then out of his mouth.
On the album you have a track titled "In Memoriam" which was written in memory of your late bass player Mike Alexander.  Can you share a little about that song and is there any significance specifically with the bass intro of that song?
Well about a year or so before Mike passed away, whenever we would play shows and we sound checked, that intro to the song is the bass line he would always play.  It just stuck in my head all the time and after he passed away, it just made sense to put it in there.  I knew I asked him once what it was and he said, "oh, it's just something I wrote".  So hopefully it's not something that he stole and didn't tell us and we are going to get sued or something haha!
So what's the plan with the album as far as world wide domination is concerned?
Well I guess basically what we have been doing for the last six or seven years and that's get out there as much as possible and play to as many people as possible.  Obviously we're going to try and get to Australia, we've tried many times but it's just so expensive and for a band at our level there's just no guarantee we would be able to cover the costs. Hopefully this album will be the one that gets us further afield to places like Australia.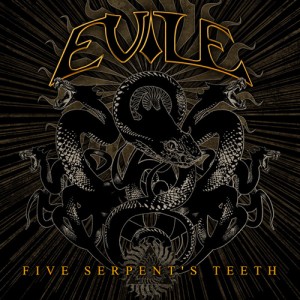 You guys are starting to establish yourselves in American aren't you?
It started off strange as we were a relatively new band to them and coming from the UK, you could tell they were dubious when we were playing. They aren't Slayer or they aren't Warbringer, so I don't really care.  But I think definitely the more we have played there, the more people have accepted us.  We played the Nokia Theatre in New York and it was huge, we were shocked how many people were there and they really enjoyed our stuff.  I think we were received quite well and can't wait to get back there.
How is it with your brother Matt being in Evil, do you have your fair share of brotherly moments that we all do and was playing in a band like Evile something that you always spoke about growing up?
It's a strange one, but the good thing is that Matt and me like each other, so it's not like Oasis where we will fight and fall out and leave the band or anything, we actually genuinely like each other.  The only thing we really argue about is sections of songs.  It's not really something we thought we would do.  Growing up we both liked metal and listened to music, but he and Ben at school would be playing music and Metallica songs.  I would often pick up Matts guitar when he was away and start learning stuff on my own.  At one point I started to think I really enjoy this and asked if I could come join them sometime.  So we would play Metallica songs and it all just started from there.
What are you playing personally as far as guitars go, are there any endorsements that you wanted to chat about or give some free advertising haha?
I actually have just got a new one that's at home waiting for me and I can't wait to see it!  I use Neal Moser guitars, he used to do BC Rich stuff and is doing his own custom stuff now.  I'm playing one called the Bastard V right now, which is really pointy and evil!  In terms of Amps, we are now on the Fender new EVH 5150's by Van Halen and they're just ridiculous.  You can just put them on volume 2 and they are just deafening, they're just amazing, I can't say enough about them.
Just lastly before I run out of time, I couldn't help but ask about your appearance on stage with Aussie comedian Tim Minchin a little while back, do you guys have much of a connection other than that one appearance?
Well ever since he hit the UK TV, I have been a big fan.  I can't remember how it happened, but I think he may have tweeted at one time that "there are some great guitarists at Sonisphere this year, should I get someone to guest with me.  So one of his fans said why don't you get Ol from Evile but there was no reply or anything.  But then a few days before I got a call from our manager saying Tim Minchin wants you to play on one of his songs in a day or two.  So I was like what!!  I had to learn the song overnight on this really awful sound system, then ran through it in the dressing room with him and then just played it.  It was insane, he's such a nice guy as well!
Essential Information
From: UK
Band members: Matt Drake – Rhythm Guitar & Vocals, Ol Drake – Lead Guitar, Ben Carter – Drums, Joel Graham – Bass
Website: www.evile.co.uk
Latest release:  Five Serpents Teeth (2011, Earache Records/Riot! Entertainment)