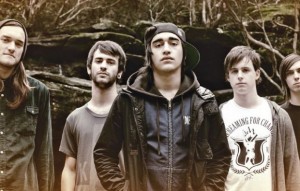 Australian Hardcore is officially out of the bag. Once the nation's best kept secret, the mainstream has been forced to take notice of the massive underground scene that has been taken to new heights both locally and internationally with the success of bands like Parkway Drive, The Amity Affliction and Dream On Dreamer. And as the music industry struggles to make sense of exactly where it all came from (and how they can get involved), hundreds of young bands are already making headway into becoming the next success to be born out of the scene.
Northlane are one of (if not the best) new bands out there. Combining a ferocious live show, an unwavering message and a passion-before-fashion approach to their aesthetic, Northlane has everything that makes heavy music powerful – the raw energy of hardcore, the technical proficiency of metal and the attention to detail in their songwriting. While the metal / hardcore crossover has been present in the scene since the mid eighties, in 2011 it's rare to find such a refreshing take on the mix.
Forming in 2008, the young Sydney five piece has spent the last five years carving out an enthusiastic fanbase all across Australia. Without doing any big supports, they've managed to become a headline act in regional and city centres via word of mouth and live shows that look and sound fit for arenas.
Earlier in 2011, Northlane settled to record their debut album, "Discoveries". Self-Produced and sent to the US to be mixed by Will Putney, the album immediately caught the attention of Australian powerhouse music company UNFD, who had already had bountiful success with the likes of The Amity Affliction, The Getaway Plan, Dream On Dreamer and I Killed The Prom Queen. A deal was subsequently signed, and a new relationship formed.
With the talent to match their enthusiasm, and the outlook of a band hell bent on carving out their niche, the new relationship and album should prove to make Northlane yet another Australian success to shock the mainstream.
Don't miss your chance to see what all the noise is about, as Northlane head out on the road during October/November.
NORTHLANE
Pre-Album Showcases
Thursday 20 October – Next Nightclub, Melbourne (18+)
Friday 21 October – Karova Lounge, Ballarat (18+)
Thursday 27 October – Railway Hall, Toowoomba (AA)
Friday 28 October – Shed 5, Gold Coast (AA)
Saturday 29 October – Mt Gravatt PCYC, South Brisbane (AA)
Sunday 30 October – Sun Distortion, Brisbane (AA)
NORTHLANE – 'DISCOVERIES TOUR'
with IN HEARTS WAKE
 Presented by Fetch Agency, UNFD & KillYourStereo.com
 Thursday 10 November – Hot Damn Nightclub, Sydney (18+)
Friday 11 November – Yo Yo's Youth Center, Sydney (AA)
Saturday 12 November – Expressive Grounds, Gold Coast (day show) (AA)
Saturday 12 November – Thriller Nightclub, Brisbane (18+)
Sunday 13 November – Blackbox Theatre, Nambour (AA)
Friday 18 November – Flynns Beach Surf Club, Port Macquarie (AA)
Saturday 19 November – The Loft, Newcastle (AA)
Sunday 20 November – Lithgow
Wednesday 23 November – Cambridge Hotel, Newcastle (18+)
Thursday 24 November –Gee Whiz, Central Coast (18+)
Friday 25 November – Pow Nightclub, Werribee (18+)
Saturday 26 November – Narre Warren Learning Centre (day show), Melbourne (AA)
Saturday 26 November  – Bang Nightclub, Melbourne (18+)
Sunday 27 November – Collingwood Masonic Hall, Melbourne (AA)
Thursday 1 December – The Loft, Warnambool
Friday 2 December – Purplez Entertainment Centre, Mt Gambier (LIC/AA)
Saturday 3 December – Fowlers Live, Adelaide (AA)
Sunday 4 December – The National, Geelong (AA)