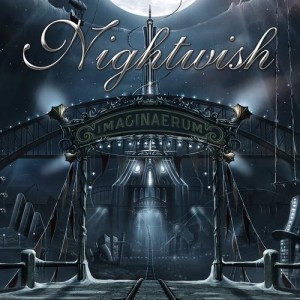 NIGHTWISH TO RELEASE IMAGINAERUM ON JANUARY 6, 2012
Fans of dramatic, symphonic, Euro metal have something to look forward to when the cold, dark, dreary winter sets in. Finnish superstars Nightwish will release their new album Imaginaerum on January 6, 2012 via Roadrunner Records and it will serve as a welcome beckon of warmth and light in an otherwise dark season! The album is the band's first since 2007's Dark Passion Play, which was then- new singer Anette Olzon's debut.
The band examined its catalog when sitting down to write what would become Imaginaerum. The songs for the album were written between 2008 and 2010, after the Dark Passion Play tour cycle ended.
At that point, Nightwish knew they wanted to do something different, new and unique, which is exceptional for a band whose career has been defined by words like different, new and unique!
The band consciously wanted to do something so big, crossover, detailed, innovative and, well, "nuts" that it would leave the band, and hopefully the people experiencing it, completely awestruck. It would be a situation where fans and/or critics would either love it or hate it, but they'd be left awestruck nonetheless. That's when the band realized another dimension, namely video, was necessary for the project.
Instead of a concept album, the band set the album to a film.
"The original idea I had was to film 13 short stories related to the songs with a connected storyline, shot by Stobe Harju," keyboardist/songwriter Tuomas Holopainen said. It was Harju's idea to turn the 13 stories and visions into more of a connected cinematic piece –essentially, a film. It would have a clear plot, script, dialogue and real actors in an ambitious effort to create something wholly unique.The film was shot in September of this year.
The movie is based on the album and its 13 tracks, honoring the original ideas, but having evolved radically from the initial plan. Holopainen said," Still, it was important from the very beginning that the album would work as its own individual piece of art, as well. It is a thematic album about life itself, about imagination, love, goodness and beauty, with a touch of darkness and melancholy, which are strongly included in all of those things mentioned." As if we could expect anything less from Nightwish!
The band will have but a small part in the film. A 2012 premiere date is being eyed.
Imaginaerum: an audiovisual testament of what Nightwish have always been about.
The track listing for Imaginaerum is as follows; note that track 12 is broken down into four parts.
01. Taikatalvi
02. Storytime
03. Ghost River
04. Slow, Love, Slow
05. I Want My Tears Back
06. Scaretale
07. Arabesque
08. Turn Loose The Mermaids
09. Rest Calm
10. The Crow, The Owl And The Dove
11. Last Ride Of The Day
12. Song Of Myself
Song 1: From A Dusty Bookshelf
Song 2: All That Great Heart Lying Still
Song 3: Piano Black
Song 4: Love
13. Imaginaerum
Track-by-Track teasers
"Men profess to be lovers of music, but for the most part they give no evidence in their opinions and lives that they have heard it." – Henry David Thoreau
1. TAIKATALVI
This world is but a canvas for our imagination.
2. STORYTIME
How would it feel to take a midnight flight with a snowman through the most wondrous landscapes, like in the classic animated Yuletide film? The meaning of our very existence is created though stories, tales and imagination. They are at the very core of humanity.
3. GHOST RIVER
LIFE is the ultimate privilege; a river filled with wonders and horrors. Love, sorrow, beauty, evil and temptation. And we need them all to survive and enjoy the journey.  Good, Evil, Pain and Pleasure – members one of another.
4. SLOW, LOVE, SLOW
Truest love needs no words, demands or promises. It is wordless territory, and thoroughly unconditional.
5. I WANT MY TEARS BACK
Longing for things long gone, but still possible to bring back.
6. SCARETALE
Monsters in the closet, squealing pigs, hordes of spiders and flesh-ripping harpies. A peak into childhood´s unforgettable nightmares- a vivid and twisted circus sideshow.
7. ARABESQUE
A catharsis to a nightmare. Giving birth through a death-dance.
8. TURN LOOSE THE MERMAIDS
We quietly witness as her dying loved one takes his last journey…forever now, a haunting moment of beauty and comfort.
9. REST CALM
Memories and hope are two things no-one can ever take away from you. The sweetness of my own past is a bottomless chest of comfort and inspiration.
10. THE CROW, THE OWL AND THE DOVE
"Rather than love, than money, than fame, give me Truth" – Henry David Thoreau
Love is everything, and only Truth is our guide to a deeper state.
11. LAST RIDE OF THE DAY
The theme park is just about to close, but the rollercoaster runs one more time and you get to take the last ride by yourself. It`s dark and the fireworks have just started. Moments such as these are portals to infinite dreams, of deep realisation, and ultimately the thrilling awareness of being a speck of dust in this vast swirling cosmos.
12. SONG OF MYSELF
Our homage and version of Walt Whitman`s transcendental celebration of life and existence, delving deep into a personal catharsis.
13. IMAGINAERUM
Thank you for sharing the ride and we hope to welcome you back soon. The stage is lit, and the Magnificent Play is beginning…
– Tuomas