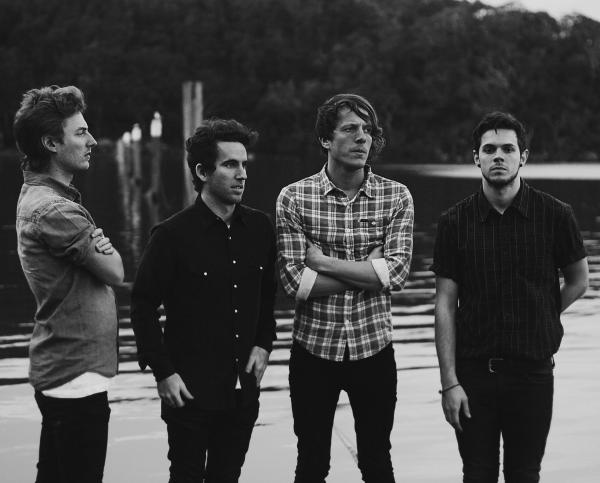 "Over the past kind of five years everything's been slowly moving up step by step and moving forward and the release of this new album has just taken everything to the next level."
From Bio:  If it was hard to ignore New Empire before, it's impossible now. The runaway rock outfit have already clocked up a stellar 2011 with national supports for Good Charlotte, Simple Plan and Owl City, a worldwide publishing deal with Native Tongue and a string of singles all over radio and music TV.
Now with their long-awaited second album Symmetry out September 16, they're ready to cement their status as one of the country's brightest new stars. Combining the arena alt rock of The Killers with the bombast of 30 Seconds To Mars and emotional power of OneRepublic, it's the sound of everything clicking into place for the band as both songwriters and independent artists.
During production rehearsals for their headlining tour, guitarist Pete Gillies took the time to talk to us about the new album, touring and what we can expect in the future from this amazing up and coming band.
Your new album Symmetry has just been released and scored you a top 40 debut on the ARIA charts with it, congrats on that, what did you do when you heard the news?
To tell you the truth, it was almost mind blowing, I mean a couple of weeks before release we were talking to our manager and was just saying how much of a blessing it'd be to actually find ourselves on the ARIA charts.  We like to set ourselves goals, but that was a pretty far reach as to what is a more obvious reality and we kind of loosely set ourselves that goal and kept striving for it and we had no idea it'd actually work so we were blown out of the water.  And for me just to say, even growing up the words Top 40 in music is like a beacon its something really good to aim for and I cant believe we even can utter the words Top 40 about our release so its great.
How did you approach the writing of the new album compared to your first?
I think Jeremy our front man, he writes all the lyrics and he writes pretty much most of the songs, he's our songwriter in the band, but I know that the biggest difference between the albums is that they have a similar, I could call it a heart, they have a similar vibe in which they were written to help people listen and have a positive feeling, so they're written in a sense to be helpful and kind of question good elements and bad elements of life that actually need a bit of hope in them as well.  But the song writing kind of changed, like our old album was written when we were 19 – 20 and this album, natural progression that we're now in our mid 20's, it all changes as our look on life is completely different.
Were these songs you've had for a while or were they written specifically with the new album in mind?
The song writing process has taken probably about two years, it'd probably be anywhere upwards of 50 – 70 songs that were on the chopping block so to speak for the album but when it came down to it, it wasn't really hard at all to narrow it down to the ones that we got to.  Then studio time this year was the better part of six months for us, in pre production and studio time and make sure we really had enough time in the studio to do justice to these songs, so we didn't cut any corners.
So, with Symmetry being your second album, did you consciously do anything different for this new album that you didn't do on the debut?
Yeah, the first album was totally budget oriented, that feeling of a new album like 'oh my goodness, we're recording an album, let's do it' and the whole recording process was over in a week and a half.  The process on this album as all about the music, not about the product.  So for us this was like a sculpture that we were able to create, it was like a canvas, we actually waited until we finished it and we could stand back and say 'this is good, we've created something of value here.'
You recorded some of the album at Chris Joannou from silverchair's studios, how did that come about?
Well we do a lot of stuff, we recorded a lot of the album at the Grove studios at the Central Coast and silverchair do a lot of stuff there as well, the recorded a lot of their albums currently at the Grove studios, so our manager and co producer Andy Mak, he works out of the Grove studios for a lot of his producing work and that brought him in contact with Chris and they became quite good friends and Chris mentioned to him that we'd be able to use his private studio if we wanted to, so we took him up on the offer.
Was he around during the recording?
Yeah he was a around here and there, it's mostly a weekend get away property, however the studio's located kind of separately to his residence so he was around but he just kind of left us be to get into our creative space and do what we wanted to do.  He popped in and said hi here and there but most of the time we just watched him mow the lawn from the window.
The first single 'Ghosts' is amazing, can you give us some meaning behind the song?
Yeah, the song, let me try and give it justice and get it right, given that I didn't write it. The song is…
Well what's your take on it then?
My take and what I believe is the right take, and this is the cool thing because a lot of the album I have an idea of what it's about and I even know why the song was written but I still find a way to make it my own which is awesome because I know a lot of the crowd will do the same.  So Ghosts is about, everyone's got their stuff.  There's a perceived desire for everyone to feel like they've got it together in this world, coming into relationships with other people of the opposite sex or actual relationships or what have you , there's this perceived idea that everyone needs to be going alright, and Ghosts is about, even the chorus speaks about Ghosts in your bedroom and that refers to those things that we aren't so proud about in our metaphorical private space, in that part of our minds that we're not proud of.  It just goes to say that these kinds of things it just puts them in the light, like let's not worry about those things, and make those things an issue and let them hinder our lives, lets move forward and realise that everyone's got their stuff and let's just continue on to work with people and love people.
My personal favourite is the big rocker 'Worth The Wait' any plans to make that a single? Ha ha
Done deal ha ha, dude it gets to that song man and I can't wait to play that song  every time we do it live.
How do you feel when you get comparisons to bands like One Republic and 30 Seconds to Mars?
It's quite an honour because we enjoy those bands, so, there's even another couple of bands that get referenced as well, Coldplay and Kings Of Leon and all of those bands together, if we can somewhat convince people that we're relatable to those bands then we see that as a job well done basically, cause they're bands we've listened to for years and really admire and respect, so in that regard, it only makes sense that the songs reflect that sound anyway cause that's what we love so it's all good.
If you were to sight some influences who would they be?
Probably bands in that regard, for me one of the stand out bands of all time would be Coldplay for the way they write, the way they're innovative in the current time of music, that's obvious with Viva La Vida, but even prior to that they were still pushing boundaries in the world of rock, in the world of epic as a genre before anyone thought about it.  We're great fans of the rock sounds of 30 Seconds To Mars as well even though they're relatively new on the scene to some degree.  It also goes back to bands like Toto, the legends, even Michael Jackson, half the time we're in the bus I listen to MJ.
You've also recently signed a global publishing deal with Native Tongue, what does this mean for the band?
That's pretty much getting synched for TV, for movies, promos, advertising campaigns, sports campaigns, all that sort of stuff, so anywhere you hear music that isn't on radio is pretty much to do with our publishing deal.  They've got offices all around the world, they're small offices but its because of that reason that we actually signed with them because they're really dedicated and they're really excited about what we're doing and that's kind of more important than going with people with 100 people on their staff and they've been really good so far, it seems like over the past six months we've partnered with some of the best people in the industry in Australia.
You've toured with some huge bands here in Australia and recently just finished shows with Simple Plan, one of which I saw and the crowd loved you guys, how did you feel these shows went for you?
Yeah well, taking it back a couple of months to Good Charlotte, that was one of the most incredible tours we've ever done, especially because it was six dates around the whole country and we got to spend some good time with the boys and with the Short Stack guys as well because we kind of get a long and we'd heard about them so much, but the tour with Good Charlotte was fantastic because all the crowd gets there on time and all the crowd is eager and they're music fans and they're ready to be entertained, they want to be singing along, they feel like they deserve to love every moment of music that they hear, and I'd say the same goes for the Simple Plan tour we just did as well, that was super receptive to what we were doing and I don't know, I think we have just enough of a different variety of music compared to the other bands on the night which is good because they weren't sick of us when we were playing, in fact quite the opposite even the signing and the whole meet the fans thing after the show too us an hour and a half for the last one to finish up before we were out of the building, so such a nice thing to be involved in.
You're now about to hit the road on your own headline tour, what can fans expect from your own shows?
Now this is the exciting part, over the past kind of five years everything's been slowly moving up step by step and moving forward and the release of this new album has just taken everything to the next level, so even as I speak I'm sitting here watching our whole stage show get put together in a factory for us to rehearse and production rehearse for three days straight.  So I guess fans can expect something that's reflective of that, it's the best thing that we've ever done yet and I say that with all modesty, but we're continually trying to push boundaries and continually trying to just get ourselves ot the world stage really and I say that with humility as well.  We always just want to do the best that we can with the resources that we have in our hands.
What's next for the band?
You know what?  I don't even know ha ha.  Obviously we're taking this album to Australia as hard as we can and I think doing this tour will continue to open a few doors in that respect, but I think we'd love to let a few more areas of the world kind of see what we do, we obviously need to keep doing this and keep playing and keep doing the media aspects of it all and we'll continue going as hard as we can in Australia but when things get a bit easier on, we'll just continue doing the same thing for people around the world, so I think our next stop might be the United States of America but that is very unplanned at this stage.
Essential information
From: Sydney, Australia
Check them out if you like: One Republic, 30 Seconds To Mars, Coldplay etc
Band members: Kale Kneale – Drums/ Vocals, Jeremy Fowler – Lead Vocals / Guitars / Piano, Pete Gillies – Guitars, Kyle Lane – Bass / Vocals
Website: http://www.myspace.com/newempiresound and www.symmetryalbum.com
Latest release: Symmetry (September 16th 2011)
Check out our review of 'Symmetry' here…