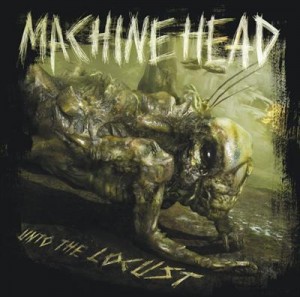 For Machine Head to follow up what has previously been referred to as a masterpiece in 'The Blackening' was going to be a tough call, turns out it really wasn't that much of a tough call as I'd be happy to proclaim that 'Unto The Locust' is up there if not on par with The Blackening, yeah, I said it.  Plus if first week sales are anything to go by, 'Unto The Locust' is the most successful first week release by Machine Head to date and it has no signs of slowing down.
At only seven songs you may think well, what is going on?  Mind you these seven songs aren't your usual radio friendly hits, we're talking seven minute songs here and it's something that Machine Head have got down to a fine art, this album clocks in at just under fifty minutes.  The at times additions of child choirs, strings and I'm not sure but I think I heard a triangle* in there at one point makes some of the songs on this album a little different to previous releases and it fits.  I seriously can't get enough of this album.  It's laden with pounding drums, bitchin' harmony guitar riffs, Robb's vocals are as fierce as ever and overall this album is just so fucking heavy.
If I was to talk about each track I'd be here for weeks so I won't do that to you but my stand out is the track the album is somewhat named for; 'Locust' is by far one of the best Metal songs I've heard all year and worthy of it's own little paragraph here.
And with their upcoming appearance at Soundwave in February in Australia, I can't wait to hear some of these ones live as it is going to be one heavy, heavy show!  The thing is, what will Machine Head do next to try and top this one?  My tip, just keep doing what they're doing and they'll be fine.
* = there were no triangles
Tracks:
1. I Am Hell (Sonata in C#)
I: Sangre Sani (Blood Saint)
II: I Am Hell
III: Ashes to the Sky
2. Be Still and Know
3. Locust
4. This Is the End
5. Darkness Within
6. Pearls Before the Swine
7. Who We Are
Essential Information
Released: Out Now
Label: Roadrunner Records
Produced By: Robb Flynn
Website: www.machinehead1.com
Check it out if you like: Metal!