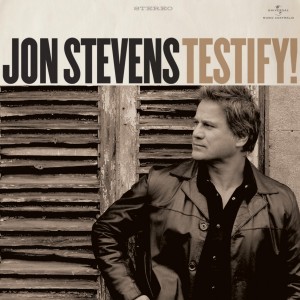 Jon Stevens is set to release his second album for the year TESTIFY! –a collection of songs including rare 60s soul tunes, plus new originals, injected with the same down-home 'bluesy' feel.
TESTIFY! is a culmination of the many and varied musical influences that have been with him since his childhood. Growing up in a small town in New Zealand, the youngest of 11 children, he gladly soaked up the tunes his older siblings were playing around the house.
Jon's earliest musical memories include his mother Millie playing Mahalia Jackson, Staple Singers and other gospel 78s on the family stereo; the songs he heard on the radio in the late 60s; to the singalongs, both in his own house and others up and down his street. The weekends; acoustic guitars out and the whole neighbourhood singing at the top of their voices. The 'blues' singers who Jon sang along to… Sam Cooke, Ray Charles, Otis Redding, James Brown, Etta James, Little Richard, Donny Hathaway, Stevie Wonder and Bill Withers, right through to the British version… Rod Stewart, Tom Jones, The Stones, The Beatles, The Kinks, The Who… and everything in between.
The album was recorded in Los Angeles with producer and multi-instrumentalist, Minneapolis native John Fields (The Commodores , Daryl Hall, Goo Goo Dolls, P!nk, Switchfoot). Recorded in a mere 12 days, the intense energy of the sessions is evident right from the outset.
 Most recognised for his work as the lead singer of Australian band Noiseworks, who celebrated four Australian Top 10 albums, Jon also fronted Australian rock band INXS after the death of its lead singer Michael Hutchence.  He was also part of two Australian productions of Jesus Christ Superstar, playing Judas on both occasions, to high acclaim.
These songs are guaranteed to hit that 'soulful' spot inside us all. Turn it up loud… and TESTIFY!
JON STEVENS
New album – TESTIFY! – out 11 November 2011
TRACKLISTING
Testify (I Wanna) – The Parliaments/Johnnie Taylor
Private Number – William Bell and Judy Clay
A Change is Gonna Come – Sam Cooke
All Or Nothing – Jon Stevens
That's How Strong My Love Is – O.V.Wright
Fire – Etta James
I Can't Stand Up For Falling Down – Sam and Dave
Freedom – Jimi Hendrix
Open To Ideas – Faces
You Can't Do Anything To Hurt Me – Jon Stevens
Be Like Me – Jon Stevens